Real-life story - Neil Valder
Neil had always enjoyed working with his hands at school and was looking for a career that was practically orientated. A teacher at his school suggested he consider a career in dentistry, so he applied to the City and Guilds training scheme and never looked back!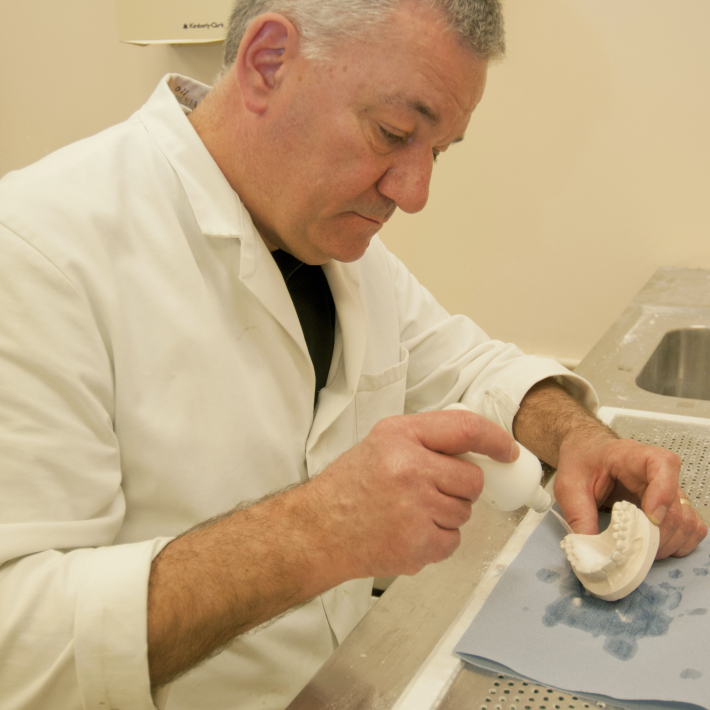 I really enjoy advising clinicans about appliance designs
I started my NHS career in 1973 as a band 4 trainee dental technician at the Eastman Dental Hospital via the three-year City and Guilds  training scheme. The course really allowed we trainees to experience both practical and theoretical training at the college, and then to apply that knowledge when working with patients at the hospital. 

After I completed the course, I was offered a permanent job at the Eastman Dental Hospital as a band 5 basic grade technician. I worked in this role for a year and was then given the opportunity to study for an advanced City and Guilds certificate in orthodontic technology. I was promoted to a band 6 senior dental technician where I learnt to construct more complicated appliances.

After a few years in this role, I was promoted again to a band 7 chief dental technician, where I  took a more active role in the running of the lab and supervising the more junior staff. In 1996, I successfully applied for the position of  senior chief dental technician. The role later changed to orthodontic lab manager, but both were graded at band 8a.

In the lab, I supervise three dental technicians and a laboratory administrator and we provide appliances to more than forty clinicians. 

I really enjoy working closely with clinicians and advising them about appliance designs that are suitable for their patients' treatment plans. Here at the Eastman Dental Hospital, I liaise with clinicians in the paediatrics department to construct appliances for children with disabilities. I find this part of my job very rewarding, as the clinician and I speak directly with the children's parents to assess what type of appliance is needed.

Keeping up to date with new techniques and developments in my field is another important part of what I do. Having this knowledge is a real benefit for everyone in the lab and it's always good to learn something new!