Real-life story - an academic foundation doctor's week
Find out more about a typical week of an academic foundation trainee. Tim Robbins is on the four month research block of the programme, focusing on diabetes and endocrinology.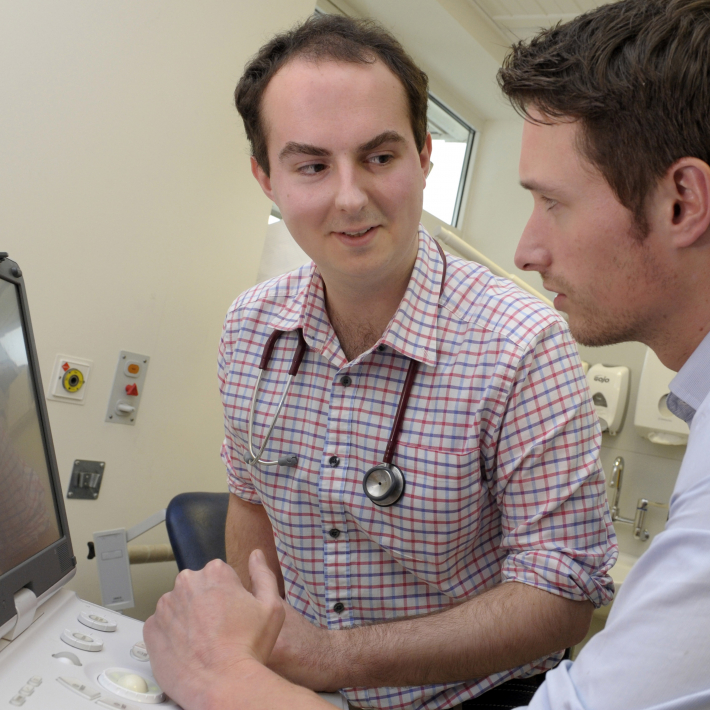 As you can see, being an academic's not all about labs and datasets – there's a lot of audit, teaching and innovation projects running alongside.
First stop is Warwick University Central Office.  I've been lacking access to vital SPSS statistical software that isn't provided by the NHS, so have had to arrange honorary membership of Warwick University to use their facilities. A key skill of working as an academic F2 is getting the resources you need to do the projects you want to do. Some of the projects I'm involved with include: researching into acute medical sumissions; analysing the interaction between junior doctors and diabetic specialist nurses; and creating a database of prolactinoma patients. Following that it's off to the hospital to brief the medical students and junior doctors about the national inpatient diabetes audit that's happening this week.

Next stop is a presentation to the hospital's blood transfusion committee about a completed audit loop and intervention. The presentation went really well and I've been invited to the regional meeting to present it there. There will be 80+ consultants and transfusion leads so I'll have to polish the presentation in advance.

I've agreed to speak to the final-year medical students this evening about what it's like being an academic foundation doctor, so it's back to the university. Approximately 20 medical students attend the session. Most of the questions are predictable but a couple of interesting points come up – firstly a question on the risk of reduced pay (due to fewer banded jobs as an academic F1/2), and secondly on how much flexibility you have to choose projects as a junior academic. Fortunately, most of my jobs have been banded and in my experience you have a lot of flexibility to do what you want!

It's now 8.30pm but there's still some work to do. I'm leading a team that was awarded £4500 from Health Education England to pilot "inter-rotation" shadowing for F1 doctors.  It's now the point in the rotation where F1s need to start shadowing. This means a personalised email to every F1 in the foundation school, so an hour is spent sorting that before heading home. It seems like hard work, but there's there real potential of this project being spread nationally in the next two years which is very motivating!

Early start today: at the hospital for 7.30am because today is National Diabetes Inpatient Audit Day. This is a national event where, over a short period of time, all UK hospitals audit the care of their diabetic inpatients. I'm co-ordinating this for our hospital the target is to ensure 30 doctors can identify and audit (using a 55-question audit proforma) about 160 inpatients in four hours. The critical thing is having enough coffee and croissants for when they arrive, but then it's something of a logistical operation sending them off to the correct wards. The audit is a big success, completed within 30 minutes of the target time and without any major hiccups.  We have to wait to March to see the results but it will be great to compare our hospitals with others nationally.

My afternoon is taken up preparing a teaching session on pituitary tumours to present on Thursday.

As you can see, being an academic's not all about labs and datasets – there's a lot of audit, teaching and innovation projects running alongside. If you're motivated it's a fantastic opportunity to really get to grips with how a hospital works as people are constantly giving you projects to do. Fortunately I'm on the train to Birmingham at 4pm to meet a university friend for drinks. It's certainly one of the perks of the job that your time is more self-directed so if you want to nip off early one evening that's fine. I think after doing academic work for most of Sunday and finishing at 10pm on Monday, I've probably earned it!

We're organising a series of seminars for medical students and junior doctors on how to become involved in academic medicine. So this morning I'm designing posters, asking people to speak, and seeking sponsorship – we've got £300 so far, so things are looking good!

A highlight of the academic week is the 1 hour protected research skills teaching we have each week – the topic today is how to apply for PhD funding, which is daunting but very much the eventual target of the academic foundation programme/academic clinical fellowship programmes. It's also a great opportunity to catch up with friends in other specialities to see how their research is going or how life on the wards is.

The afternoon is spent (writing this) and completing my e-portfolio – which is a key component of the foundation programme. Academics have to be particularly careful to ensure this is completed regularly. We have to meet the same clinical standards as our non-academic counterparts, despite having 4 months less clinical time to complete it in.

Fortunately, we do still have some clinical contact to keep our skills fresh, so this evening I'm covering the endocrinology and respiratory medicine wards from about 4.30pm to 9pm. It's a gentle introduction to being an F2 but also a great opportunity to get some more e-portfolio signed off!

Another project I'm involved with is assessing how well diabetic specialist nurses and junior doctors work together. This is mixed-methods research, combining surveying junior doctors, interviewing diabetic specialist nurses, and retrospectively reviewing notes. We got ethical approval for the work two weeks ago and the survey of junior doctors is already done. I'm now randomising patient data so we can select notes for sampling as well as emailing the study protocol to collaborators in Birmingham and Wolverhampton. It's a very small project but having the opportunity to lead it certainly teaches valuable skills in communication and time management. Lunchtime is spent in peer-to-peer teaching about pituitary tumours which is well received – and yet another opportunity to get something signed off on the e-portfolio!

The afternoon is then compulsory foundation school teaching.  The topics this week are sepsis and geriatric falls, which is good because they're both clinical.

The morning begins with an attempt to download software that will enable me to access a database of 2782 prolactinoma patients, which my supervisor would like me to analyse. It's a good project. With little data currently in the literature there's certainly the potential for a small paper at the end of it. Unfortunately, the software won't download and then the database won't open – this takes most of the morning. It's an important lesson about research: that there will be setbacks, and frustrations, and you need to be prepared to have the patience to simply to work through these.

Next stop is the hospital grand round. One of the niceties of being on an academic rotation is that you usually have no problem attending regular events such as this. They're also a good opportunity to meet up with some of the consultants I'm doing projects for, so well worth attending.

After the grand round I finally manage to get into the prolactinoma database and the initial results are looking promising. Analysing the data will require some fairly complex statistics that I'll need to brush up on, but it's exciting having the data nevertheless. My week finishes with this week's British Medical Journal – which I'd like to claim I read cover to cover every week, though it's realistically only when I have enough time. The weekend will mainly be mine, there are a few pieces of academic work that will need tying up on Sunday afternoon and a fair chunk of it will be dedicated to revising for the MRCP – but at least I'm not on call!