Real-life story - Mr Alex Goodson
Mr Alex Goodson works at the Morriston Hospital near Swansea in Wales as a specialist registrar (SpR) in oral and maxillofacial surgery (OMFS). He is in the first year of specialty training in this branch of surgery, known as ST3.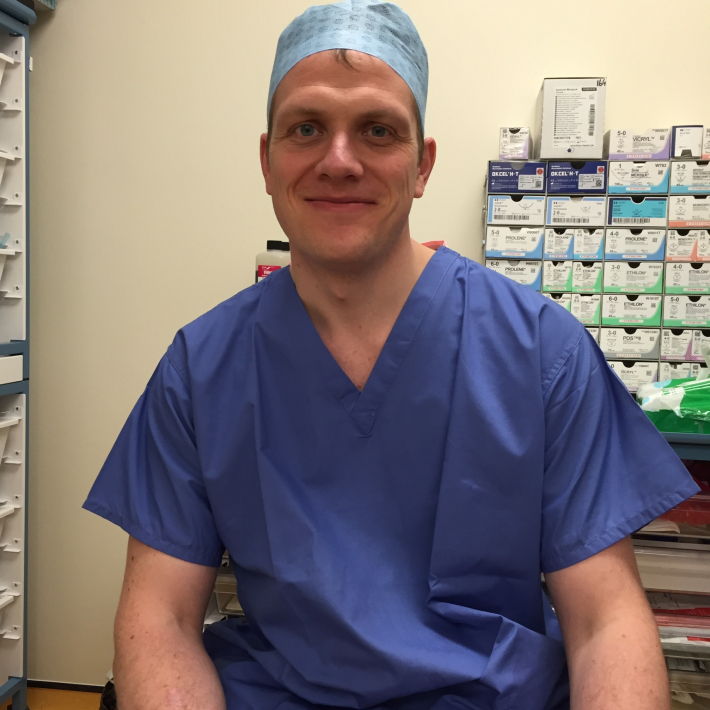 Surgery also uses a combination of practical and intellectual skills, which I enjoy.
When I was at school I had a strong interest in design and technology as well as science subjects. My interest in making things and using my hands meant I was beginning to think about a career in surgery before starting medical school.

During my undergraduate medical training at Imperial College London I completed what is known as an intercalated BSc degree in Surgery. This involves one extra year of study alongside your medicine degree, taken after your third year. This provided an invaluable insight into the broader aspects of surgery, including research.

Becoming a doctor involves two years of foundation training after your medical degree, F1 and F2. During my F1 year I was very fortunate to gain experience of both general surgery and colorectal (anus, colon, rectum and pelvic floor) surgery. I gained experience of important surgical techniques including suturing, ie using a needle and thread to close a wound.

My foundation training also included experience of general medicine. If you want to be a surgeon, it's just as (if not more) important to gain experience of caring for sick patients as it is to gain hands-on surgical experience. A good surgeon must be a highly effective physician who can communicate well with patients.

My F2 year gave me a further insight into the working life of a surgeon and involved four-month rotations in craniofacial surgery and orthopaedic surgery, as well as A&E.

After completing foundation training I successfully applied for core surgery training which takes two years. I gained experience in cardiothoracic surgery, general surgery, plastic surgery ear nose and throat (ENT) surgery

By this time I had decided I wanted to train as an oral and maxillofacial surgeon and my rotations in plastic surgery, ENT and craniofacial had given me directly relevant experience, alongside a couple of two-week attachments in OMFS. Before being accepted for specialist training I needed to complete a dental degree, BDS, which is shortened to three years for medical graduates. During the BDS I worked part-time (night shifts and weekends) as a maxillofacial registrar.  Once I gained my BDS I applied for specialty training in OMFS.

I am near the beginning of a five-year specialist training programme in OMFS. Although my work is closely supervised by consultants, I am also able to carry out straightforward operations without supervision. For example, I operate on patients with severe head and neck infections, making a cut in the neck and draining an abscess. I also perform surgery to repair broken jaws and cheekbones.

Because I worked as an OMFS registrar during my dental degree I gained enough experience to now do these operations unsupervised. But for the more difficult and complex operations such as cancer surgery with jaw reconstruction, I am always supervised and assist the consultant with the very complex parts of the surgery.

My job as a trainee combines outpatient clinic work, surgery and on-call work. Surgery is a mix of emergency and planned operations.  Emergency work often involves treating patients with facial injury due to accident or trauma.

Operations are always carefully planned in advance. Before cancer surgery for example, I meet with the consultant and technician to formulate a plan for the best reconstructive strategy. We use a special computer assisted design (CAD) program to help with this. However, surgery doesn't always go as planned, and so you need to remain flexible.

Cancer surgery can last for 12 hours or longer. Operations usually start at around 8 am, and might not finish until 8 pm or later. I might get one short break of around 30 minutes during that time.

I usually spend around one to two days a week in our outpatient clinics. Only around a third of our patients require OMFS surgery, and so much of my work involves reassuring patients and working with other specialists as part of larger multidisciplinary teams. The rest of my week is spent in meetings or training sessions.

I love my job as every patient is different and has individual needs and issues. Fixing their problem is always a fascinating and enjoyable puzzle. Surgery also uses a combination of practical and intellectual skills, which I enjoy.

Although days in surgery can be long and stressful, I enjoy the work so much and I particularly value the camaraderie of my colleagues. The atmosphere during an operation is very sociable.

Studying for a dental degree was undoubtedly the hardest three years of my life. I didn't find the course unduly demanding, although the combination of this with evening and night shifts working as a locum doctor to help fund my studies was very challenging. However, there was always light at the end of the tunnel, and I was training for a job I loved.  

Being well-rounded is really important in medicine and I always make tine for interests outside work. I enjoy playing drums and singing in a band, fishing and socialising with friends and family.

I'm not 100% sure yet about my future sub-speciality, although I am very interested in facial reconstructive surgery for cancer, trauma and conditions from birth. Facial reanimation and treating people with facial palsy interests me, as this can have a huge impact on somebody's quality of life in the long-term.

Top tips

always stay ahead of the game - try to make a career decision early in your foundation training and plan about two years in advance.
be super-organised and gain as much relevant experience as you can to enhance your CV
don't be dissuaded by others and always believe in yourself. Keep your eye in the prize