Conference delegates give advice to their younger selves
Delegates at the recent Faculty of Public Health two-day conference were asked what careers advice they'd give to their younger selves. 
A steady stream of visitors to the Health Careers stand wrote down their 'advice' to be shared on Twitter @charlenebinding or agreed to take part in a video.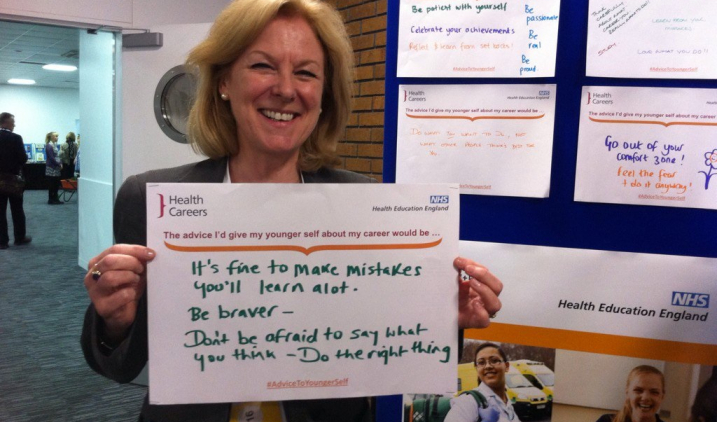 Make mistakes, work hard and explore all options
Shirley Cramer, chief executive of the Royal Society for Public Health, wrote: "It's fine to make mistakes. You'll learn a lot. Be braver - Don't be afraid to say what you think - Do the right thing."  
Everyone starting out on a career in public health will have been encouraged by the comments of Anna Bailey-Bearfield, stakeholder relations officer with the Alzheimer's Society, who wrote: "There are no limits to what you can achieve - work hard and reach as high as you can."
Julie Bend, postgraduate recruitment manager at the University of Liverpool, advised those thinking about their future career options to "Research everything. Explore all options." Julie will be pleased to know that visitors to Health Careers who take a good look around the many roles described on the website will be taking a step in the right direction. As a final thought, Julie added: "Decide what you want to do - it is not about pleasing others!!"
Thank you
Thanks to all who came to the stand.
Watch out for Health Careers at a conference or careers fair near you.
Public health - find out more
Read more about the variety of roles in public health.