GCSE results 2020
We know it's an anxious time if you're waiting for your GCSE results, especially if you don't know what you want to do next.  
Whatever happens, don't panic. There are lots of options available to you.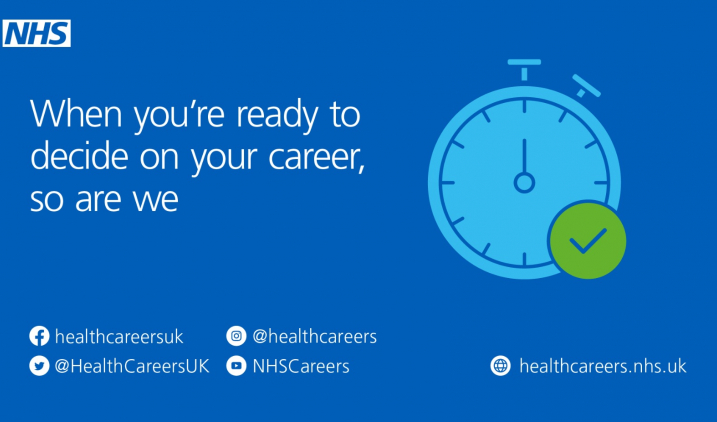 Take a look at the ideas below to help you decide.   
Continuing your studies
Depending on your results, you could carry on with your studies at a sixth form or further education college. You could take A-levels or a job-related qualification such as a BTEC in health and social care. Or you can take one or more of your GCSEs in the autumn series if you want to try and improve your grades.  
Apprenticeships
How about an apprenticeship? It offers the chance to earn while you learn and excellent job and career prospects after you finish. Most NHS apprenticeships are advertised on NHS Jobs so see what's available in your area. See current vacancies at the bottom of this page. 
Volunteering
Volunteering is a great way to try something, learn new skills and you'll gain valuable experience for university and job applications too. 
Thinking ahead to university
And keep the NHS in mind if you're thinking ahead to university. Our courses offer high graduate employment, fantastic career prospects and the chance to make a difference to people's lives. Financial support from the NHS is also available for many of the degrees, including a £5,000 annual payment.
Combining your options 
A combination of the above options might work for you. For example, studying or working part time while you do some volunteering can be a great option.  
Don't panic if your results weren't as you expected them to be. 
Live apprenticeship vacancies

Expand / collapse

Need some inspiration? Keep us in mind

Expand / collapse

It's never too early to think about your future career and the huge range of careers in the NHS will amaze you! There are clinical and non-clinical careers. You could work on the front line on a ward or never see a patient and still make a difference to people's lives.

Try our career mapper or find your career in health tools to get some ideas.

Contact the Health Careers team on 0345 60 60 655 or email advice@healthcareers.nhs.uk to find out more about career options in the health sector. And have a look around the other sections of the Health Careers website too.

Still need some help?

Expand / collapse

Contact your school or college to discuss your options, including re-taking your GCSEs in the autumn series.   

Your local further education college can help you find out about courses at level 3, including A-levels and job-related courses such as BTECs and RSA qualifications.   

The National Careers Service has a phone and web chat service. Call 0800 100 900 or chat online via the National Careers Service website. You can speak to an impartial adviser from 8am to 10pm daily.