Health Careers helps NHS celebrate National Apprenticeship Week 2020
Taking place between 3 to 9 February 2020, National Apprenticeship Week is an annual celebration of apprenticeships and the enormous contribution apprentices make.  
Coordinated by the National Apprenticeship Service, the 13th annual week-long celebration of apprenticeships has 'Look Beyond' as its theme.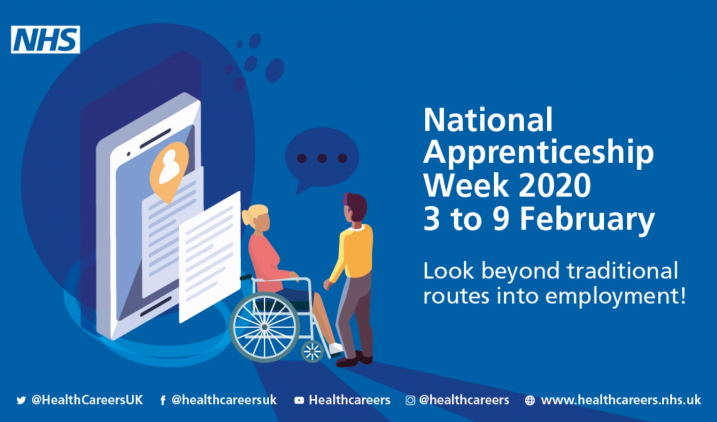 'Look Beyond' demonstrates the diversity and value that apprenticeships bring to employers, apprentices and communities across England, including the NHS, and we're proud to help celebrate that.
An NHS apprenticeship is a great way in to many of the 350 NHS careers available. You can train and study at any age, right up to Master's level if you like!
Could an apprenticeship be right for you? See if there's something to suit you on the NHS Jobs website. 
Allied health professionals apprenticeships
Did you know that allied health professionals (AHPs) are the third largest workforce in the NHS? They focus on ill health prevention and improving health and well-being to help individuals to live as full and active lives as possible. 
There are 14 different professions in this part of the NHS workforce and they all make a difference across the health social care and education sector.
Some of the professions are offering the opportunity to undertake a degree-level apprenticeship.
Read our inspiring stories 
Gareth Ward  
Gareth started his career as a support worker many years ago. Fast-forward to now, he's doing an advanced clinical practitioner Master's degree apprenticeship. Read Gareth's story. 
Emily Gold 
Doing a supported internship with Newcastle Project Choice has helped Emily in becoming a business admin apprentice. She plans to go into a band 2 role after her apprenticeship. Read Emily's story. 
Peggy-Jane Murrell 
Peggy is a trainee nursing associate who enjoys bonding with her patients and making them feel at ease before surgery. Read Peggy's story.  
Rizal San Pedro  
After completing a level 2 apprenticeship, Rizal went on from being a catering assistant to a chef who is serious about serving quality food. Read Rizal's story.