National NHS competition encourages young people to consider a health career
With such a wide range of healthcare careers to choose from, Health Education England (HEE) is keen to encourage young people to consider joining one of the many healthcare teams across England, through its annual Step into the NHS schools' competition. 
The competition aims to raise about the breadth of careers available in health and help 12 to 14 year olds to develop important job seeking skills. To be in with a chance of winning a fantastic prize*, students from years 8 and 9 need to  choose a healthcare career they might be interested in and produce a job description and eye-catching advert for the role, which will appeal to their peers.
Professor Ian Cumming, chief executive of HEE, said: "As ever, we are very keen to support young people with their career choices and encourage enthusiastic, talented and caring people to become part of the NHS in a wide variety of roles. This national competition also provides an excellent opportunity for young people to learn about the right values and behaviours expected of all staff working in healthcare and to demonstrate their knowledge of this in their entries.
"I am delighted to be launching the Step into the NHS schools' competition for 2015/16, as it has proven to be a useful resource for teachers and has helped young people take those first steps towards deciding their future career."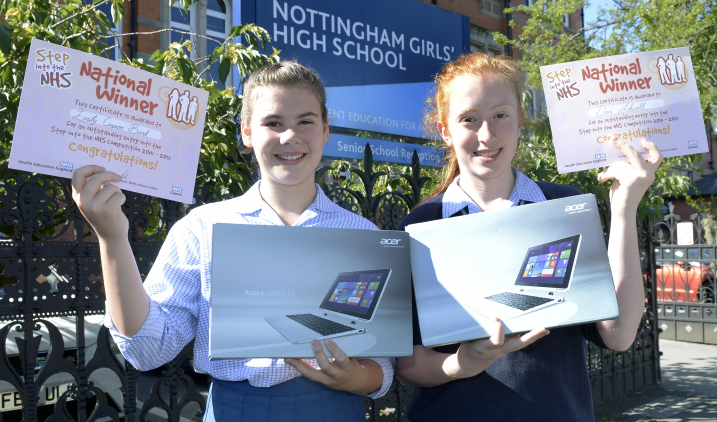 Winners in 2014/15
Last year's competition winners from Nottingham Girls' High School chose the role of a consultant neurosurgeon for their entry. They devised a creative animation which focused on a little boy's journey to recovery from a brain tumour and showed how the neurosurgeon played a big role in helping him get better. 
Susan Gorham, head teacher at Nottingham Girls' High School, said: "This has been a very worthwhile exercise for our students. This competition has proven to be a valuable experience, engaging students with the workings of the health service and the different career options available to them. The hard work and effort invested in their project reflects their commitment and dedication."
Further information