New campaign aims to encourage more young people to consider a career in nursing and the allied health professions
Young people aged between 16 and 18 are the target of an eye-catching new campaign to attract more people to study for degrees in nursing and the allied health professions (AHP). 
Spearheaded by Health Education England (HEE), the campaign will run primarily across social media and digital platforms to inspire and inform sixth form and college students about what degrees in nursing and the allied health professions have to offer.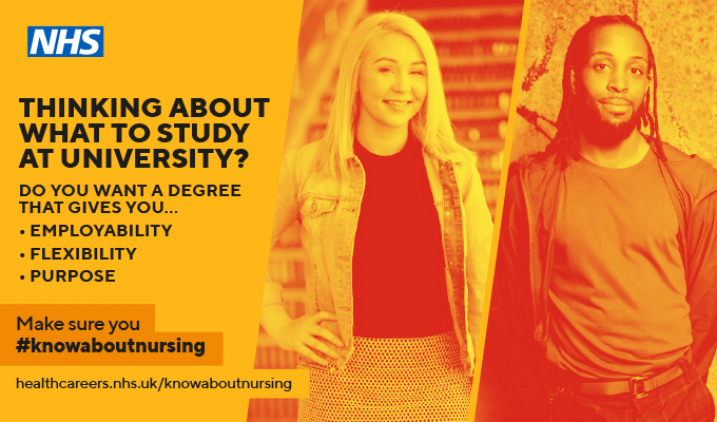 The campaign will put the spotlight on the benefits of these degrees and resulting careers, including:
a social purpose – the chance to make difference to people's lives;
high graduate employment – 94% of graduate nurses find employment in a nursing job within six months of finishing their degree;
the opportunity to work anywhere in the UK; and
career development opportunities such as teaching, research and team leadership
Campaign assets
Health Education England is looking for support in promoting the campaign and its key messages. There are several ways you could do this:
Share campaign information on your social media channels, either by sharing tweets/ posts from the Health Careers and Health Education England channels or posting your own messages using the hashtag #KnowAboutNursing or relevant AHP hashtags such as #AHPsintoAction
Share information about the campaign and campaign assets (such as video and image-led collateral) on your website. Yoou could even right a blog or news piece
Share information about our campaign in your newsletters and any other communications to organisation members and members of the public
To help with this, a set of campaign assets has been produced and can be found at the links below:
Ambassadors
A team of student and newly-qualified nurses and allied health professionals from across the country have been recruited as ambassadors to spread the word about their professions, talk about their experiences and provide first-hand advice to those thinking about doing a nursing or AHP degree.
Social media 
You can follow the campaign on social media at the accounts below or by following #knowaboutnursing.