NHS Scientist Training Programme - 2020 recruitment
Direct entry applications for the NHS Scientist Training Programme (STP) 2020 are now closed but in-service applicants have until 11 February 2020 to apply.
The STP is an exciting postgraduate training programme providing an accredited MSc in Clinical Science that leads to eligibility to apply for clinical scientist status.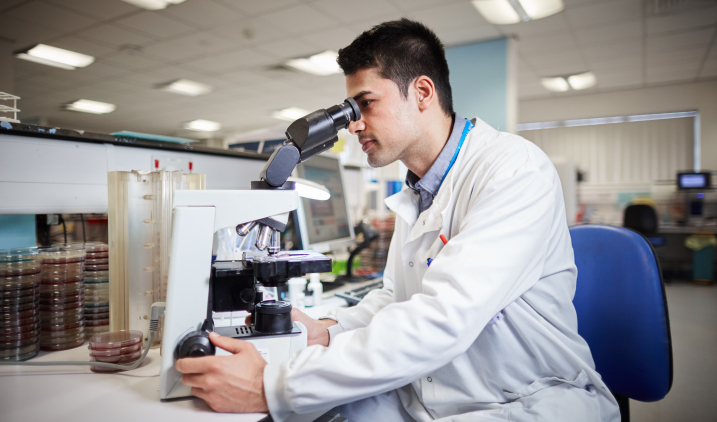 Getting in
For entry you must have a 1st or 2.1 either in an undergraduate honours degree or an integrated master's degree in a pure or applied science subject relevant to the specialism for which you are applying.
If you have a 2.2 honours degree or better in any subject, you will also be considered if you have a higher degree* that is relevant to the specialism for which you are applying.
(*Higher degree as defined on page 17 of The Frameworks for Higher Education Qualifications of UK Degree-Awarding Bodies Please note this does not include postgraduate diplomas or postgraduate certificates.)
For full details of entry requirements for the STP, including qualifications, scientific skills, transferable skills and physical requirements, please see the person specification on the National School of Healthcare Science's website.
Healthcare science specialisms available through the STP
Postgraduate training for the STP leads to a specifically commissioned and accredited Master's degree and certification of achievement of work based training. The programme offers *specialisms based around the following themes.
Applications
Direct entry applications
Applications to the Scientist Training Programme for direct entry are now closed for the September 2020 intake. 
In-service applications
Applications for in-service applicants close on 11 February 2020. Applications after this date will not be accepted.
See more about key dates for applying
Find out more about applying for the STP on the NSHCS website
Find out more about competition ratios for the STP on the NSHCS website  
Where to find out more
If you want to find out more about the various areas of healthcare science, please visit our role pages under the relevant area:
For information about the STP recruitment process and to apply, visit the NSHCS website, where you will find a host of information including:
applicant guidance
FAQs covering the vast majority of questions that candidates have about application and eligibility and the selection process 
details of open days that organisations recruiting to STP positions are holding during 2020
the generic STP job description 
the generic STP person specification 
a list of which posts are available, by specialism and geographical location