Ten years of Step into the NHS schools competition celebrated
Published: 12 February 2019
Last Updated: 12 February 2019
Health Education England (HEE) is celebrating ten years of the 'Step into the NHS' competition for secondary schools. 
The programme has seen at least 20,000 children take part to date, with the number of participating schools across England doubling over the decade. The initiative is aimed at helping young people understand the range of career opportunities in the NHS and to help further raise career aspirations.
As well as the growing number of schools involved, there has also been a significant rise in the number of entrants to its secondary school competition, which is open to year 8 and 9 pupils across England. The competition has generated over 9,000 entries to date.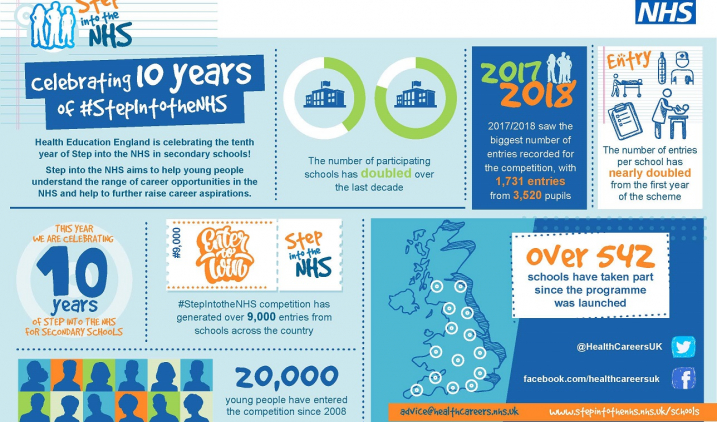 Winner of winners crowned
As part of the celebrations, a 'Winner of Winners' – recognising the best entry from all previous national winners from the last ten years - has been crowned.
Pupils from St Catherine's School in Bramley, Guildford, were selected by careers specialist, Alan Simmons, as the Winner of Winners, for their entry in 2012/2013, in which they creatively depicted the role of an NHS physiotherapist. The students, Klara Angeles, Annabelle Dersy and Margarita Spektor, who were all in year 9 at the time of the competition, produced four different creative elements, including designing a mascot for the NHS physiotherapy team and conducting interviews with NHS physiotherapists.
Margarita Spektor, a member of the winning team from St Catherine's School, has gone on to study biomedical sciences. She commented: "I'm still very passionate about science and I remember really enjoying taking part in the competition because it allowed me to combine my love of science and art, which I don't get to do that often. I'm glad that I took part in the competition as it helped me see that there were other important health careers other than being a doctor."
#ThenAndNow
HEE also tracked down a number of previous winners to see where are they are now and to recreate photos from their prizes presentations. This included Bethany Coombes who was the first ever winner of the competition in 2009. 
Bethany's experience of the competition inspired her to explore the range of careers in the NHS and she is now working as a district nurse. You can read Bethany's story on our website. 
You can follow the '#ThenandNow' posts on our social media channels including Twitter.
Participating schools sent certificates 
Many schools have enter the competition multiple years. These schools tell us that it is now embedded in its school curriculum and help them support the delivery of the Gatsby benchmarks which all schools must now meet. 
Twenty-seven schools have actually entered the competition at least five times, including St Catherine's School who have taken part of the last seven years. 
Susan Weighell, Director of Careers Education at St Catherine's commented; "All of our year 9 students take part in Step into the NHS competition each year and they find it rewarding, and very informative. It is fantastic to have a programme which offers the girls a lot of scope to use their creativity while learning more about the NHS, and the breadth of career opportunities ranging far beyond the obvious options of doctor or nurse; I've always favoured it for that reason."
Each of these schools have been sent certificates marking their participation including The Kings School in Pontefract which has entered NINE times and have been winners on multiple occasions.  
Step into the NHS - 2018/19 competition

Expand / collapse

The Step into the NHS schools competition asks pupils to research an NHS career, then write a job description and create an advert for their chosen role.

Entries for this year's competition closed on 31 January 2019 with winners being announced in the spring.  Early indications are that there are a record number of schools entering this year.

Step into the NHS in primary schools

Expand / collapse

Step into the NHS has now been rolled out into primary schools with a series of interactive teaching resources spanning five phases. Students can also enter a competition to win Amazon vouchers. The deadline for entries is 31 March 2019. 

Infographics available for download

Expand / collapse