WOW Show shines spotlight on lesser known careers for teens
The WOW Show is a new interactive careers show that was broadcast in schools on 2 May 2018.
It features employers in various sectors, including healthcare, and is designed to inspire young people to think more broadly about their career options.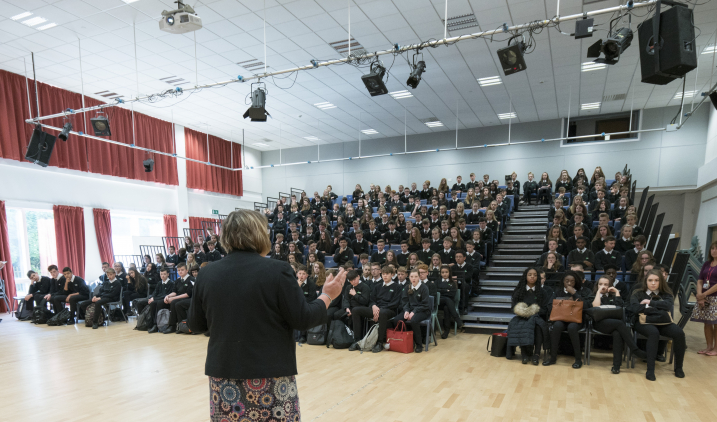 The show on 2 May gave an insight into the 350 roles available in the NHS by showcasing 'hidden' jobs, including a prosthetist, an orthotist and an art therapist.
Reach
The 30-minute pilot reached an estimated 120,000 students in the south east, Cambridgeshire and Cornwall, who were watching via YouTube.
Inspiring the next generation
Gillian Rawlinson, national AHP clinical fellow at Health Education England said:
"This innovative way of providing careers information is a fabulous opportunity to showcase some of our lesser known NHS careers such as allied health professionals who make a tremendous impact on peoples' lives everyday. 
"We aimed to use the WOW Show films to demonstrate how the NHS has roles for everyone; those who have great creative, and communication skills like speech and language therapists, orthoptists and specialist nurses seen in our learning disabiity film, through to more tehcnical careers based around engineering and technology, such as prosthetists and orthotists, and therapy radiographers.
"The beauty of the WOW Show is its engaging format and accessibility. It shines a light on the diverse range of NHS careers, illustrating that there is something for everyone in the NHS, whatever your passion and skills."
Beverley Harden, associate director of education and quality at Health Education England said:
"Inspiring our next generation of NHS staff is perhaps one of the most important responsibilities we all share. It is hard for people to navigate the wealth of career opportunities and to get beyond the well-known, big professions.
"The wonder of the WOW Show is its focus on the less well-known but utterly critical job roles we have within the NHS: prosthetists and orthotists, therapeutic radiographers, orthoptists, speech therapists, occupational therapists, and nurses working with people with a learning disability.
"The video is inspiring and the supporting RSA lesson plans make it invaluable on-demand viewing for anyone thinking of a career change, any student at school (and their parents) or a graduate looking for a new opportunity. Please share this video widely across local schools, friends and other networks to excite people to these wonderful careers that we love!"
Appeal
With its fast-moving pace, bite-sized format and energetic presentation, it is designed to appeal to and engage a young on-line savvy audience, while adding value to careers information, advice and guidance programmes.
Tune in for free
Schools can view the video for free and PSHE lesson plans and PowerPoint slides, designed by the RSA academies, are freely available to teachers.
Two of the schools that tuned in took part in a Google 'hangout' which enabled students to ask careers advisors and employers in the studio specific questions.
Watch the WOW Show on demand.