Rehabilitation medicine
Specialists in rehabilitation medicine (RM) work closely with many other medical specialties, healthcare professionals and other agencies to assess and provide interventions to individuals with complex disabling conditions. The aim is to optimise recovery after severe injuries in the acute phase and improve function and promote participation in society in the longer term for all people with conditions which give rise to disability.
.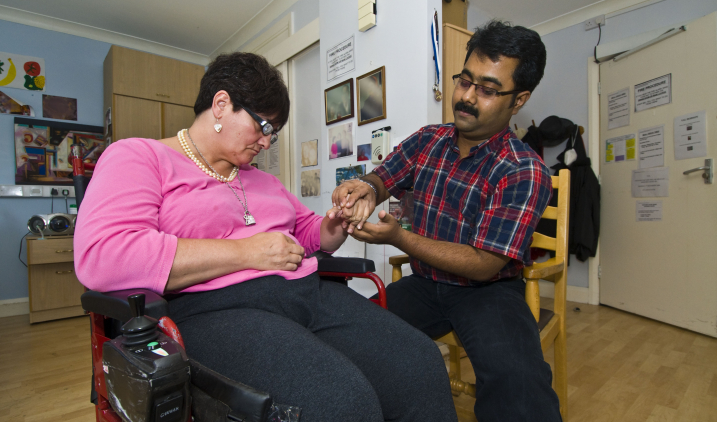 Nature of the work
Neurorehabilitation encompasses patients with traumatic brain injury, stroke [1] and progressive neurological conditions such as multiple sclerosis and spinal cord injury rehabilitation for patients with acute or progressive spinal cord injuries.
Musculoskeletal medicine includes a wide range of chronic conditions. Limb loss medicine includes a large proportion of patients with widespread vascular disease, or who have congenital limb abnormalities. Some conditions such as cerebral palsy have a combination of neurological and musculoskeletal problems.
Working with such a varied group of patients demands highly developed diagnostic abilities. Skills in managing both acute and chronic complications are essential. Rehabilitation physicians have the advantage of developing the 'long view', managing patients for months or even years from soon after an acute event, through to discharge and ongoing rehabilitation in the community.
This gives the opportunity to get to know the patient and their family and so deliver holistic [2] care.
Current trends in rehabilitation medicine include interfacing with acute services and other specialties such as:
hyper-acute rehabilitation –taking patients directly from critical care services
major trauma rehabilitation and rehabilitation along the acute care pathway
working in the assessment and management of patients with disorders of consciousness (PDoC)
closer working relationships between neurological rehabilitation and other services including spinal cord injuries centres, clinical neurosciences, stroke

[1]

medicine etc
developing skills in the management of chronic pain
working with palliative care teams to support end of life care in patients with complex disability
interactions with the courts for medico-legal issues including litigation and mental capacity -best interests decision-making, deprivation of liberty etc
further differentiation of specific fields of interest within the specialty including further development of musculoskeletal rehabilitation and increased focus on vocational rehabilitation
further development of community-based specialist services
Common procedures/interventions
These include:
specialist rehabilitation prescriptions for patients in the acute care pathways
practical procedures to reduce pain, spasticity, and other impairments
assessing patients for complex assistive technologies such as specialist wheelchair seating
Areas of specialist interest
Many doctors in rehabilitation medicine develop areas of specialist interest such as:
neurological rehabilitation
spinal cord injury rehabilitation
limb loss or deficiency rehabilitation and prosthetics
musculoskeletal rehabilitation
assistive technology, including environmental control equipment, wheelchairs and orthotics
vocational rehabilitation
Want to learn more?
Find out about:
Other roles that may interest you