Plastic surgery
Plastic surgeons perform reconstructive plastic surgery which restores form and function following illness or trauma. They also perform aesthetic or 'cosmetic' surgery which changes appearance or form.
This page provides useful information on the nature of the work, the common procedures/interventions, sub-specialties and other roles that may interest you.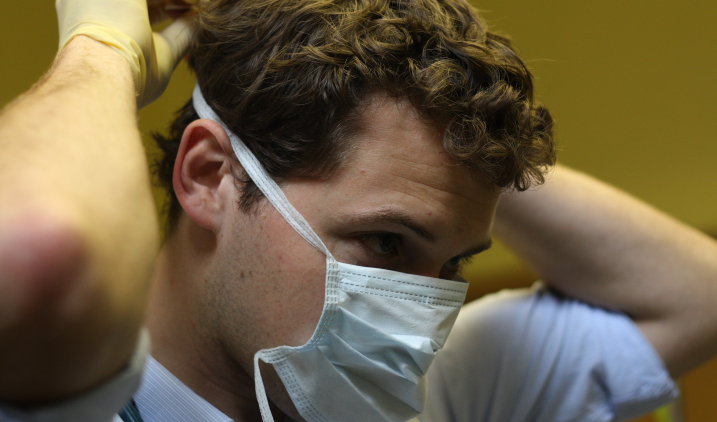 Nature of the work
The work encompasses a wide range of conditions in different parts of the body. Plastic surgeons may work with both children and adults.
Reconstructive surgery is the main part of the job for most plastic surgeons in the NHS. The work includes:
breast reconstruction (including after cancer)
skin and soft tissue cancer procedures
head and neck reconstruction
treatment for cleft lip and palate
burns and trauma surgery trauma includes road traffic accidents, sporting injury and violent incidents
hand operations
Aesthetic surgery includes:
breast augmentation and reduction
otoplasty – surgery to treat protruding ears
eyelid surgery (blepharoplasty)
liposuction – to remove unwanted fat
facelifts
Aesthetic or cosmetic surgery has become very popular in the UK during the last decade. 90% of these procedures are carried out on women and much of this work is done privately.
"Operations can last from around 20 minutes for something straightforward to between six and eight hours for more complex microsurgery". Lilli Cooper, trainee plastic surgeon,Queen Victoria Hospital, East Grinstead, West Sussex.
Common procedures/interventions
Plastic surgeons use innovative surgical procedures and techniques including:
microsurgery – magnification and tiny sutures are used to join very small arteries, veins and nerves to restore the blood or nerve supply to a piece of living tissue
skin grafts – a healthy piece of skin is transferred to another area of the body where the skin is missing or damaged
tissue expansion – this procedure allows the body to 'grow' extra skin by stretching surrounding tissue
flap surgery – the transfer of a living piece of tissue from one area of the body to another, along with its blood vessel
Sub-specialties
There are various sub-specialties within plastic surgery including:
paediatric plastic surgery
hand surgery
congenital –conditions treated include cleft lip and palate, facial and ear deformities, craniofacial defects, genito-urinary anomalies, upper limb anomalies and skin conditions
breast surgery – reconstruction after cancer, congenital anomalies and cosmetic surgery
skin – includes excision and reconstruction, management of skin cancer metastases (the spread of cancer from one part of the body to the other)
trauma – repair of facial trauma and lower limb trauma
cancer – including removal of malignant tumours and skin lesions, head and neck cancer and breast reconstruction
hand and upper limb surgery – including congenital hand abnormalities, hand injuries and treatment of degenerative hand disease
It's an exciting time to be involved in plastic surgery and research is at the forefront of this specialty. Most plastic surgery units in the UK contribute to research. Projects are always highly collaborative and topics include tissue engineering, the development of scar-free wound healing and facial and hand transplants.
Want to learn more?
Find out more about:
Other roles that may interest you