Infectious diseases
Doctors working in infectious diseases (ID) diagnose, investigate and treat infections caused by many micro-organisims such as bacteria, viruses, protozoa and fungi.
This page provides useful information on the nature of the work, the common procedures/interventions, sub-specialties and other roles that may interest you.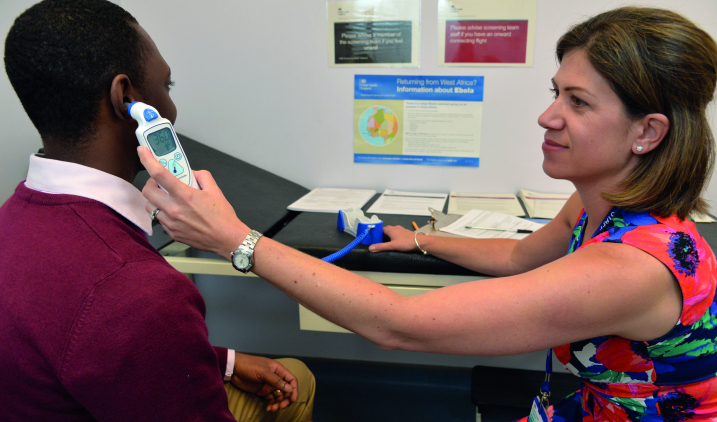 Nature of the work
Working in infectious diseases combines both the clinical and laboratory skills of making diagnoses with providing effective treatment for a wide range of infections in both acutely and chronically ill patients.
There are four distinct but very much interdependent infection specialties: Infectious Diseases (ID), Medical Microbiology (MM), Medical Virology (MV) and Tropical Medicine (TM).
Specialists in infectious diseases have noted a big impact on their role of factors such as:
an increase in the severity of infections, particularly in more frail populations of patients
an increase in resistance to antibiotics
new infections such as MRSA, Clostridium difficile and norovirus which can be hospital-acquired
a rise in blood-borne virus infections, such as hepatitis B and C and HIV
the growing popularity of global travel heightening the need for expertise in the prevention and treatment of travel-related 'international' disease
Specialists in infectious diseases typically treat conditions including:
bone infections
HIV
pneumonia
viral hepatitis (Inflammation of the liver)
Less commonly they may also treat conditions including:
cholera
dengue
diphtheria
dysentery (an intestinal infection)
ebola

malaria
meningitis (inflammation of the brain membranes)
sepsis

[1]

(a serious infection causing an exaggerated immune response)

tuberculosis
typhoid fever
yellow fever
Common procedures/interventions
These include:
drug prescription
insertion of a central venous catheter

[2]

– a thin flexible hollow tube is inserted into a large vein for the introduction of fluids including medication
lumbar puncture

[3]

- a hollow needle is inserted into the lower part of the spinal canal to withdraw cerebrospinal fluid for diagnosis or to inject medication
sigmoidoscopy (examination of part of the intestine using a very small camera)
Sub-specialties
Infectious diseases is a broad and varied specialty providing opportunities for doctors to train in infectious diseases, alone or to combine the training with either general internal medicine or with medical microbiology (or virology). Some ID doctors will also specialise in tropical medicine.
Want to learn more?
Find out more about:
Other roles that may interest you