Medical microbiology and virology (doctor)
Medical microbiology and virology (MMV) involve the diagnosis, treatment and prevention of the spread of infection in hospitals and the community. Both these specialties are laboratory-based, but make a major contribution to clinical infection management.
This page provides useful information on the nature of the work, the common procedures/interventions, sub-specialties and other roles that may interest you.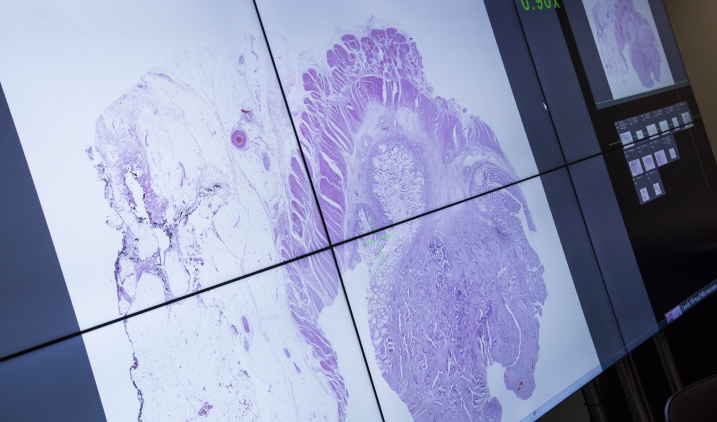 Nature of the work
Medical microbiologists and virologists require clinical skills, as well as laboratory knowledge. In medical virology, the focus of skills and knowledge relate to viral infection. 
Medical microbiology
Medical microbiologists provide services to aid the diagnosis and management of infectious diseases and help ensure the safety of those at risk of acquiring infectious diseases, both in hospitals and the community. Although this role is laboratory-based, the microbiologist's role is increasingly clinical. 
When a patient is suspected of having an infection, they provide advice on the likely causes and suggest the best tests to diagnose it. Tests may involve the identification of parasites under the microscope, the use of biochemical tests to identify colonies of bacteria or the use of molecular tests to identify organisms (or even specific genes) which may govern an organism's behaviour.
Microbiologists provide advice regarding the interpretation of results and the appropriateness of further investigations and antibiotic treatment.
Microbiologists have a hands-on role supervising the running of the diagnostic laboratory, and ensuring the delivery of prompt and accurate test results for patients. In cases where antimicrobial drugs are required, medical microbiologists provide advice concerning the choice of such drugs and the duration of treatment.
The side effects of treatment, along the potential risk of encouraging further infections (some of which may be antibiotic-resistant) must be considered, along with any medical problems or allergies the patient might have.
Medical microbiologists also play a key role in controlling the spread of infectious diseases. Microbiologists work with hospital infection control teams to reduce the spread of infections in hospitals (including hospital 'super bugs' such as MRSA and Clostridium Difficile).
They also contribute to the protection of public health by monitoring the patterns of infectious diseases and reporting new or unusual occurrences of infections. In their infection control activities, microbiologists work with nurses and other healthcare professionals, hospital estates departments and management. 
Teaching healthcare workers, both students and qualified staff, is an important part of the work. Research is undertaken by those with particular interests. 
Medical virology
Medical virologists work in the laboratory and in clinics, as well as in hospital wards and the community. They manage HIV/AIDS and other blood-borne infections such as hepatitis B and C, as well as the challenges of the current and newly emerging viruses around the globe such as SARS and avian flu.
Medical virologists must also deal with the new threat of bioterrorism, which uses agents like smallpox. There is scope for research and teaching without compromising regular work. Virology suits people with an interest in clinical, as well as laboratory-based, activities.
Medical microbiology and virology are becoming increasingly clinical. Training is starting to converge with that of other clinical infection specialties, such as infectious diseases and genitourinary medicine. There are joint training programmes in many regions, such as combining infectious diseases with medical microbiology or virology.
"I'm passionate about my job because I believe in the importance of what I'm doing"
Common procedures/interventions
Microbiologists and virologists don't usually work directly with patients in person, but liaise between clinical colleagues in the hospital, GPs and laboratory staff.
For more complex tests, microbiologists and virologists may undertake hands-on bench work in the laboratory.
Microbiologists use techniques that include:
traditional culture techniques such as microbiological stains
measuring antibody response to infection
detection of microbial antigens
nucleic acid amplification (polymerase chain reaction)
Virologists use techniques including:
antigen detection techniques
high-throughput nucleic acid extraction techniques
Laboratory staff will then provide the results of cultures of blood and sterile fluids that have become positive overnight. Urgent and important results are communicated directly to clinical colleagues through visits to the intensive care unit and other relevant wards. Other significant results may be communicated to clinical colleagues via telephone.
Sub-specialties
There are no sub-specialties in medical microbiology and virology.
Want to learn more?
Find out more about:
the working life of someone in medical microbiology and virology
Other roles that may interest you