Ambulance service team
The ambulance service is about getting patients to where they need to be cared for in emergency and non-emergency situations.
Ambulance service staff provide care at the scene of the emergency, drive ambulances and other vehicles, and care for the patients travelling in them. Staff in the control room take calls and send ambulance service staff and vehicles to where they are needed.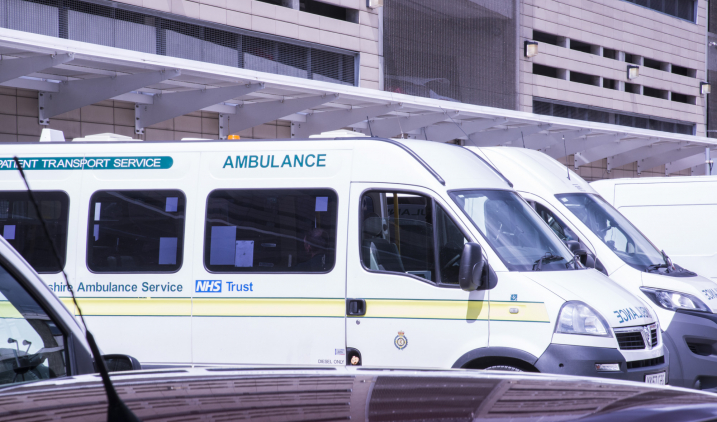 Emergency services
Emergencies occur all the time, so ambulance staff have to be ready to respond. Someone who is hurt or seriously ill needs help quickly. 999 calls go to a central control room where staff take the details needed to decide who to send to deal with the situation. The response could be via an ambulance, rapid response car, motorcycle or even a helicopter.
Whichever vehicle is sent will have staff on board who can assess and deal with the situation. Emergency roles include:
paramedic
experienced paramedic
emergency care assistant
call handler/emergency medical dispatcher
Non-emergency services
Not everyone needs an ambulance in an emergency. Patients also need to get to and from routine hospital appointments. Some patients are too elderly or vulnerable to drive or use public transport. Patient Transport Service (PTS) ambulances are adapted for frail or disabled passengers and have an assistant on board to help with loading and unloading. Some more able-bodied patients travel in PTS cars. If you work in patient transport, you could be:
an ambulance care assistant/Patient Transport Service (PTS) driver
a PTS call handler
For a job in emergency services, you need to be able to deal with any situation. You have to be able to stay calm when you hear or see distressing events and reassure other people at the scene, including the patient. You'll be happy working on your own or as part of a team.
PTS staff need to be calm and reassuring, as patients may be anxious about visiting hospital. All ambulance work is quite physical, with lifting and carrying involved. Communication skills, including listening, are very important for all ambulance service jobs.
For any ambulance service role you need good literacy and numeracy (sometimes GCSEs) and good communication skills. Call handlers and dispatchers need good IT skills. To drive an emergency vehicle, you need a driving licence for the type of vehicles the service uses. Paramedics have a qualification in emergency medicine. They may study at university and then enter the NHS or apply to become a student paramedic in an ambulance service. Either way, you need A-levels (or equivalent) and relevant experience, voluntary or paid.
Once you join an ambulance trust, you will keep your skills up to date with regular training. As you gain experience, you can progress. Experienced paramedics can become Hazardous Area Response Team (HART), specialist, advanced or consultant paramedics and call handlers can become shift leaders or control room managers. Emergency care assistants can apply to train as paramedics.
Your caring nature, communication skills, organisational skills and ability to stay calm could lead you to an ambulance service career.
Paramedics and emergency care assistants

Expand / Collapse

Paramedics are often first on the scene of an accident or emergency. They assess the situation and treat the patient as necessary. Some work alone on a bike, motorcycle or car with back-up from an ambulance or other emergency services, where needed. Other paramedics work with an emergency care assistant. Paramedics may treat the patient as the ambulance travels to hospital or treat the patient at the scene and make sure they can return home.

Experienced paramedics have extra training so they can make decisions about a patient's treatment. They can, for example, prescribe medication, do tests (such as urine tests) and refer patients to other agencies. Like paramedics, they may work alone on a bike, motorcycle or car. Or they may work in a team with a paramedic or emergency care assistant.

Emergency care assistants (ECA) work with paramedics and experienced paramedics to respond to emergency calls. ECAs help with the emergency care at the scene of the accident or emergency. They may help to move patients, control bleeding, treat wounds or observe vital signs such as breathing, bleeding and blood pressure. They may drive emergency ambulances.

Emergency medical dispatcher

Expand / Collapse

Emergency call handlers take 999 calls in an ambulance control room. They take details about the patient and the location of the incident. They may give first aid advice over the phone. Dispatchers decide on the type of response. This could be an ambulance, rapid response car, motorcycle or helicopter. They use an IT system to see what is available nearby.

Patient Transport Service (PTS) driver

Expand / Collapse

Patient Transport Service (PTS) drivers drive patients to and from hospitals and clinics in cars or adapted ambulances. Assistants travel on ambulances, helping patients on and off the vehicle and reassuring them during the journey. They may see the same patients regularly and get to know them. Drivers and assistants have to be able to lift patients.

Patient transport service call handler

Expand / Collapse

Patient Transport Service (PTS) call handlers work in an ambulance service control room. They organise transport to take patients to and from hospital appointments if they are not able to drive or use public transport. Call handlers make sure the patient is eligible for the service by asking a series of questions. Calls may come from health centre staff, hospital departments or patients themselves. Call handlers need to be calm and reassuring and able to deal with people who may be angry or upset.