Dental team
Providing dental care for the community or in an acute setting is a team responsibility.
Each member of the dental team has an important role to play in promoting and maintaining dental health. As well as looking after the nation's teeth, gums and mouths, the dental team contributes to the wider care of patients.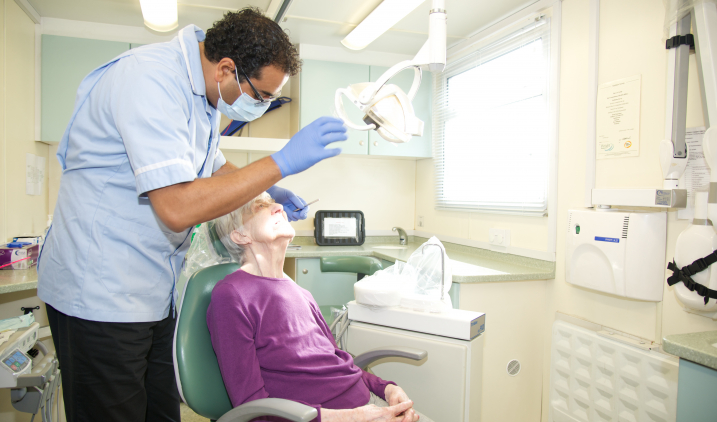 Through the skills of everyone in the team, and with advances in dentistry, the number of fillings needed has reduced. More of us are looking after our teeth better and keeping them for longer. What's more, the skills of the dental team, coupled with advances in dental technology, mean that a visit to the dentist is seen as a positive way to support health and wellbeing.
Gum disease remains a highly prevalent disease, as do other diseases of the mouth, such as oral cancers. Most dental diseases are preventable and it is important that all members of the dental team have adequate training and are utilised effectively. 
As well as dentists, the dental team includes the following dental care professionals (DCPs):
Whatever role you choose, you'll be making a big contribution to looking after the nation's teeth, gums and mouths.
Where you'll work

Expand / Collapse

Career opportunities in dental practices will largely depend on the size of the practice or the company. Practices can be small, independent operations or part of a large corporate body with hundreds of practices available to work in. Dentists and DCPs work together in a team treating patients. There are also roles for administrative staff such as receptionists and practice managers. Dentists and DCPs are able to establish and run their own dental practice.

The most common location for a dental practice is on the high street and most members of the dental team work in this setting. These are commonly known as general dental practices. The majority of work is NHS funded but some items of treatment may also be provided on a private basis. Dentists are generally self-employed contractors. Other members of the dental team are typically employed by the practice itself.

Some dental staff also work in NHS dental hospitals. They will have similar pay and conditions to doctors and nursing staff. This means they are directly employed by the NHS trust in question. Some staff working in dental teaching hospitals are employed by universities.

Dental technicians work for commercial laboratories or in NHS hospital laboratories. 

Entry requirements

Expand / Collapse

The entry requirements and training in the dental team vary, depending on the role you choose. Similarly, pay for dentists will differ from the pay for dental care professionals.

See the individual role pages for detailed information:

 

Dental team skills

Expand / Collapse

Whichever area of the dental team you work in, you'll need:

willingness to learn and make sense of scientific knowledge
good manual dexterity
good eyesight and colour vision
ability to offer advice and educate others
happy to work as part of a team
excellent people skills

Willingness to learn and make sense of scientific knowledge
Working in the dental team you will need a good academic background and interest in scientific knowledge particularly human anatomy and oral diseases processes. These skills are increasingly becoming important for all members of the dental care team. It is also important for you to update and test your knowledge against experience.

Good manual dexterity
Being good with your hands is important as well as good eyesight, including colour recognition. A key part of the role would be confident handling of medical instruments while working inside someone's mouth.

Good eyesight and colour vision
You will be carrying out precision work in confined spaces.

Ability to offer advice and educate others
There's a strong educational element to your job, teaching the skills for patients to keep their teeth and gums in good condition. You'll be dealing with a broad range of people, each with their own characteristics and concerns.

Happy to work as part of a team
The dental care team consists of a wide range of people with different skills and academic backgrounds. You need to have strong interpersonal skills and enjoying working as a team.

Excellent people skills
No two patients, and no two procedures, are ever quite the same. You would be providing dental care for people of all ages, from young children through to grandparents. You should be able to put people at their ease, gain their confidence and deal sympathetically with their problems and fears.

Working well under pressure
One of the challenges of working in the dental team is the ability to respond well to challenging situations. There is often the need to work with anxious patients who may be in pain or distressed. In addition, many dental surgeries are relatively confined spaces and the bulk of the day will be spent in that setting.

Time pressure is also a constant feature of being a dentist in an NHS high street practice. You will need to work quickly but carefully as well as recording detailed clinical notes.