Dental team
Providing dental care for the community or in an acute setting is a team responsibility.
Each member of the dental team has an important role to play in promoting and maintaining dental health. As well as looking after the nation's teeth, gums and mouths, the dental team contributes to the wider care of patients.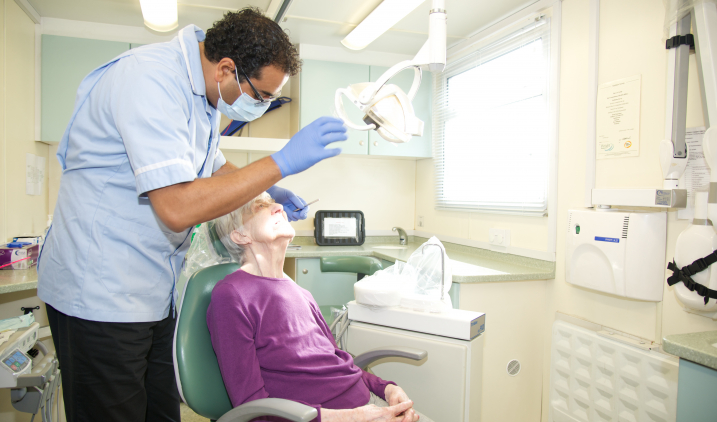 Through the skills of everyone in the team, and with advances in dentistry, there has been a cut in the number of fillings needed and more of us are looking after our teeth better. What's more, the skills of the dental team, coupled with advances in dentistry, mean that a visit to the dentist is seen as a positive way to support health and wellbeing.
There are still high levels of gum disease to cope with and other diseases of the mouth, such as oral cancers, are increasing. Most dental diseases are preventable and it is important that all members of the dental team are skilled and qualified.
As well as dentists, the dental team includes the following dental care professionals:
Whatever role you choose, you'll be making a big contribution to looking after the nation's teeth, gums and mouths. 
Where you'll work

Expand / Collapse

Career opportunities in dental practices largely depend on the size of the practice or company. You might prefer to work in a small practice team or look at a larger company that has development opportunities for senior clinicians such as nurses, doctors and local and regional practice managers. You could also develop business and leadership skills and become a partner or owner of a dental practice.

Most members of the dental team work in high street dental practices where they deliver NHS care for patients. These staff are either self employed or employed by the dental practice or a company. Terms and conditions of service can vary and it's important to ask about these when applying for a job.

Dental team members who work in hospital or clinics are often NHS employees but may be employed by a separate organisation with similar terms and conditions to the NHS. 

Dental technicians work for commercial laboratories or in NHS hospital laboratories. Staff working in hospitals will usually be employed directly by an NHS employer, and some staff working in dental teaching hospitals are employed by universities.

Entry requirements

Expand / Collapse

The entry requirements and training in the dental team vary, depending on the role you choose. Similarly, pay for dentists will differ from the pay for dental care professionals.

See the individual role pages for detailed information:

 

Dental team skills

Expand / Collapse

Whichever area of the dental team you work in, you'll need:

willingness to learn and make sense of scientific knowledge
good manual dexterity
good eyesight and colour vision
ability to offer advice and educate others
happy to work as part of a team
excellent people skills

Willingness to learn and make sense of scientific knowledge
Working as a dentist you will need a good academic background and interest in scientific knowledge particularly human anatomy and oral diseases processes. These skills are increasingly becoming important for all members of the dental care team. It is also important for you to update and test your knowledge against experience.

Good manual dexterity
Being good with your hands is important as well as good eyesight, including colour recognition. A key part of the role would be confident handling of medical instruments while working inside someone's mouth.

Good eyesight and colour vision
You will be carrying out precision work in confined spaces.

Ability to offer advice and educate others
There's a strong educational element to your job, teaching the skills for patients to keep their teeth and gums in good condition. You'll be dealing with a broad range of people, each with their own characteristics and concerns.

Happy to work as part of a team
The dental care team consists of a wide range of people with different skills and academic backgrounds. You need to have strong interpersonal skills and enjoying working as a team.

Excellent people skills
No two patients, and no two procedures, are ever quite the same. You would be providing dental care for people of all ages, from young children through to grandparents. You should be able to put people at their ease, gain their confidence and deal sympathetically with their problems and fears.