Studying for a career in the dental team
This page provides an overview of the things to consider if you are thinking about a career in the dental team, what you can expect during training and your next steps after qualifying.
The dental team includes: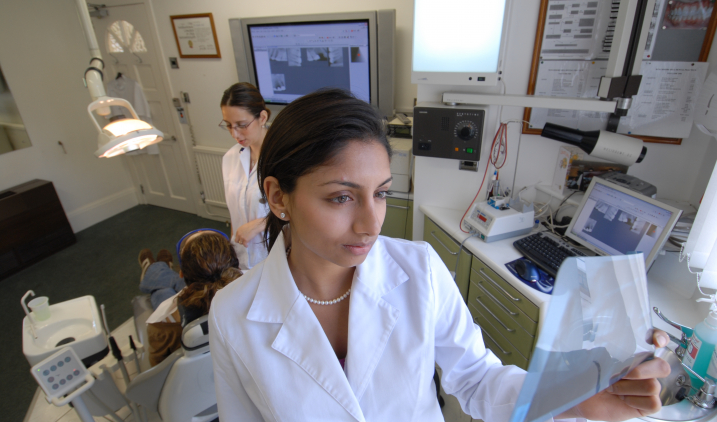 Applying to become part of the dental team
All members of the dental team have to take a course approved by the General Dental Council (GDC). You can search for GDC-approved courses using our course finder or by looking at the programmes and qualifications listed on the GDC website. The course you take depends on your role within the dental team.
Dentist
You'll need to take a GDC-approved dentistry degree. Entry requirements vary because each university dental school sets its own criteria. You need at least three A-levels at high grades or equivalent qualifications at level 3. Chemistry and biology are usually required subjects. You also need supporting GCSEs. Contact universities directly to find out whether qualifications equivalent to A-levels or GCSEs are acceptable. If you don't have the necessary science qualifications at level 3, you may be able to take a pre-dental year.
Most courses expect you to sit the University Clinical Aptitude Test (UCAT) or the BMAT. There is stiff competition for places.
If you decide to train as a dentist, as well as meeting academic entry requirements, you'll need a willingness to learn about human anatomy and oral disease. All members of the dental team are now required to learn this to an extent. However, a dentist's knowledge is required to be especially thorough.
Throughout your career, scientific knowledge will need to be updated as methods and theories of disease change.
Financial support while studying at university
Find out about financial support while studying dentistry at university
Dental therapist/dental hygienist
You'll need to take a GDC-approved diploma or degree programme. Most courses lead to a combined dental hygienist and dental therapist qualification. You generally need two A levels or equivalent for a diploma course and three A levels for a degree programme, including at least one science subject.  Individual universities set their own entry criteria, so find out exactly what qualifications you need and whether GCSE- and A level- equivalent qualifications are acceptable.
Financial support while studying at university
Find out about financial support while studying dental hygiene or dental therapy at university
Dental technicians
You'll take either a GDC-approved degree or foundation degree course. Entry requirements are as above for dental therapists and hygienists. You can also qualify as a dental technician without going to university by taking a BTEC level 3 qualification in dental technology.
Dental nurses
Dental nurses don't need to have a higher education qualification (although some are available at this level). Most gain GDC-approved qualifications while in employment. Some dental nurses go on to train as dental therapists or hygienists.