Vascular surgery
Vascular surgeons diagnose and manage conditions affecting the circulation, including disease of the arteries and veins.
They treat all parts of the vascular system apart from the heart and the brain.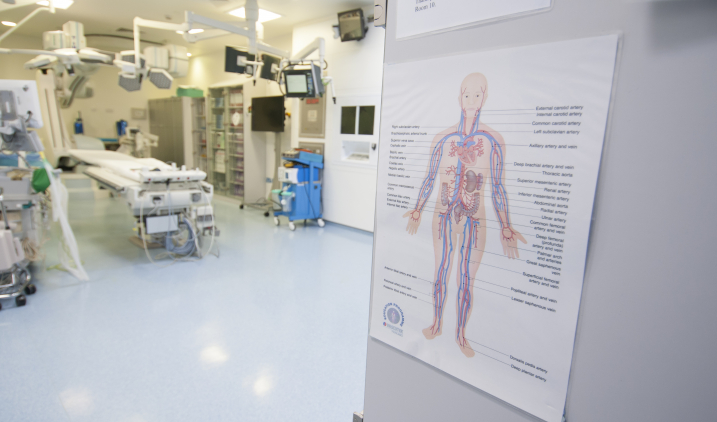 Life as a vascular surgeon 
Many of your patients with arterial disease will be elderly and have other medical conditions such as diabetes. You'll also treat people of all ages such as young patients with arterial disease due to congenital causes or trauma. 
Around half of your surgery will be planned and you'll often use minimally invasive techniques, for example to widen narrowed or obstructed arteries, insert stents (tiny metal cylinders) to ensure blood vessels remain open, or assess varicose veins using ultrasound [1]. Your work helps your patients avoid bigger, more serious surgery and gives them less pain and shorter recovery times.  
The rest of your surgery will be emergencies, as around 40% of vascular patients present to hospitals as emergency cases. You'll do urgent work for conditions such as ruptures to major blood vessels and trauma following road accidents and assaults. You can expect to be on-call sometimes. Many vascular services are now centralised, so you'll probably work in a team of several consultants and alongside other specialist medical colleagues, for example in the control of vascular bleeding.  
Your work outside surgery will include a mixture of ward rounds and outpatient clinics. You'll minimise future risk of heart attack or stroke [2] by treating some of your patients without surgery. You'll prescribe medication and have a preventative role, advising on healthy lifestyles including diet and exercise.  
How much can I earn? 
You'll first earn a salary when you start your foundation training [3] after medical school. The basic salary ranges from £29,384 to £34,012. Once you start your specialty training as a vascular surgeon employed by the NHS, you can expect to earn a salary of at least £40,257, which can increase to between £84,559 and £114,003 as a consultant. 
How about the benefits? 
make a difference 
flexible and part-time working 
high income early in your career   
work anywhere in the world   
excellent pension scheme 
good holiday entitlement 
NHS discounts in shops and restaurants 
Must-have skills 
excellent communication skills to manage a wide range of relationships with colleagues, and patients and their families  
emotional resilience, a calm temperament and the ability to work well under pressure  
teamwork and the capacity to lead multidisciplinary teams  
problem-solving and diagnostic skills  
outstanding organisational ability and effective decision-making skills  
first-class time and resource management for the benefit of patients  
a high degree of manual dexterity  
superb hand-eye co-ordination, excellent vision, and visuospatial awareness  
physical stamina to cope with the demands of surgery  
Entry requirements   
Your first step is medical school. Typically, you'll need excellent GCSEs and three A or A* passes at A level including chemistry for a five-year undergraduate degree in medicine. Many medical schools also ask for biology and others may require maths or physics.   
If you already have a degree, you could study for a four-year postgraduate degree in medicine.  
You'll need to pass an interview and admissions test. You'll be asked to show how you demonstrate the NHS values such as compassion and respect.  
Some medical schools look to recruit a mix of students from different backgrounds and geographical areas, so your educational and economic background and family circumstances could be considered as part of your application. 
"I love the practical hands-on aspect of operating. I also enjoy the camaraderie of the surgical team and working with such great people."

Read Natasha's story [4]. 
What are my chances of starting a career in vascular surgery? 
General surgical and vascular specialty training is recruited to jointly. In 2020 there were 574 applications for 123 specialty training posts (a competition ratio [5] of 4.67). 
How to become a vascular surgeon 
After medical school, you'll join the paid two-year foundation programme [6] where you'll work in six placements in different settings.  
After your foundation programme, you can apply for paid specialty training [7] to become a vascular surgeon, which will take a minimum of eight years.  
You may be able to train part time, for example for health reasons or if you have family or caring responsibilities. 
Where a career as a vascular surgeon can take you 
You could:  
specialise or conduct research in areas such as paediatric vascular conditions or vascular input into trauma centres 
teach medical students or postgraduate students in training  
get involved in research at universities, the NHS or private sector
Other roles that may interest you