Cardiothoracic surgeon
Cardiothoracic surgeons specialise in operating on the heart, lungs and other thoracic (chest) organs.
They also diagnose and treat diseases of these organs.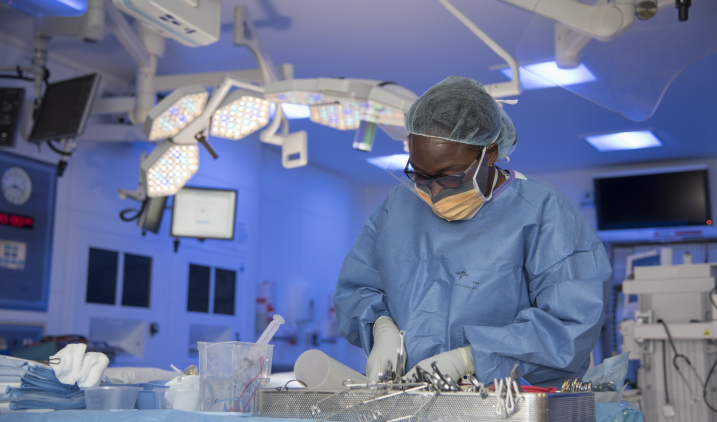 Life as a cardiothoracic surgeon 
You'll see the immediate and life-changing results of your work, but your role will be hugely demanding. Diseases that occur in a person's chest are common killers and you'll be managing life and death scenarios every day. 
Cardiothoracic surgery is a relatively young speciality that has experienced rapid growth through the introduction of new technologies. 
Before surgery you'll meet with patients and their families to discuss and explain procedures and offer reassurance. Being crystal clear, empathetic and warm is vital to the success of your role. 
The main areas of cardiothoracic surgery are: 
cardiac surgery 
thoracic surgery 
congenital cardiac surgery 
heart and lung transplant surgery 
Monitoring patients in intensive care after surgery is a vital part of your work. Although cardiothoracic surgery is very safe, complications can occur and you'll need to be prepared to deal with a host of conditions including arrhythmias (heart-beat irregularity), post-operative bleeding, stroke, pleural effusion (fluid around the lungs), wound infection or thrombosis. 
As well as performing surgery, you'll be involved in the treatment and management of many different conditions within your speciality. You'll need to attend outpatient clinics, multidisciplinary team meetings and ward rounds. 
How much can I earn? 
You'll first earn a salary when you start your foundation training after medical school. The basic salary ranges from £32,398 to £37,303. Once you start your specialty training in the NHS, you can expect to earn a salary of at least £43,923, which can increase to between £93,666 and £126,281 as a consultant.
How about the benefits? 
make a difference 
flexible and part-time working 
high income early in your career   
work anywhere in the world   
excellent pension scheme 
good holiday entitlement 
NHS discounts in shops and restaurants 
Must-have skills 
excellent communication skills to manage a wide range of relationships with colleagues, and patients and their families  
emotional resilience, a calm temperament and the ability to work well under pressure  
teamwork and the capacity to lead multidisciplinary teams  
problem-solving and diagnostic skills  
outstanding organisational ability and effective decision-making skills  
first-class time and resource management for the benefit of patients  
a high degree of manual dexterity  
superb hand-eye co-ordination, excellent vision, and visuospatial awareness  
physical stamina to cope with the demands of surgery  
Entry requirements 
Your first step is medical school. Typically, you'll need excellent GCSEs and three A or A* passes at A level including chemistry for a five-year undergraduate degree in medicine. Many medical schools also ask for biology and others may require maths or physics.   
If you already have a degree, you could study for a four-year postgraduate degree in medicine.  
You'll need to pass an interview and admissions test. You'll be asked to show how you demonstrate the NHS values such as compassion and respect.  
Some medical schools look to recruit a mix of students from different backgrounds and geographical areas, so your educational and economic background and family circumstances could be considered as part of your application. 
"I had some great mentors who gave me the opportunity to operate on patients with supervision, and to look after very sick patients on the intensive care unit after cardiac surgery."
What are my chances of starting a career as a cardiothoracic surgeon? 
There are currently approximately 400 cardiothoracic surgeons working in the NHS in England. In 2020, there were between 5.86 and 9.92 applications for every specialty training place. 
How to become a cardiothoracic surgeon 
After medical school, you'll join the paid two-year foundation programme where you'll work in six placements in different settings.  
After your foundation programme, you can apply for paid specialty training to become a cardiothoracic surgeon, which will take a minimum of six or seven years. 
You may be able to train part time, for example for health reasons or if you have family or caring responsibilities. 
Where a career as a cardiothoracic surgeon can take you 
Working as a cardiothoracic surgeon, you'll have the opportunity to specialise in cardiac, thoracic or congenital surgery. 
As a cardiac surgeon, you'll perform various kinds of surgery including: 
coronary artery bypass surgery – restoring blood flow to the heart by bypassing the narrowed coronary arteries 
heart valve surgery – repairing and replacing narrowed or leaking heart valves 
aortic surgery – replacing an enlarged or damaged blood vessel leaving the heart 
If you choose to specialise as a thoracic surgeon, you'll perform a wide range of surgery including: 
surgery for lung cancer, tumours and cysts 
surgery on collapsed or infected lungs 
keyhole thoracic surgery (video assisted thoracoscopic surgery (VATS)) 
chest-wall deformities (pectus surgery) 
If you choose congenital cardiac surgery, you'll treat babies and children with heart diseases that have been present from birth. These conditions include: 
septal defects (a hole between two of the heart's chambers) 
aortic and pulmonary valve stenosis (where the valve is narrower than normal) 
transposition of the arteries 
You could specialise or conduct research, teach medical students or postgraduate students in training and get involved in research at universities, the NHS or private sector. 
Other roles that may interest you