Knowledge and library services
Knowledge and library service staff make sure crucial evidence and information is available and accessible when and where NHS staff need to use it.  
Their work supports decisions about patient treatments and care, funding, policy, research and innovation.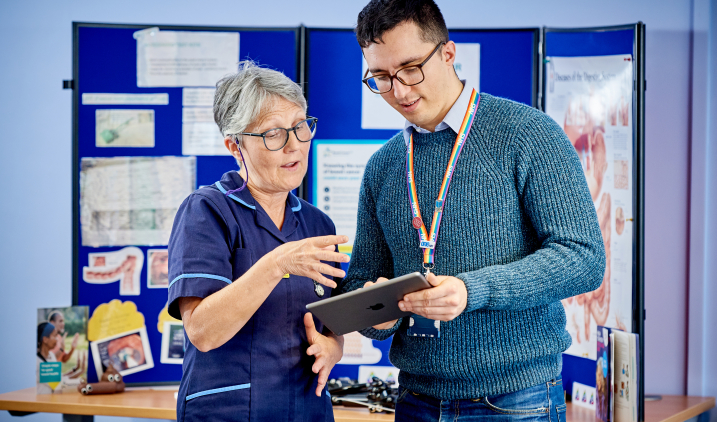 Jo McCrossan
NHS knowledge specialist
I love the fact that the work I do now supports healthcare professionals and has an impact on patient care.
Working life
Information has never been available in such abundance or variety, but evidence does not speak for itself. Knowledge and library staff deal with information in lots of formats (such as online journals, databases, books, websites and social media) to ensure that healthcare staff can find, access and use the best available information to do their jobs. 
Staff might work in a physical library space handling enquiries from healthcare staff, supporting users and promoting the service. Or they might work in a virtual service helping maintain online resources and offer training on how to use a range of digital resources to find information.
The work is varied, stimulating and rewarding. Knowledge and library staff:
are creative in promoting their services to demonstrate how the right evidence and information at the right time can save healthcare staff time and make their lives easier
are outgoing and enjoy talking to people. They work with everyone in their organisation to ensure they have the evidence and information they need in a way that is useful to them. For example, a clinician might ask you to collect evidence on a treatment option and summarise the results in a report. This is sometimes referred to as literature searching or evidence summarising
are interested not just in knowledge found in books or websites, but also in the knowledge and experience that people have. They look for ways to help staff share learning and experience with each other
work with different IT systems and embrace new technologies that support their work and the work of healthcare colleagues
Roles in knowledge and library services
Knowledge and library staff work in different types of knowledge and library services. Individuals might be based in a hospital with a physical library base, or an office with other healthcare staff delivering virtual and in-person services for colleagues.
You could work with staff out in the community or with specific healthcare disciplines such as public health, healthcare science or mental health.
Library assistants
Library assistants are the front-line staff of the knowledge or library service. The role involves:
running the enquiry desk and helping users with their questions, for example finding a resource, helping them access training or supporting them with their professional development
using information resources to research enquiries, from medical textbooks to online databases via the web
ordering books, journals and other library resources
administrative tasks such as answering and writing emails or dealing with enquiries over the phone
Senior library assistants may supervise library assistants and take on additional responsibilities, such as managing more complex requests for resources or liaising with more senior staff.
Librarians
Healthcare librarians have a variety of roles in different settings, for example hospitals, community, mental health or public health settings. You might:
work on the front-line helping healthcare staff access quality information to inform their decisions
search the resources available to find information that helps answer an enquiry or question and package that information in a way that is useful to healthcare staff 
create updates to help staff stay up to date with the latest evidence
deliver training for healthcare staff on assessing the quality of information, or demonstrate techniques for finding reliable information
work with patients and service users, as well as staff, so they can find reliable information about their own health
Clinical librarians attend clinical meetings and accompany staff on ward rounds when they visit patients. Outreach librarians go out and about a lot, working with a range of staff such as GPs, paramedics or IT managers. And knowledge specialists take the lead on organising activities and events that help capture, disseminate and share knowledge in an organisation. 
Knowledge and library services manager
As a knowledge or library services manager, you'll:
lead and inspire a small diverse team allowing them to see the difference they make to frontline staff and patients
shape the strategic vision for your service and take responsibility for delivering it, as well as moulding and implementing the national strategy
promote the service so staff from all parts of the organisation are aware of the resources available to them, and the expert support you and your team can provide
be responsible for the day-to-day running of the service and work autonomously to tailor services to meet the needs of users and organisational objectives
support your team in developing their skills and continued learning
champion and facilitate activities and initiatives that encourage staff to share knowledge, learning and experience across the organisation. Where this is the primary focus of the role they may be referred to as knowledge managers  
Want to learn more?
Help us improve your experience of our website
Register your interest in research to improve our website
Let's go
Other roles that may interest you