Respiratory medicine
Doctors working in respiratory medicine diagnose and treat conditions affecting the respiratory system, which includes the nose, throat, larynx, windpipe, lungs and the diaphragm.
One third of all acute medical admissions to hospital are the result of respiratory problems, so you'll experience a busy and varied career.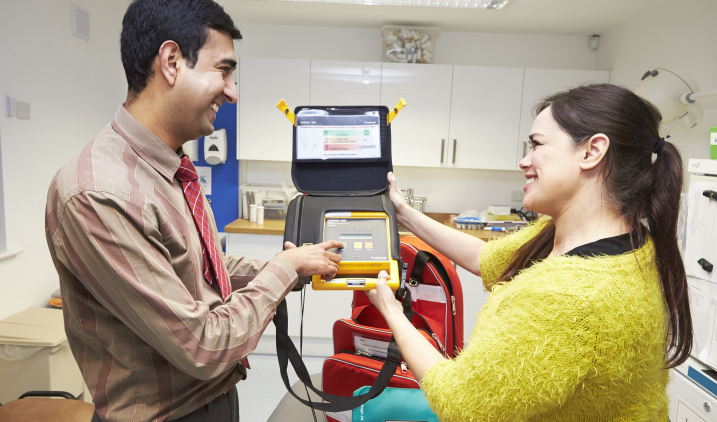 Life working in respiratory medicine
You'll diagnose, treat and provide continuous care for adults of all ages with a wide range of respiratory and related conditions. It's an exciting and diverse specialty that requires a grounding in general medicine and expert respiratory knowledge and interventional skills. It draws together elements of many other specialties including: 
oncology  
infectious diseases and public health  
immunology 
palliative care 
intensive care 
Assessing patients in outpatients' clinics is an important part of your work. You'll spend time in both general respiratory clinics and specialist clinics. 
In a general respiratory clinic, you'll see patients referred by their GP with symptoms such as breathlessness, cough or wheeze or who have an abnormal chest x-ray. 
In a specialist respiratory clinic, you'll deal with a range of problems including: 
asthma 
cancer 
cystic fibrosis (an inherited condition that causes sticky secretions in multiple organ systems including the lungs) 
interstitial lung disease (scarring of the lung tissue) 
pulmonary vascular disorders (affecting the circulatory system of the lungs) 
sleep related breathing disorders, for example obstructive sleep apnoea 
tuberculosis or TB (a bacterial lung disease) 
You'll also be involved with physiological tests to assess lung function, which indicate how well a patient's lungs are performing and can involve anything from spirometry to exercise testing.   
All respiratory units deliver care for people with acute respiratory disease, with some delivering specialist care for diseases, such as cystic fibrosis, pulmonary vascular diseases or lung transplant.   
Traditionally a hospital-based role, more and more respiratory services are delivered in the community, and you may be expected to work across both settings. 
How much can I earn? 
You'll first earn a salary when you start your foundation training after medical school. The basic salary ranges from £32,398 to £37,303. Once you start your specialty training in the NHS, you can expect to earn a salary of at least £43,923, which can increase to between £93,666 and £126,281 as a consultant.
How about the benefits? 
make a difference 
flexible and part-time working 
high income early in your career   
work anywhere in the world   
excellent pension scheme 
good holiday entitlement 
NHS discounts in shops and restaurants 
Must-have skills 
excellent communication skills to manage a relationships with colleagues, and patients and their families  
emotional resilience, a calm temperament and the ability to work well under pressure  
teamwork and the capacity to lead multiprofessional teams  
problem-solving and diagnostic skills  
outstanding organisational ability and effective decision-making skills  
first-class time and resource management for the benefit of patients  
Entry requirements 
Your first step is medical school. Typically, you'll need excellent GCSEs and three A or A* passes at A level including chemistry for a five-year undergraduate degree in medicine. Many medical schools also ask for biology and others may require maths or physics.   
If you already have a degree, you could study for a four-year postgraduate degree in medicine.  
You'll need to pass an interview and admissions test. You'll be asked to show how you demonstrate the NHS values such as compassion and respect.  
Some medical schools look to recruit a mix of students from different backgrounds and geographical areas, so your educational and economic background and family circumstances could be considered as part of your application. 
"Talking to patients is both a privilege and a delight. You can often make a diagnosis by just speaking to them and can make a huge difference to their stay in hospital by taking time to explore their feelings and engage with them and their family on a human level."
What are my chances of starting a career in respiratory medicine? 
There are approximately 1240 consultants working in respiratory medicine in the NHS in England. In 2020, there were 407 applications for 74 specialty training places. 
How to become a doctor in respiratory medicine 
After medical school, you'll join the paid two-year foundation programme where you'll work in six placements in different settings.  
After your foundation programme, you can apply for General Internal Medicine (GIM) training which lasts for three years.  
After completing GIM training, you can apply to specialty training in respiratory medicine, which takes four to five years.
You may be able to train part time, with many options for less than full time training available.
Where a career in respiratory medicine can take you 
Respiratory medicine covers a broad range of disease areas, with opportunities to practise general respiratory medicine or choose a sub-specialist interest such as: 
asthma 
cystic fibrosis 
interstitial lung disease
lung transplantation 
lung cancer 
occupational and environmental lung disease 
sleep disordered breathing and non-invasive ventilatory support 
You'll also have opportunities to conduct research and teach. 
Other roles that may interest you