Palliative medicine
Doctors in palliative medicine provide holistic, quality-of-life care to patients with serious, advanced and progressive illnesses that cannot be cured.
You'll provide expertise and support to colleagues, particularly those treating patients with complex conditions.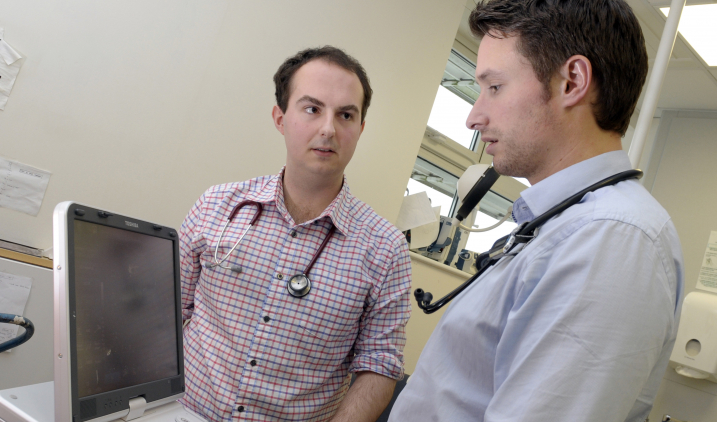 Life as a doctor in palliative medicine
Doctors in palliative medicine play an important and wide-ranging educational role, advising colleagues, families and other healthcare professionals while helping to ensure high standards of care.
Most of your patients will have advanced or progressive cancer, although increasingly palliative medicine doctors treat patients with a range of conditions such as heart failure, renal failure and neurological conditions. 
It is essential to possess a deep understanding of the pathology and management of these conditions, which creates opportunities to develop a sub-specialty. You will need expertise in the pharmacological management of a range of problems and an understanding of drug interactions and side effects.
You'll be an essential part of specialist palliative care services, for clinical expertise, quality improvement, education, research management and research.
You can expect to work in hospitals, hospices and in the community with home visits being common. In some settings, such as specialist impatient units, you'll have responsibility for the medical management of a patient. However, in most hospital settings, you'll play an advisory role alongside nurses who deliver most of the patient care.
At all times, you'll provide care that:
strives to achieve the best quality of life for the patient for as long as possible
involves managing and anticipating pain and other symptoms
addresses the psychological, social and spiritual needs of the patient
facilitates multi-professional support to provide joined-up care across care boundaries, enabling care at home and fewer avoidable admissions towards the end of life
supports anticipatory planning with patients and professionals including advance planning in the last year of life
supports end of life care that meets the needs and wishes of the individual and family
supports the patient's family and significant others during the patient's illness and their bereavement
Common procedures and interventions include:
paracentesis (drawing off fluid form a natural cavity of the body)
use of portable ultrasound
specialist pain techniques including management of epidural infusions (a local anaesthetic procedure for blocking pain) occasionally in conjunction with a pain specialist
management of central lines
management of non invasive ventilation
management of tracheostomies 
How much can I earn?
You'll first earn a salary when you start your foundation training after medical school. The basic salary ranges from £32,398 to £37,303. Once you start your specialty training in the NHS, you can expect to earn a salary of at least £43,923, which can increase to between £93,666 and £126,281 as a consultant.
How about the benefits?
make a difference
flexible and part-time working
high income early in your career
work anywhere in the world
excellent pension scheme
good holiday entitlement
NHS discounts in shops and restaurants
Must-have skills
excellent communication skills to manage a wide range of relationships with colleagues, and patients and their families
emotional resilience, a calm temperament and the ability to work well under pressure
teamwork and the capacity to lead multidisciplinary teams
problem-solving and diagnostic skills
outstanding organisational ability and effective decision-making skills
first-class time and resource management for the benefit of patients
In addition, doctors in palliative medicine need to demonstrate:
a high level of personal credibility as a clinician
adaptability and resilience
compassion, empathy, a flexible outlook and a sense of humour
interests such as enhancing the quality of life for patients with life-limiting illnesses and improving end of life care and developing multicultural awareness
well-developed skills in bedside clinical assessment (especially in settings and situations when routine investigations would not be appropriate)
expertise in managing difficult pain, physical symptoms and psychological distress
excellent decision-making in the context of changing and distressing situations using sound knowledge of ethical considerations
Entry requirements
Your first step is medical school. Typically, you'll need excellent GCSEs and three A or A* passes at A level including chemistry for a five-year undergraduate degree in medicine. Many medical schools also ask for biology and others may require maths or physics.
If you already have a degree, you could study for a four-year postgraduate degree in medicine.
You'll need to pass an interview and admissions test. You'll be asked to show how you demonstrate the NHS values such as compassion and respect.
Some medical schools look to recruit a mix of students from different backgrounds and geographical areas, so your educational and economic background and family circumstances could be considered as part of your application.
How to become a doctor in palliative medicine
After medical school, you'll join the paid two-year
foundation programme
 where you'll work in six placements in different settings.  
After your foundation programme, you can apply for paid specialty training to become a doctor in palliative medicine, which will take a minimum of six years. 
You may be able to train part time, for example for health reasons or if you have family or caring responsibilities.
Where a career as a doctor in palliative medicine can take you
You could: 
specialise or conduct research
teach medical students or postgraduate students in training
get involved in research at universities, the NHS or private sector
Other roles that may interest you