Audiovestibular medicine
Doctors in audiovestibular medicine (AVM) investigate, diagnose and manage hearing, balance and communication disorders in adults and children from birth onwards.
This page provides useful information on the nature of the work, the common procedures/interventions, sub-specialties and other roles that may interest you.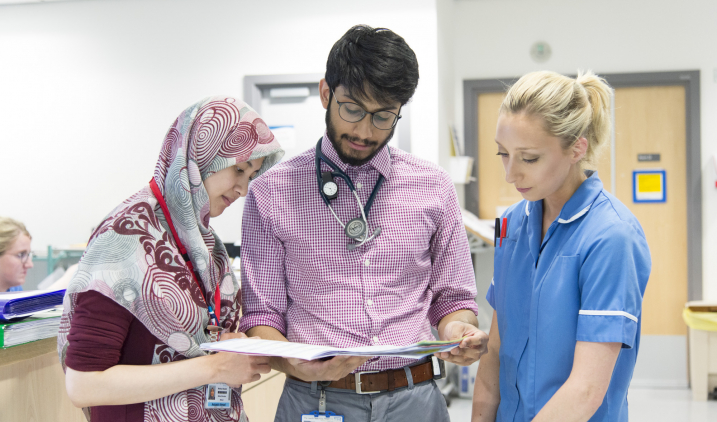 Nature of the work
The aim in audiovestibular medicine is to improve patients'  wellbeing and quality of life by investigating and interpreting audiovestibular clinical findings. Doctors in this specialty seek to identify other pathologies which may have an impact on the patient's health or wellbeing and institute treatment and advice about their prevention or further progression.
Disorders include tinnitus (noises in the ear such as ringing and hissing) and neuro-otological manifestations of other primary disease, ie caused by neurological diseases of the ear.
Audiovestibular (hearing and balance) symptoms can be both peripheral otological (ear) and central nervous system in origin. They include disorders which are:
inherited (genetic)
infectious
inflammatory
vascular (relating to the blood vessels)
traumatic (following a wound or injury)
metabolic (relating to the range of biochemical processes that occur in the body)
neurodegenerative (nervous system dysfunction)
The broad scope of illness means that staff work in multidisciplinary teams (MDT). Staff specialise in different aspects of audiovestibular medicine whilst also focusing on integrated patient care. They also combine clinical information and counselling with the rehabilitation approaches of other professionals.
"My job involves the diagnosis of hearing and balance disorders. I work with patients of all ages"  Dr Victor Osei-Lah, Consultant Audiovestibular Physician
Common procedures and interventions
clinical and neuro-otological examination, which might include tests to evaluate the patient's balance
measurement of audiovestibular function ie relating to the auditory functions of the ear (with healthcare scientists
investigations, including radiological imaging, and a variety of blood and urine tests
assessment for suitability for hearing aids and cochlear implants (an electronic device inserted in the ear that stimulates the auditory system to enable the perception of sounds and speech), alongside healthcare scientists and other staff
treatment of infection, autoimmune disorders (diseases where the body's immune system attacks its own tissues), and peripheral vestibular dysfunction (ie dysfunction of the balance organs of the inner ear). This could be through pharmaceutical products, repositioning manoeuvres and physiotherapy involving relevant professionals
Sub-specialties
Sub-specialty areas include:
paediatric auditory rehabilitation
paediatric neuro-otology
paediatric communication disorders including auditory processing disorders
adult auditory rehabilitation
adult neuro-otology
Want to learn more?
Find out more about:
Other roles that may interest you