Allergy
Allergists are doctors who diagnose and manage people affected by a wide range of allergic conditions such as asthma, eczema and food and drug allergies.
You'll work with a wide range of patients and conditions in what is a fascinating role.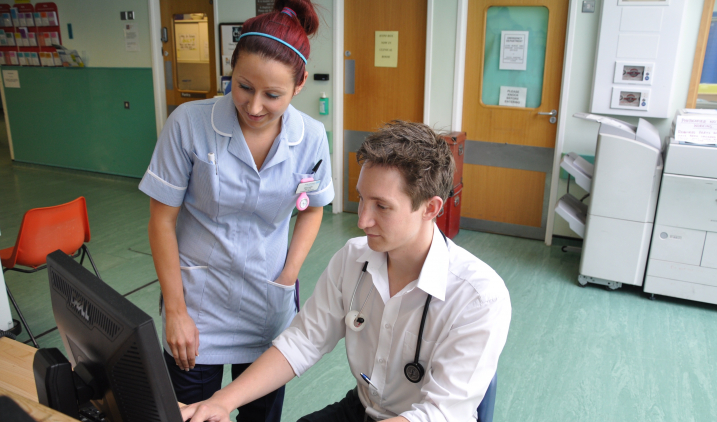 Life as an allergist
Increasingly, allergists specialise in paediatric or adult allergy, but you may see patients of all ages and from diverse backgrounds. 
You'll experience a huge variety of conditions. On any given day, you'll desensitise a patient to a life-threatening allergy such as wasp venom or peanuts, manage a patient with severe asthma, diagnose allergy and interpret allergy tests.
Conditions can affect every part of the human body. Some people have allergic responses if substances are ingested through the lungs, the skin, the stomach, or mucous membranes such as the lining of the eye.
Conditions you'll treat include:
asthma
hay fever
dermatitis
eczema
urticaria (a raised, itchy rash on the skin known as hives, nettle rash and welts)
angioedema (the swelling of deeper layers of skin caused by a build-up of fluid)
Common procedures and interventions include:
skin prick, RAST (blood), patch and food tests to identify what is triggering a patient's allergy
desensitisation treatments
corticosteroid treatments to suppress allergic reactions such as vasculitis (chronic inflammation of the blood vessels)
prescription of antihistamines to treat urticaria (skin rashes)
injection of adrenaline to treat anaphylaxis (an immediate and potentially life-threatening allergic reaction)
treatment of allergic rhinitis with antihistamine drugs
intramuscular adrenaline and antihistamine treatment for angio-oedema (build-up of fluid beneath the skin)
lung x-rays, blood tests and lung function tests to assist in the diagnosis of extrinsic allergic alveolitis (resulting from prolonged exposure to animal and vegetable dusts)
In the past 30 years, the incidence of allergic disease has increased by over a third worldwide. Consequently, there is an increase in demand for allergists while opportunities for research and teaching are also on the rise.
How much can I earn?
You'll first earn a salary when you start your
foundation training
after medical school. The basic salary ranges from £29,384 to £34,012. Once you start your specialty training as a doctor in allergy employed by the NHS, you can expect to earn a salary of at least £40,257, which can increase to between £84,559 and £114,003 as a consultant.
How about the benefits?
make a difference
flexible and part-time working
high income early in your career
work anywhere in the world
excellent pension scheme
good holiday entitlement
NHS discounts in shops and restaurants
Must-have skills
excellent communication skills to manage a wide range of relationships with colleagues, and patients and their families
emotional resilience, a calm temperament and the ability to work well under pressure
teamwork and the capacity to lead multidisciplinary teams
problem-solving and diagnostic skills
outstanding organisational ability and effective decision-making skills
first-class time and resource management for the benefit of patients
In addition, allergists need to demonstrate:
an interest in working across the full spectrum of organs and body systems
functional abilities such as observation, analysis and assessment, recording, manual dexterity, practical and procedural skills
Entry requirements
Your first step is medical school. Typically, you'll need excellent GCSEs and three A or A* passes at A level including chemistry for a five-year undergraduate degree in medicine. Many medical schools also ask for biology and others may require maths or physics.
If you already have a degree, you could study for a four-year postgraduate degree in medicine.
You'll need to pass an interview and admissions test. You'll be asked to show how you demonstrate the NHS values such as compassion and respect.
Some medical schools look to recruit a mix of students from different backgrounds and geographical areas, so your educational and economic background and family circumstances could be considered as part of your application.
"For me, the interest in allergy comes mainly from the variety of patients we see. We deal with conditions involving almost every part of human body, literally from heads to toes, and often the psyche too. The presence or absence of allergy (in almost equal measures) is the common denominator." 
How to become an allergist
After medical school, you'll join the paid two-year
foundation programme
 where you'll work in six placements in different settings.
After your foundation programme, you can apply for paid specialty training to become an allergist, which will take a minimum of five years.
You may be able to train part time, for example for health reasons or if you have family or caring responsibilities.
Where a career as an allergist can take you
You could: 
specialise or conduct research
teach medical students or postgraduate students in training 
get involved in research at universities, the NHS or private sector
Other roles that may interest you