Intensive care medicine
Doctors working in intensive care medicine manage the sickest patients in the hospital: critically ill patients who already have organ dysfunction and organ failure.
They also care for patients at risk of developing such problems and who a require level of care and observation than cannot be offered on a normal ward.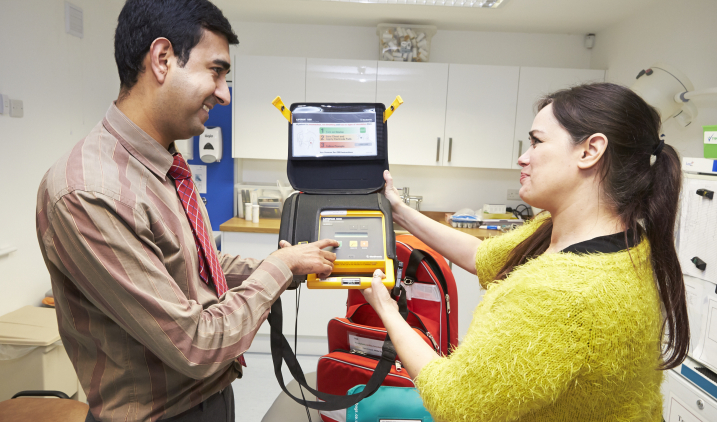 You will be part of the multi-disciplinary team providing care for these very sick and at risk patients. You will work closely with other doctors, ACCPs (advanced critical care practitioners), nurses, physiotherapists, pharmacists and other allied health professionals. Together this effective and integrated team work to provide continuous, high-quality health care for the sickest and most vulnerable patients in the hospital. The work will include providing organ system support and the investigation, diagnosis and treatment of acutely ill patients. 
You'll also learn about patient safety, how to care for patients at the end of their life, how to support their families, and how the intensive care unit (ICU) fits into the rest of healthcare provision. 
You will learn to support patients and treat a wide range of conditions: 
heart and cardiovascular failure 
renal failure 
liver failure 
patients with reduced levels of consciousness or neurological impairment  
gastrointestinal failure 
respiratory failure 
sepsis and septic shock 
patients who have been involved in trauma 
acute intoxications and poisoning 
patients recovering from major surgery 
pregnancy related illnesses and complications 
Doctors in ICM use practical skills and perform procedures to help monitor and manage their patients. You will need to learn how to assess, monitor and review a patient with, or at risk of developing, critical illness. 
You will also learn to support and monitor organs which are failing through:
cardiovascular system support, by use of fluids, inotropes (drugs that stimulate the heart) and vasopressors (drugs that raise reduced blood pressure) 
respiratory support, using ventilators or other devices to assist breathing 
invasive monitoring, including arterial and central venous cannulation 
airway interventions such as intubation and tracheostomy  
measurement of cardiac output and blood flow around the body 
renal support using kidney replacement therapies (haemodialysis or haemofiltration)  
how to safely transfer critically ill patients for specialist investigations and interventions such as a CT scan 
How much can I earn? 
You'll first earn a salary when you start your foundation training after medical school. The basic salary ranges from £32,398 to £37,303. Once you start your specialty training in the NHS, you can expect to earn a salary of at least £43,923, which can increase to between £93,666 and £126,281 as a consultant.
How about the benefits? 
make a difference to patients and their families  
work in one of the strongest multidisciplinary teams in healthcare  
excellent supervision during your training 
work flexibly or part-time  
high income early in your career   
work anywhere in the world   
part of an excellent pension scheme 
good holiday entitlement 
NHS discounts in shops and restaurants 
Must-have skills 
excellent communication skills to manage a wide range of relationships with colleagues, and patients and their families  
emotional resilience, a calm temperament, and the ability to work well under pressure  
teamwork and the capacity to lead multidisciplinary teams  
inquisitive mind and excellent problem-solving and diagnostic skills  
organisational ability, effective decision-making skills, first class time management and be prepared to learn how to use available resources to benefit your patients
Entry requirements 
Your first step is medical school. Typically, you will need excellent GCSEs and three A or A* passes at A level including chemistry for a five-year undergraduate degree in medicine. Many medical schools also ask for biology and others may require maths or physics.   
If you already have a degree, you could study for a four-year postgraduate degree in medicine.  
You'll need to pass an interview and admissions test. You'll be asked to show how you demonstrate the NHS values such as compassion and respect.  
Some medical schools look to recruit a mix of students from different backgrounds and geographical areas, so your educational and economic background and family circumstances could be considered as part of your application. 
What are my chances of starting a career in intensive care medicine? 
There are approximately 783 doctors training in intensive care medicine (ICM) in the NHS in England. In 2021, there were 595 applications for 203 specialty training places. 
How to become a doctor in intensive care medicine 
After medical school, you'll join the paid two-year foundation programme where you'll work in six placements in different settings.  
After your foundation programme, you will need to spend three to four years in a paid training programme that provides initial training in ICM. There are several options available: ACCS (Acute Care Common Stem), anaesthesia and internal medicine (IMT). In each of these programmes you will gain experience in intensive care along with experience in at least one other specialty. Spending time in specialties allied to ICM benefits your training enormously by broadening your experience. Remember that patients from all medical specialties and disciplines can need looking after in the intensive care unit when they become very unwell. 
On completion of one of these initial training programmes you can apply for paid specialty training in intensive care medicine. You may choose to specialise in ICM alone, or to train in ICM along with another specialty such as anaesthesia, emergency medicine or one of the acute medical specialties (for example acute medicine, respiratory medicine, renal medicine). 
You may be able to train part time, for example for health reasons or if you have family or caring responsibilities. 
Where a career as a doctor working in intensive care medicine can take you 
During higher training in ICM you will have the opportunity to develop a 'special skill' or interest during your training. The intensive care medicine curriculum currently includes the following 'special skills': 
academic research 
cardiac intensive care medicine 
echocardiography 
extra-corporeal membrane oxygenation 
education 
home ventilation 
neuro intensive care medicine 
paediatric intensive care medicine 
pre-hospital emergency medicine 
quality improvement in healthcare 
transfer medicine 
Other roles that may interest you