Clinical radiology
Clinical radiologists use images to diagnose, treat and manage medical conditions and diseases. 
Given the importance of imaging to modern medicine, you'll play a vital role in the swift and accurate diagnosis of patients with a wide variety of conditions.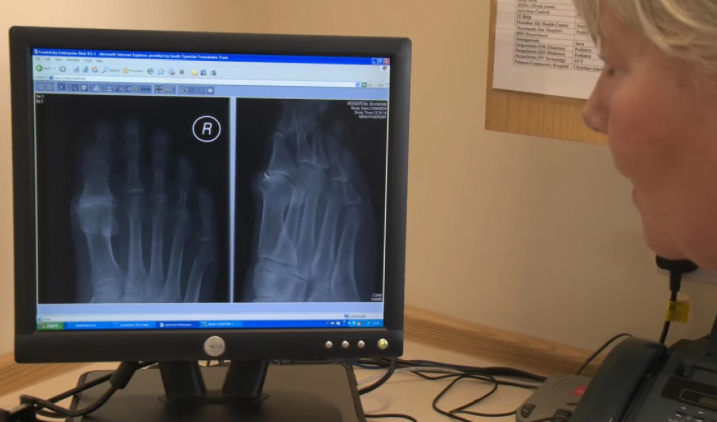 Life as a clinical radiologist 
It'll be your job to examine the anatomy, pathology and clinical history of a patient as well as their previous images to select the most appropriate technique for diagnosis while minimising a patient's exposure to radiation. 
You'll form a close-knit team with radiographers and be expected to draw on your experience and expertise to collaborate with and guide colleagues as part of a wider multidisciplinary team. 
You'll use a wide range of imaging techniques, including: 
x-ray 
ultrasound 
computed tomography (CT) including multislice scanning 
magnetic resonance imaging (MRI) 
positron emission tomography (PET) coupled with CT or MRI to enable enhanced 3D images 
fluoroscopy – using real-time x-ray imaging to show internal structures of the body 
molecular imaging – CT perfusion, dual-energy CT, optical imaging 
nuclear medicine techniques 
You'll work at the forefront of minimally invasive techniques know as interventional radiology. These techniques are designed to reduce the risk of infection and aid recovery times. 
You'll perform many interventional techniques, including: 
oesophageal stents – a small flexible tube that is inserted into the oesophagus using imaging to assist the process. This technique is used to treat blockages of the oesophagus 
angioplasty – insertion of a balloon or stent to open a narrowed or blocked artery and allow blood to flow more freely 
angiography – x-ray of arteries and veins to diagnose blockages and other problems 
biliary drainage and stenting – insertion of a stent to open up blocked ducts and allow bile to drain from the liver 
needle biopsy 
treatment of internal bleeding by injecting a clotting substance 
treatment of arteriovenous malformations – blood vessel abnormalities that can lead to rupture. A substance is injected that blocks the supply of blood to the affected blood vessels 
How much can I earn? 
You'll first earn a salary when you start your foundation training after medical school. The basic salary ranges from £32,398 to £37,303. Once you start your specialty training in the NHS, you can expect to earn a salary of at least £43,923, which can increase to between £93,666 and £126,281 as a consultant.
How about the benefits?   
make a difference 
flexible and part-time working 
high income early in your career   
work anywhere in the world   
excellent pension scheme 
good holiday entitlement 
NHS discounts in shops and restaurants 
Must-have skills 
excellent communication skills to manage a wide range of relationships with colleagues, and patients and their families  
emotional resilience, a calm temperament and the ability to work well under pressure  
teamwork and the capacity to lead multidisciplinary teams  
problem-solving and diagnostic skills  
outstanding organisational ability and effective decision-making skills  
first-class time and resource management for the benefit of patients  
Entry requirements 
Your first step is medical school. Typically, you'll need excellent GCSEs and three A or A* passes at A level including chemistry for a five-year undergraduate degree in medicine. Many medical schools also ask for biology and others may require maths or physics.   
If you already have a degree, you could study for a four-year postgraduate degree in medicine.  
You'll need to pass an interview and admissions test. You'll be asked to show how you demonstrate the NHS values such as compassion and respect.  
Some medical schools look to recruit a mix of students from different backgrounds and geographical areas, so your educational and economic background and family circumstances could be considered as part of your application. 
"Radiology is an exciting specialty to be a part of, as the technology is constantly developing."
What are my chances of starting a career in clinical radiology? 
There are approximately 3,377 clinical radiologists working in the NHS in England. In 2020, there were 1308 applications for 311 specialty training places. 
How to become a clinical radiologist 
After medical school, you'll join the paid two-year foundation programme where you'll work in six placements in different settings.  
After your foundation programme, you can apply for paid specialty training to become a clinical radiologist, which will take a minimum of five years.  
You may be able to train part time, for example for health reasons or if you have family or caring responsibilities. 
Where a career as a clinical radiologist can take you 
The only sub-specialty available is interventional radiology. However, there are various areas of special interest within clinical radiology which include: 
breast 
cardiac 
gastrointestinal 
head and neck 
musculoskeletal 
neuroradiology 
oncology 
paediatric 
radionuclide (imaging that uses a tiny amount of a radioactive chemical) 
chest 
genitorurinary 
vascular 
Other roles that may interest you