Occupational medicine
Doctors in occupational medicine diagnose, manage and prevent disease that has been caused or exacerbated by workplace factors. They are concerned with all aspects of the effects of work on health and health on work.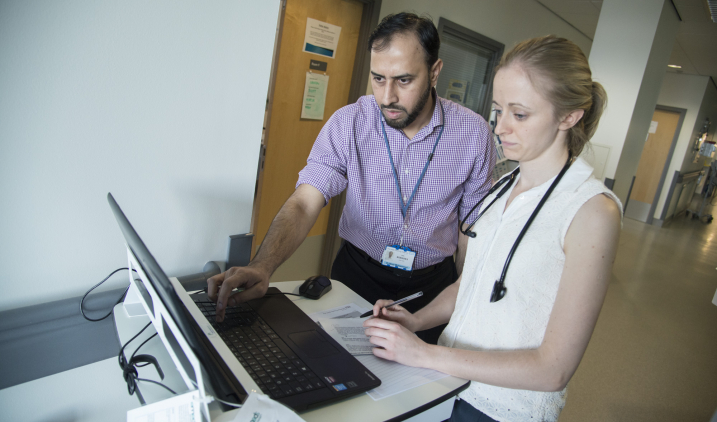 Nature of the work
Occupational physicians visit workplaces and assess a range of work-related health issues. Helping people to stay at work or to return to work following accident or illness is a key part of their role. The work is varied, combining clinical medical practice with the need to influence and shape the behaviour of both individuals and organisations.
Preventing illness and injuries that can occur as a result of work are an important aspect of occupational medicine, as well as rehabilitation following illness or injury.
Occupational physicians may be employed by the NHS or by a large organisation, such as the Emergency Services, the Armed Forces or transport organisations including rail companies. These offer good opportunities for part-time, varied employment. Manufacturing companies often have their own in-house occupational health services offering further employment opportunities for occupational physicians, although this is a diminishing trend given the reduction in UK manufacturing.
Occupational physicians are also employed by independent occupational health providers who provide services for a number of employers.
Psychological factors are important in occupational medicine. For example in the armed forces, alcohol issues, depression and adjustment factors often predominate, along with (to a lesser degree) post traumatic stress disorder.
Examples of some of the more challenging issues facing occupational physicians include alcohol misuse in safety critical roles, weight control for individuals in transportation industries and managing healthcare staff returning to work following a period treating patients abroad from an Ebola risk area.
Occupational physicians also need to combine their clinical knowledge with a detailed understanding of employment and anti-discrimination legislation as well as environmental and health and safety law.
As the importance of employment to health and wellbeing become more widely understood, occupational medicine is moving up the political agenda and is likely to play a larger role in future government policy.
Teaching medical students and trainees will usually be part of the work if you are employed in a teaching hospital or academic centre.
Common procedures/interventions
Occupational physicians assess workplace health risks and work with others to formulate methods of controlling those risks. They also work directly with individual employees.
They typically deal with issues including:
Sub-specialties
Related sub specialties include:
Want to learn more?
Find out more about:
Other roles that may interest you