Rehabilitation medicine
Doctors in rehabilitation medicine assess and treat patients with complex disabling conditions.
You'll experience a demanding and varied role with the goal of optimising a patient's recovery after a severe injury, improving their capabilities and ability to participate in society.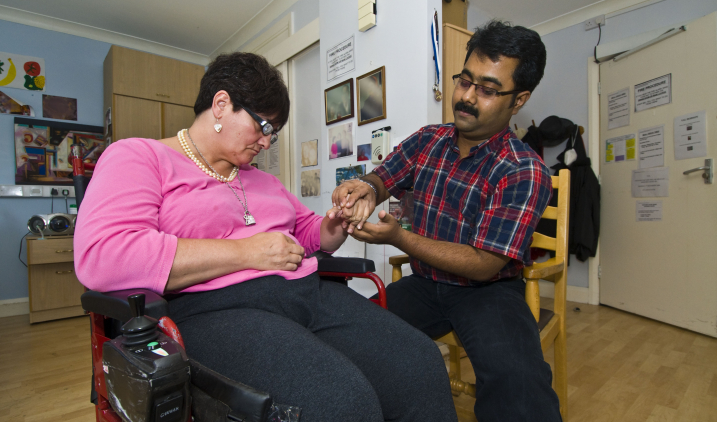 Life as a doctor in rehabilitation medicine
You'll also use your expertise to make sure patients recover as well as possible after illnesses such as COVID-19.
You'll deliver neurorehabilitation treatment to patients with neurological conditions such as traumatic brain injury, stroke, multiple sclerosis and spinal cord injury. 
You'll also treat patients with chronic musculoskeletal conditions and many of your patients will have widespread vascular disease or congenital limb abnormalities. Some will present both neurological and musculoskeletal problems, for example patients with cerebral palsy.
Treating patients with such a wide and varied range of conditions demands an excellent diagnostic ability. You'll need to manage both acute and chronic complications and be able to take a long-term view to a patient's care. Doctors in rehabilitation medicine often work with a patient from immediately after an acute event through to discharge and rehabilitation in the community. 
Your role will require close collaboration with numerous colleagues to deliver:
hyper-acute rehabilitation – taking patients directly from critical care services
major trauma rehabilitation and rehabilitation along the acute care pathway
assessment and management of patients with disorders of consciousness
closer working relationships between neurological rehabilitation and other services including spinal cord injuries centres, clinical neurosciences, stroke medicine
improved skills in the management of chronic pain
end-of-life care in patients with complex disability
interactions with the courts for medico-legal issues including litigation and mental capacity, best interests decision-making, deprivation of liberty, etc.
further differentiation of specific fields of interest within the specialty including further development of musculoskeletal rehabilitation and increased focus on vocational rehabilitation
further development of community-based specialist services
Rehabilitation medicine is a highly rewarding specialty. The long-term nature of treatment will allow you to get to know your patient and their family and deliver first-class, holistic care.
How much can I earn?
You'll first earn a salary when you start your foundation training after medical school. The basic salary ranges from £32,398 to £37,303. Once you start your specialty training in the NHS, you can expect to earn a salary of at least £43,923, which can increase to between £93,666 and £126,281 as a consultant.
How about the benefits?
make a difference
flexible and part-time working
high income early in your career
work anywhere in the world
excellent pension scheme
good holiday entitlement
NHS discounts in shops and restaurants
Must-have skills
excellent communication skills to manage a wide range of relationships with colleagues, and patients and their families
emotional resilience, a calm temperament and the ability to work well under pressure
teamwork and the capacity to lead multidisciplinary teams
problem-solving and diagnostic skills
outstanding organisational ability and effective decision-making skills
first-class time and resource management for the benefit of patients
In addition, doctors in rehabilitation medicine need to demonstrate:
analysing and solving complex clinical problems
a holistic approach to patient and family care
patience, enthusiasm and optimism
empathy and sense of humour
Entry requirements
Your first step is medical school. Typically, you'll need excellent GCSEs and three A or A* passes at A level including chemistry for a five-year undergraduate degree in medicine. Many medical schools also ask for biology and others may require maths or physics.
If you already have a degree, you could study for a four-year postgraduate degree in medicine.
You'll need to pass an interview and admissions test. You'll be asked to show how you demonstrate the NHS values such as compassion and respect.
Some medical schools look to recruit a mix of students from different backgrounds and geographical areas, so your educational and economic background and family circumstances could be considered as part of your application.
What are my chances of starting a career as a doctor in rehabilitation medicine?
In 2021, there were 159 consultants in rehabilitation medicine in the NHS in England. In addition, there were 42 applications for 14 training places. 
How to become a doctor in rehabilitation medicine
After medical school, you'll join the paid two-year
foundation programme
 where you'll work in six placements in different settings.
After your foundation programme, you can apply for paid specialty training to become a doctor in rehabilitation medicine, which will take a minimum of six years. 
You may be able to train part time, for example for health reasons or if you have family or caring responsibilities.
Where a career as a doctor in rehabilitation medicine can take you
You could: 
get involved in research at universities, the NHS or private sector
teach medical students or postgraduate students in training
develop medico-legal or private clinical practice
Other roles that may interest you