Gastroenterology
Gastroenterologists diagnose, treat and work to prevent gastrointestinal (stomach and intestines) and hepatological (liver, gallbladder, biliary tree and pancreas) diseases.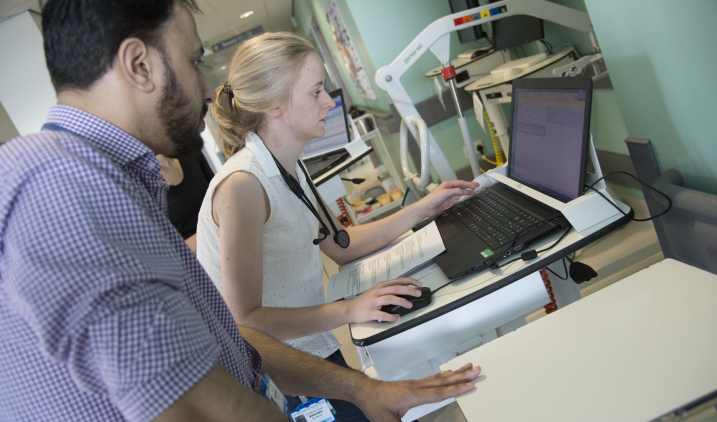 Life as a gastroenterologist 
You'll run endoscopy services. You'll be expected to perform upper gastrointestinal (GI) examinations and have the opportunity to train in lower GI as well, procedures such as flexible sigmoidoscopy and colonoscopy. You can complete additional training in hepatobiliary endoscopy (ERCP) or small bowel endoscopy, which involves learning wireless capsule endoscopy or enteroscopy. 
A typical day may see you perform: 
diagnostic and therapeutic upper and lower gastrointestinal endoscopy 
small bowel endoscopy 
endoscopic retrograde cholangiopancreatography (ERCP) – an endoscopic technique mainly used to diagnose and treat bile duct and pancreatic duct conditions 
endoscopic ultrasound (EUS) 
intestinal and liver biopsy 
paracentesis (puncture of the wall of a cavity using a hollow needle) 
insertion of parenteral nutrition line (intravenous feeding lines) 
You'll also plan the aftercare of patients undergoing liver transplant.
You'll manage patients with acute gastroenterological conditions and treat a wide range of GI diseases.  
You'll regularly treat conditions such as: 
gastrointestinal bleeding 
gastrointestinal cancer 
anaemia – a condition where the haemoglobin the blood (a pigment that carries oxygen) is below normal levels 
inflammatory bowel disease, e.g., Crohn's disease (inflammation of the lining of the digestive system), ulcerative colitis (inflammation and ulceration of the lining of the rectum and colon) 
short bowel syndrome 
jaundice – a condition where the skin yellows due to an accumulation of bilirubin in the blood and tissues 
management of alcoholic, viral hepatitis (Inflammation of the liver caused by a virus) and autoimmune liver disorders (where the body attacks its own cells) 
diverticulitis - inflammation of the diverticula (small pouches) in the intestine 
gastroenteritis 
hepatitis 
How much can I earn? 
You'll first earn a salary when you start your foundation training after medical school. The basic salary ranges from £29,384 to £34,012. Once you start your specialty training as a gastroenterologist employed by the NHS, you can expect to earn a salary of at least £40,257, which can increase to between £84,559 and £114,003 as a consultant. 
How about the benefits? 
make a difference 
flexible and part-time working 
high income early in your career   
work anywhere in the world   
excellent pension scheme 
good holiday entitlement 
NHS discounts in shops and restaurants 
Must-have skills 
excellent communication skills to manage a wide range of relationships with colleagues, and patients and their families  
emotional resilience, a calm temperament and the ability to work well under pressure  
teamwork and the capacity to lead multidisciplinary teams  
problem-solving and diagnostic skills  
outstanding organisational ability and effective decision-making skills  
first-class time and resource management for the benefit of patients  
Entry requirements 
Your first step is medical school. Typically, you'll need excellent GCSEs and three A or A* passes at A level including chemistry for a five-year undergraduate degree in medicine. Many medical schools also ask for biology and others may require maths or physics.   
If you already have a degree, you could study for a four-year postgraduate degree in medicine.  
You'll need to pass an interview and admissions test. You'll be asked to show how you demonstrate the NHS values such as compassion and respect.  
Some medical schools look to recruit a mix of students from different backgrounds and geographical areas, so your educational and economic background and family circumstances could be considered as part of your application. 
What are my chances of starting a career as a gastroenterologist? 
In 2020, there were 373 applications for 79 specialty training places. 
How to become a gastroenterologist 
After medical school, you'll join the paid two-year foundation programme where you'll work in six placements in different settings.  
After your foundation programme, you can apply for paid specialty training to become a gastroenterologist, which will take a minimum of seven years.  
You may be able to train part time, for example for health reasons or if you have family or caring responsibilities. 
Where a career as a gastroenterologist can take you 
Your main focus will be hepatology (diseases of the liver) but as your career develops, you'll also be able to specialise in:  
hepatology (diseases of the liver) 
pancreaticobiliary diseases (diseases of the pancreas and biliary system) 
inflammatory bowel disease 
functional bowel disease 
tropical diseases 
gastrointestinal cancer and its prevention 
endoscopic surveillance 
upper GI disease (diseases of the oesophagus and stomach) 
small bowel disease 
pancreatic disease 
transplantation 
medico legal issues in medicine 
clinical pharmacology 
inherited cancer syndromes 
clinical nutrition  
Other roles that may interest you