Endocrinology and diabetes
Endocrinologists and diabetologists investigate, diagnose and treat disorders of the endocrine system. 
Typically, you'll work in both diabetes and endocrinology although some specialists focus on one area and not the other.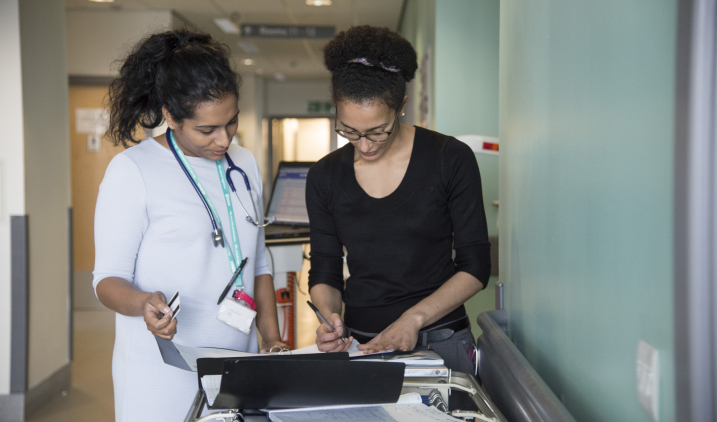 Life as an endocrinologist or diabetologist 
Predominantly an outpatient specialty, some of your patients will require hospital admission for you to investigate and manage their condition. In addition, you'll often support primary care (GPs) in some of the public health challenges such as obesity and type 2 diabetes.  
What's more, at least 15% of all hospital inpatients have diabetes or an endocrine disorder. Increasingly, you'll manage patients jointly with other hospital-based colleagues. As a specialism that covers the effects of hormones on the whole body, you also have skills that can help across all of general medicine and often help support emergency admissions to hospital for people with a broad range of conditions.  
One of the great things about the specialty is there is no typical day. You may see people of all ages with newly diagnosed type 1 diabetes, or diabetic complications or with diabetes in certain circumstances, for example pregnancy. As an endocrinologist, you'll work in a specialist setting treating patients with a wide range of endocrine disorders. You may be leading team meetings (called multi-disciplinary meetings) or teaching other students or doctors about how to diagnose the more challenging conditions. It is a career that you can mould to your strengths.  
Endocrinologists and diabetologists treat conditions such as: 
diabetes mellitus 
thyroid disease 
lipid disorders 
endocrine disorders of the reproductive system, such as polycystic ovary syndrome 
adrenal disease 
bone and calcium disorders 
pituitary disease 
endocrine late effects of cancer treatment 
Common procedures include: 
programmed investigations for complex endocrine disorders 
managing endocrine patients and patients with diabetes before and after surgery 
management of diabetic and endocrine emergencies such as ketoacidosis and hypercalcaemia 
managing diabetes and endocrine conditions during pregnancy 
You'll also be expected to perform as part of a large, multidisciplinary team including specialist nurses, allied health professionals and other specialist clinicians, and work across medical wards treating patients with general medical problems. 
How much can I earn? 
You'll first earn a salary when you start your foundation training after medical school. The basic salary ranges from £32,398 to £37,303. Once you start your specialty training in the NHS, you can expect to earn a salary of at least £43,923, which can increase to between £93,666 and £126,281 as a consultant.
How about the benefits?  
make a difference 
ability to chose parts of the specialty to focus on 
flexible and part-time working 
high income early in your career   
work anywhere in the world   
excellent pension scheme 
good holiday entitlement 
NHS discounts in shops and restaurants 
Must-have skills 
excellent communication skills to manage a wide range of relationships with colleagues, and patients and their families  
emotional resilience, a calm temperament and the ability to work well under pressure  
teamwork and the capacity to lead multidisciplinary teams  
problem-solving and diagnostic skills  
outstanding organisational ability and effective decision-making skills  
first-class time and resource management for the benefit of patients  
Entry requirements 
Your first step is medical school. Typically, you'll need excellent GCSEs and three A or A* passes at A level including chemistry for a five-year undergraduate degree in medicine. Many medical schools also ask for biology and others may require maths or physics.  
If you already have a degree, you could study for a four-year postgraduate degree in medicine.  
You'll need to pass an interview and admissions test. You'll be asked to show how you demonstrate the NHS values such as compassion and respect.  
Some medical schools look to recruit a mix of students from different backgrounds and geographical areas, so your educational and economic background and family circumstances could be considered as part of your application.
What are my chances of starting a career as an endocrinologist or diabetologist? 
There are approximately 791 endocrinologists and diabetologists working in the NHS in England. In 2020, there were 325 applications for 74 training places.  
How to become an endocrinologist or diabetologist 
After medical school, you'll join the paid two-year foundation programme where you'll work in six placements in different settings.  
After your foundation programme, you then get experience of all medical specialties over three years (internal medicine training).  
You can then apply for paid specialty training to become an endocrinologist or diabetologist, which will take a minimum of four years.  
You may be able to train part time, for example for health reasons or if you have family or caring responsibilities. 
Many people do it in combination with an academic post at the university to research more about the conditions they are seeing.  
Where a career as an endocrinologist or diabetologist can take you 
Many endocrinologists and diabetologists develop sub-specialty interests such as: 
diabetes in pregnancy 
paediatric and adolescent diabetes and endocrinology 
diabetic renal disease 
diabetic neuropathy and foot problems 
diabetic eye disease 
thyroid problems 
pituitary and adrenal disease 
reproductive endocrinology 
endocrine late effects of cancer treatment 
lipid disorders 
gender identity services 
bariatric medicine 
metabolic bone disease 
neuroendocrine tumours 
Other roles that may interest you