Dental therapist
A dental therapist does some of the more straightforward work undertaken by a dentist.
Working life
More dental surgeries have dental therapists working for them to do routine dental work. As a therapist, you'll have independence without the full responsibility of running a practice. You can also provide treatment in other parts of the community, such as schools and care homes.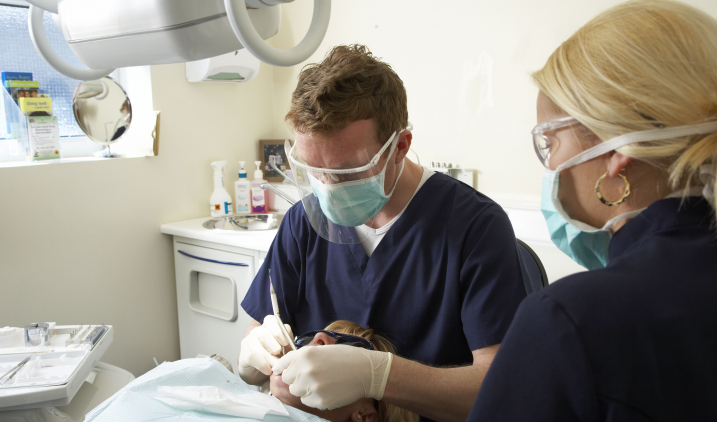 Health education would be an important part of your role such as offering advice to patients on looking after their oral health. You'll also carry out a range of procedures including:
scaling and polishing
applying materials to teeth such as fluoride and fissure sealants
taking dental x-rays
taking impressions of teeth
undertaking routine dental fixes of baby and permanent teeth
putting in crowns
extracting teeth
Dental therapists can also develop additional skills including:
carrying out tooth whitening 
removing sutures after a dentist has checked the wound
You'll treat a range of patients with different treatment needs including those who:
are dentally anxious
have learning or physical disabilities
have high levels of untreated decay
are unable to access regular dental care in the general dental service
Entry requirements
To practise as a dental therapist, you must obtain a diploma or degree in dental therapy and be registered with the General Dental Council [1].
You'll need five GCSE subjects at grade 4-7 or A to C, plus two A-levels or a recognised qualification in dental nursing. You may also be required to have some experience of dental nursing before taking the course.
Must have skills
You will patience and excellent communication and interpersonal skills. You'll need empathy and be caring approach along with proficient, highly technical clinical skills. You'll need to be confident to work on your own and be able to put even the youngest of patients at ease. Good time management and organisational skills are essential, along with attention to health and safety procedures. At all times, a dental therapist needs to be mindful of the need for patient confidentiality.
Training and development
The diploma in dental therapy course takes about 27 months, depending on the dental hospital at which you study. Some dental schools offer part time courses for dental hygienists wishing to qualify as dental therapists.
Subjects studied include:
preventive dentistry
dental health education
dental pathology
simple restorative procedures for both deciduous and permanent teeth
the extraction of deciduous teeth (previously known as baby teeth)
radiography and pharmacology
If you are studying dental therapy at level 5 or 6 you could be eligible to receive at least £5,000 a year towards your studies while at university. Your personal circumstances may mean you could receive more. And the good news?  You'll never have to pay it back. Find out more.  [2]
Career development 
You'll be expected to keep up to date with the latest techniques and developments, including best practice. Your professional development will be identified through performance reviews and will be part of your mandatory requirements for General Dental Council register.
With experience, you can progress to become a practice manager or move into research. You could move into teaching roles or become an orthodontic therapist.
Pay and benefits
Dental therapists may be self-employed or employed directly by a dental practice so your working hours and pay will vary but some evening or weekend work may be required.
If you work for the the NHS in a hospital or community clinic, your starting salary might be at bands 5 or 6 of the Agenda for Change [3] pay scale. You'll typically work 37.5 hours a week.
Displaying 1 - 5 of 27 matches
Sorry, we don't currently have any vacancies in your area.

You can try expanding your search area or search a different postcode.
Other roles that may interest you