The application process
First you'll have to check your eligibility to work in England, followed by a language test. If you are eligible, you can apply for a role. 
You'll be interviewed and employed directly by the NHS trust you apply to, and they will support you with your Health and Care Visa application and the move over to England. 
We are here to help
Ready to make a start? The entire application process can take anywhere between three to 12 months or longer depending on the role you've chosen. 
We've created a list of everything you'll need to do to start working as a registered nurse. There's no specific order in which you need to complete each step, but we recommend the following: 
Check you're eligible to work as a registered nurse in England by starting the Nursing and Midwifery Council (NMC) application process and completing their self-assessment..
Complete your English Language (EL) Test and Computer-Based Test (CBT). You don't need to do this before you apply for a job, but you'll need to do it before you move.  
Choose your application route, whether it's via NHS Jobs, the NHS's recruitment website , or an agency local to you.
Have your interview and receive a job offer – you'll be interviewed and directly employed by an NHS trust. 
Apply for your Health and Care Visa.
Book your flights and find somewhere to stay once you've arrived in England (your trust or agency will be able to support you with this). 
Complete your Objective Structured Clinical Exam (OSCE) – you'll need to take your first test within 12 weeks of starting your new job.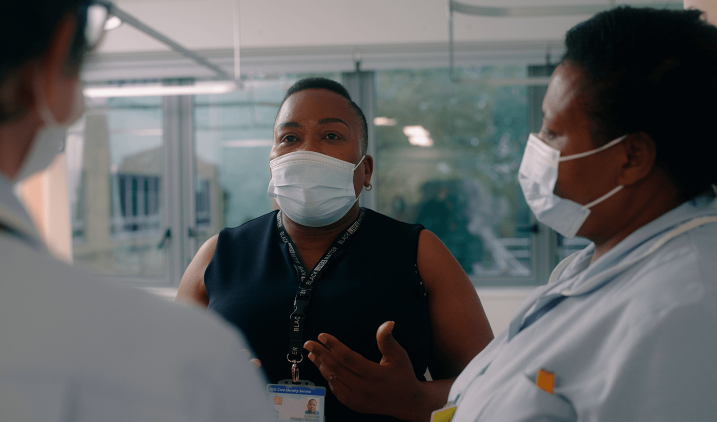 Meeting the NMC requirements
The Nursing and Midwifery Council (NMC) regulates nurses and midwives in the UK, and nursing associates in England. To become a registered nurse in the UK, you'll need to complete a NMC Eligibility and Qualification application.
To get you started, here's a step-by-step guide to completing your NMC application. You'll also need to check if you're eligible to practice as a registered nurse in England.
If you have completed a recognised pre-registration nursing/midwifery qualification in your country of training and want to work in the UK as a Registered Nurse/Midwife, there are five routes open to you:
adult nursing
children's nursing
learning disabilities nursing
mental health nursing
midwifery
Some key facts that are helpful to know before you start your application:
your qualification doesn't need to be specific to the field of nursing that you are applying to, but it does need to be a recognised nursing qualification
you should think about what experience you have and consider this field of nursing  
the Test of Competence is specific for the field of nursing you apply to. It allows you to show you have the relevant knowledge and skills for this field
you will need to complete the NMC registration eligibility application 
you can only use your pre-registration qualification to apply to one field of nursing
Changing your field of registration once registered will only be possible by undertaking additional training called a full-time 18-month conversion course. It is best to get on the right part of the nursing register at the beginning of your UK career.
English language test
If you trained outside of the UK, you'll need to show you meet the English language standards set by the Nursing and Midwifery Council (NMC) by either:
Or
If you trained outside of the European Union (EU) / European Economic Area (EEA) you'll also need to take a Test of Competence (ToC) so we can see what knowledge and practical skills you have.
This is a two-part process and includes:
completing a Computer-Based Test (CBT), a multiple-choice exam which you can complete in your home country. You must complete your UK registration application within two years of passing your CBT. If you're unable to do this, you'll need to take your CBT again and start a new application.
completing an Objective Structured Clinical Examination (OSCE). These are held in one of the approved UK-based test centres, and you'll have up to 12 weeks from your employment start date shown on your Certificate of Sponsorship (your trust will give you a Certificate of Sponsorship once you have a job offer) to sit the first exam. You can still work as a nurse during this time. If you do not pass the test the first time, you may resit.
How to apply for a job with an NHS trust
There are three ways you can apply for a nursing job in England: 
through an agency in your home country – you'll want to check they have a good reputation for recruiting nurses for overseas. You may want to discuss with friends or look on social media for feedback
through an NHS-approved agency based in England
via NHS Jobs
If you apply via an NHS-approved agency, they: 
Will work on behalf of an NHS trust and will provide you with support as you work through the recruitment and visa process
Will not charge you any recruitment fee.
If you apply for a job with an NHS trust using NHS Jobs, you'll be able to find lots more information about where they're based, what they specialise in and how they can support you on the trust's website.  
Once you've been offered a job, you'll receive a Certificate of Sponsorship from the NHS trust you'll be working for – you'll need this for your visa application.
*The World Health Organisation (WHO) has created the WHO Workforce Support and Safeguard List to highlight which countries need to hold on to their healthcare staff. Improving health and social care is really important to us, and that includes outside of the UK. The NHS does not actively recruit health and care professionals from countries on this list. 
Visa application process   
The Health and Care Visa allows you to come to England and work for the NHS, an NHS supplier or within adult social care. The visa can last up to five years before you need to extend it, giving you plenty of time to develop your career.
You don't need to apply for your visa until you have been offered a job – your agency or NHS trust will be able to help you with your visa application.
To qualify for a Health and Care Visa and come to work in the NHS as a nurse, you must:
be a qualified nurse in your home country
have a job offer from the NHS, an organisation providing medical care to the NHS or an organisation providing adult social care
have a Certificate of Sponsorship from the NHS trust you have a job offer from
be paid a minimum salary of £20,800 or £20,480 if your role is on the Shortage Occupation list (this means we do not have enough UK residents to fill the role)
have at least £1,270 in your bank account to prove you can support yourself unless your employer can support you instead – your Certificate of Sponsorship will confirm this 
When applying, you'll need to provide:
a Certificate of Sponsorship reference number. This will be provided by your NHS trust once you've been offered a job
a valid passport or other document that shows your identity and nationality
your job title and annual salary
your job's occupation code. For a nurse this is always 2231 – you can find more information here
the name of the NHS trust you'll be working for and their sponsor licence number – this will be on your Certificate of Sponsorship
If your documents are not in English, you will also need to provide certified translations.
Developing your career
Your learning doesn't stop once you've qualified as a registered nurse. When you're working within the NHS, you'll have access to lots of development programmes and you'll be supported by an experienced practitioner. You'll also be given ongoing training and have access to a £1,000 professional development fund to help you develop your skills and progress your career.
Yes. We're still hiring, despite the pandemic. We will continue to monitor the health and care situation in all countries impacted by the pandemic, and the UK government is in ongoing discussions to ensure that any recruitment from overseas is mutually agreed between governments. We've also made sure that protocols are in place to ensure the safety of you and all our staff. All our staff have access to a Covid-19 vaccination and if you have not received one, we will be happy to support you in getting one.

We have lots of roles on offer, find out more about the range of roles.

The application process will vary depending on the trust you apply to and the route you apply through. You'll be able to find plenty of information about how trusts and agencies can support you during the application on their websites.
Available support
Find out how the NHS will support you into your nursing job in England
Available support