Pharmacist
Pharmacists make a difference to the lives of their patients through an expert knowledge of medicines and health. 
As a pharmacist, you'll combine a love of science with a desire to improve lives. You'll be rewarded with a stimulating career across a range of settings and industries.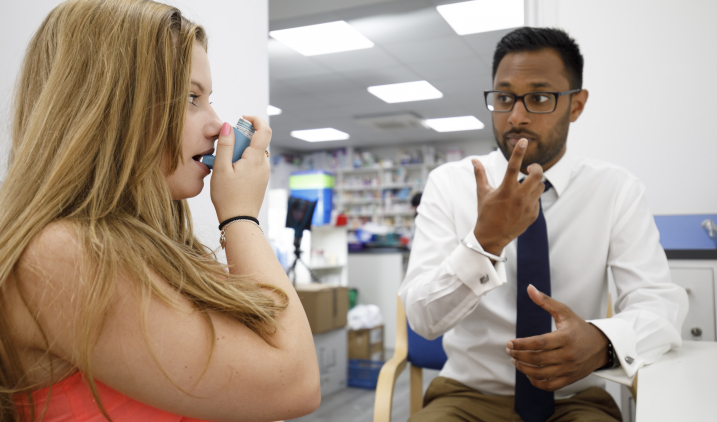 Working life
Pharmacists work directly with patients and as part of the bigger healthcare team. Increasing numbers of pharmacists can prescribe medicines to patients to help them manage their conditions. They also have a role in preventing people getting sick by supporting people to live healthy lifestyles.
You'll work alongside pharmacy technicians and pharmacy support staff, such as pharmacy assistants to deliver the pharmacy service. Each person is a high valued member of the pharmacy team.
As a pharmacist, your role is to: 
make sure that medicines are used safely
work with patients to understand how to take their medicines and get the most out of them
take a history, examine, identify and provide advice to patients on minor ailments such as coughs and colds, signposting where necessary
work alongside other healthcare professionals, including doctors and nurses, so patients are prescribed the most appropriate medicines for them
provide advice on health and lifestyle such as stop smoking
manage long term conditions such as high blood pressure
if they're qualified to, prescribe medications to patients to help manage their condition 
research new drug therapies
educate and train other pharmacists and other members of the healthcare team
lead a team of pharmacy staff to provide services
manage medicines budgets
Within the next few years, all pharmacists will be qualified to prescribe when they complete their training.
Where could you work?  
See this list of the many different places pharmacists can work. Some also mix and match their career between sectors.
community pharmacy - where you will work in the heart of communities within cities, towns and villages
hospital - where you will rotate through various clinical specialties, for example cardiology
general practice (a GP surgery) - where you'll support the team with prescribing and run specialist clinics for patients with new problems or with longer term illness. 
industry - where you will work in companies involved in developing and manufacturing medicines, devices and technology
technical services and clinical trials - where you might manufacture specialist medicines and be involved in the trial of new and different medicines
integrated care systems (ICS) - where you will work with a group of GP surgeries and ensure patients get the best medicine based on guidelines
academia - where you may lead research and deliver innovative teaching within a university
procurement - where you will liaise with manufacturers who make medicines and suppliers to assure the supply and quantity of the vast quantities of medicines we need from around the world
mental health - where you will work to ensure patients receive appropriate medicines and other treatments to improve their mental wellbeing
care homes - where you will assist residents to get the most out of their medicines
research - where you will be involved in creating new treatments and evidence
health and justice - where you will deliver services in settings such as prisons, young offenders institutions and prisoner rehabilitation facilities
NHS 111 - where you will support patients remotely
armed forces - where you will help support members of the military with their healthcare needs
Entry requirements 
To practise as a pharmacist, you need to be registered with the General Pharmaceutical Council (GPhC). To register, you need to complete a five-year programme of integrated academic and clinical based teaching.
Years 1-4 will be as a student and you will achieve a Master's degree in pharmacy (MPharm) at university, followed by a one year paid work placement called a foundation training year. A list of universities across the UK is available at the bottom of this page.
University entry requirements are generally: 
three A-levels or equivalent in chemistry and a second science or maths. Typically offers range from AAB to BBB
pharmacy degrees with a foundation year may have lower grade requirements
GCSEs are considered alongside A-levels, with most schools of pharmacy expecting a minimum of five GCSEs including maths, English language and one science
some universities accept vocational qualifications such as BTEC Level 3, National Extended Diploma in Applied Sciences or the Access to HE Diploma
Each university sets its own specific requirement so it's important to check university websites or the Studying healthcare website. 
Must-have skills
Pharmacists need:
a general understanding of pharmacy and how it benefits patients
strong communication skills to be able to speak to patients and other healthcare professionals
"The best bit about the role is knowing you have positively impacted someone's health. Over time, you get to see the positive impact your advice and care has had on your patients and their love ones."
Training and development
Registered pharmacists have to keep their skills and knowledge up to date with continuing professional development (CPD) to revalidate their professional licence each year.
Once qualified, many pharmacists join the Royal Pharmaceutical Society, the professional body for pharmacists. This e-learning programme for healthcare professionals from Health Education England can help pharmacists make informed career choices and effective applications for their next career steps. And this interactive document outlines some key opportunities for pharmacists.  
Pay and benefits
Pharmacists working in the NHS, for example a hospital, will have access to NHS benefits such as 27 days of annual leave plus bank holidays which increases after five years of service, as well as the NHS pension scheme. Newly qualified pharmacists will usually start on band 6 of the Agenda for Change pay scale and can progress up to band 9 as a chief pharmacist. 
Pay and benefits for pharmacists working to deliver NHS services in a different setting, for example a community pharmacy, will differ depending on the employer, but are typically in line with NHS pay rates. Some pharmacists choose to own and run their own community pharmacy.
Displaying 1 - 5 of 40 matches
Other roles that may interest you