Peer support worker
Peer support workers are people who have lived experience of mental health challenges themselves. 
They use these experiences and empathy to support other people and their families receiving mental health services. Peer support workers join other members of someone's care team to help support their wellbeing and provide inspiration for their recovery.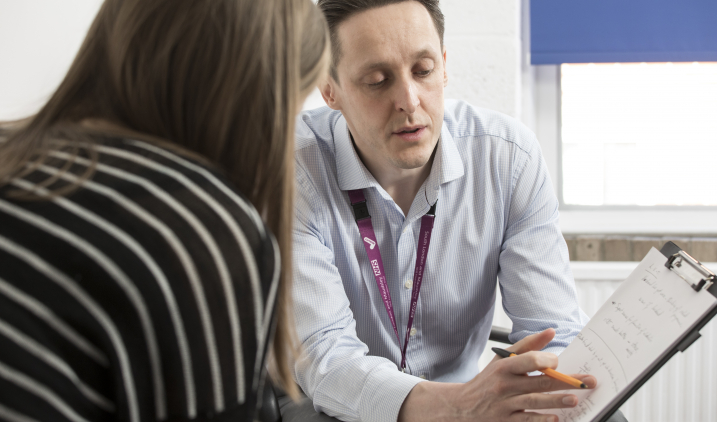 Kelli Rush
Community lived experience practitioner
The best part of my day is working with the people who use our services and their family, friends and loved ones. I really understand the difficulties they're dealing with on a daily basis.
Working life
Peer support worker roles are being developed to support the Government's priority of increasing access to and availability of mental health and wellbeing support and a formal training programme is being developed.
The role that peer support workers fulfil will depend on the type of service they are based in, but could include:
working one to one with service users or patients
helping to support individuals to develop goals
supporting people in care planning
helping people engage with activities
supporting group work
helping support people develop recovery plans
Where will I work?
You will work in both informal and formal settings. Informal settings could be in local drop-in groups and cafes for example, or you could work with third sector organisations and charities.
You'll undertake a training programme, focused on providing peer support in formal settings that deliver NHS-funded care, such as NHS trusts or independent providers. These settings can include community, crisis, inpatient, criminal justice and recovery services.
Who will I work with?
You will work with a range of people who are living with mental health problems, either in hospital or in the community.
They will all be different, but what will connect you with them is your understanding of living with mental health problems yourself. You will also work with other members of a team, for example nurses, social workers, therapists and doctors. In some services, you may also work alongside people's carers, families and friends.
Entry requirements
The key element to being a peer support worker is having relevant lived experience for the service you wish to work in, wanting to support others going through similar experiences, and being able to receive training on how to work with people to do this.
What's very important is that you're in a good position to be able to use your lived experience and share this as appropriate in a positive way. You will also need good communication skills - both written and verbal - in your work with patients and service users.
Skills and personal characteristics needed
open, honest and friendly
good communication skills or willingness to develop these
ability to use lived experience in a positive and appropriate way
awareness of own personal recovery journey
willingness to work as part of a team
Training and development
To help you develop the skills you need to be a peer support worker, you'll undertake a training programme delivered by people with lived experience, with support from the NHS. You'll also be provided with on-the-job training as appropriate. 
There are volunteer as well as paid opportunities for peer support workers.
Other roles that may interest you