School nurse
School nurses promote healthy lifestyles and prevent illness with school age students.
Working life
School nurses are qualified and registered nurses or midwives many of whom have chosen to gain additional experience, training and qualifications to become specialist community public health nurses (SCPHN - SN). Their additional training in public health helps them to support children and young people in making healthy lifestyle choices, enabling them to reach their full potential and enjoy life.
School nurses work across education and health, providing a link between school, home and the community. Their aim is improve the health and wellbeing of children and young people. They work with families and young people from five to nineteen and are usually linked to a school or group of schools.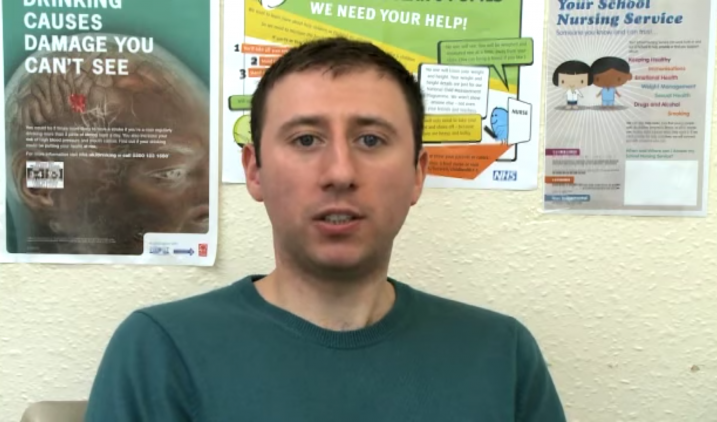 School nurses see all children with their parents during their first year of schooling for a health assessment, which will include a vision and hearing test. They help children and families gain additional help and support when required, and provide and coordinate additional services for vulnerable children. 
The school nurse's day-to-day role varies greatly from area to area, and depending on the type of school. Typically, it includes:
carrying out health assessments
home visits to families in need
providing health education, advice, and signposting to other sources of information
providing  immunisation clinics
advising and supporting schools with their public health agendas for example  healthy eating advice, stop smoking programmes
safeguarding and service coordination
They also advise on common childhood conditions such as asthma, diabetes and eczema, working closely with general practitioners, health visitors and other health and social care staff. They may be based in a school, a GP surgery or a health centre and may work as part of a wider team with senior school nurses, community staff nurses and nursery nurses. They may be employed by local councils, the NHS or by schools directly.
"Young people get a lot of negative press but they never fail to impress and inspire me with their resilience and creativity." Philip Wells, lead professional school nursing/practice teacher, Somerset Partnership NHS Foundation Trust
Want to find out more?
Pay and conditions

Expand / collapse

Jobs in the NHS are covered by the Agenda for Change (AfC) pay scales. This pay system covers all staff except doctors, dentists and the most senior managers. School nursing jobs usually start at band 6 but there is opportunity to move up the bands with more experience.  School nurses in the NHS will usually work standard hours of 37.5 per week.

More school nurses are now being employed by local authorities where terms and conditions can vary. For more information please view our pay and benefits page.

 

Example salaries: 

Public health school nurse: £26,565-£35,577 (Newcastle upon Tyne Hospitals NHS Foundation Trust, 2017)

Student school nurse: £19,217 - £22,458 (Somerset Partnership NHS Foundation Trust, 2016)

School nurse SCPHN: 26,041 - 34,876 (Virgin Care, 2016)

Special school community nurse: £26,302 to £35,225 (Sussex Community NHS Foundation Trust, 2016)

Specialist school nurse: £30,764 - £40,558pa (Barnet Enfield and Haringey Mental Health Trust, Enfield, 2014)

Complex needs school nurse team leader: £36,916 - £46,837pa (Guy's and St Thomas' NHS Foundation Trust, Community Services, London, 2014)

Where the role can lead

Expand / collapse

A qualified school nurse has many opportunities to develop skills to work in a variety of areas. Some school nurses choose to work towards senior school nursing or managerial roles, whilst others may carry out research and possibly become lecturers in nursing or another related subject.

Find out more about the training and development opportunities in school nursing 

Nursing careers resource

A careers resource has been jointly developed by the Royal College of Nursing (RCN) and Health Education England (HEE) to help registered nurses and the clinical support workforce plan their health careers effectively. It shows different ways that you can develop your career from a band 5 role with case studies, videos and next steps.

Visit the RCN/HEE careers resource for registered band 5 nurses

Job market and vacancies

Expand / collapse

England

The main employers of school nurses in England are NHS trusts and independent schools. There were 293 proposed training places in England in 2016/17. A report on the public health workforce (2014) estimated that there were 4,000 school nurses working in the NHS.

Scotland

The main employers of school nurses in Scotland are local NHS Health Boards, local authorities and independent schools. A report on the public health workforce in Scotland (2015) estimated that there were 500 (370 whole time equivalent) school nurses in Scotland, of which at least 380 (280 wte) were at Agenda for Change Band 5 or higher.

In England and Wales, vacancies are primarily advertised on NHS Jobs but you can also find vacancies on:

 

Recruiting for values

If you're applying for a role either directly in the NHS or in an organisation that provides NHS services, you'll be asked to show how you think the values of the NHS Constitution apply in your everyday work. The same will be true if you are applying for a university course funded by the NHS.

Find out more about NHS values

If you're applying for a job in a local authority, each has its own set of core values underpinning its recruitment exercises, which can usually be found in the recruitment section of its website.

 

Job titles

Note that terms such as 'practitioner', 'manager', 'specialist' and 'consultant' may have different meanings in different job titles. Therefore, they do not necessarily reflect the role category that the job really belongs to. It is important to check the person specification of the role to fully understand the skills and knowledge required.

Further information

Expand / collapse
Other roles that may interest you