Real life, your life (teaching resources)
Real life, your life is an online toolkit of activities and multimedia resources that support Careers Education and Personal, Social, Health and Economic Education (PSHEE) at Key Stage 4.
It provides teachers with everything they need to deliver interactive and informative lessons with confidence.
Real life, your life consists of five topic areas that each delivers different learning outcomes and helps students to develop key skills to prepare them for the world of work, whilst also gaining a unique insight into the wealth of career opportunities available in the NHS.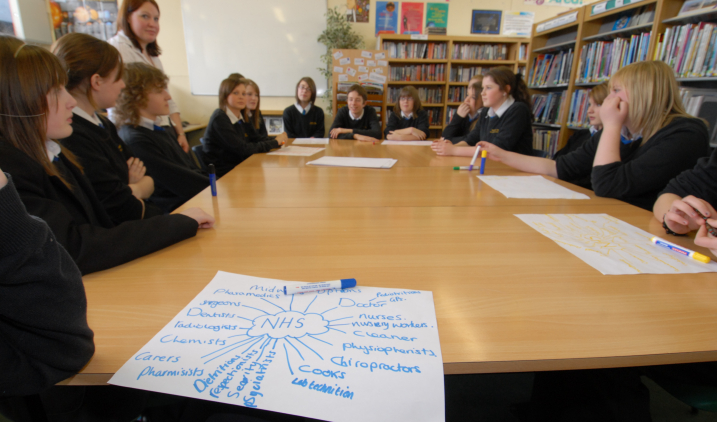 What subjects does the resource support?
Each topic area contains a range of careers and PSHEE focused activities that can also be used to support other subjects, including English, drama and citizenship. The flexible design means you can use the materials to suit your school's careers programme.
What resources are provided?
The activities within each topic area are supported by teacher notes, student worksheets and all the resources you need to deliver the lesson, such as PowerPoint slides, videos and interactive quizzes. They are designed so you can use them in their entirety or adapt them to suit your needs.
Learning outcome: To understand my interests, skills and some choices I will make in the future.
Overview of activities: Complete a quiz and speed-dating style activity to explore interests, feelings and choices. Create a skills map and match skills to a career in the NHS.
Learning outcome: To understand some important work-related skills.
Overview of activities: Rank skills for different jobs and watch a video showing healthcare professionals talking about their jobs and skills. Role-play healthcare professionals using their skills to deal with different patient scenarios.
Learning outcome: To understand the importance of verbal and non-verbal communication.
Overview of activities: Review different images of people and role-play different emotions to understand and interpret body language. Observe the body language of healthcare professionals and consider positive verbal language they can use.
Learning outcome: To be aware of common issues that young people face and careers that I could work in to help people with these problems.
Overview of activities: Explore issues around mental health, drugs and body image through a range of interactive activities and video. Create a campaign that can help raise awareness of these issues and of healthcare professionals who can help young people.
Learning outcome: To be able to identify my skills and write my CV.
Overview of activities: Learn about the six Personal, Learning and Thinking Skills (PLTS) and identify occasions where those skills have been effectively used. Write a CV for different job descriptions.