Podiatrist
Podiatrists treat and prevent foot and leg problems. 
This page has information on the role of podiatrists with links to further information. 
Working life
You will work with people's feet and legs. You'll diagnose and treat abnormalities and offer professional advice on care of feet and legs to prevent foot problems. In the NHS, you'll see many patients at high risk of amputation, such as those suffering from arthritis or diabetes.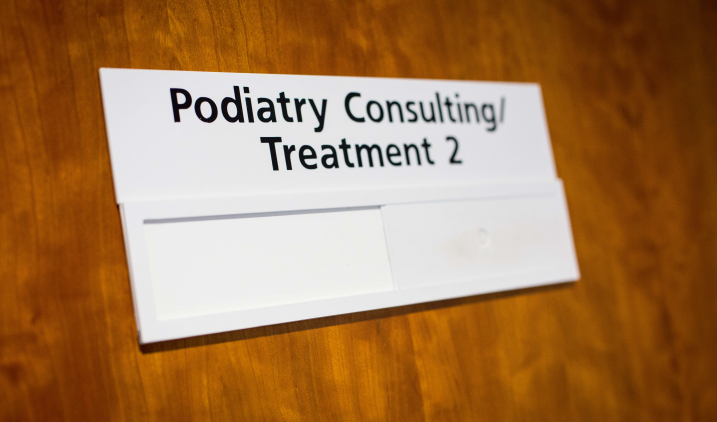 You'll work in:
hospital departments or clinics
health centres
GPs surgeries
their own private practice
You may visit clients who cannot leave home or are in a nursing home.
You'll also assess and treat people of all ages and situations. For example:
children with lower limb pain or problems walking
diabetes sufferers with circulation problems who may be at risk of amputation
people with sports injuries
dancers whose long hours of rehearsing and performing put stress on their feet causing injury
people needing minor procedures such as nail surgery or laser treatment, using local anaesthetic
people wanting advice about footwear or foot health
Podiatrists work with other healthcare professionals such as dietitians, GPs, nurses and physiotherapists. Some also supervise the work of podiatry assistants.
Want to learn more?
Pay and conditions

Expand / Collapse

Most podiatrists in the NHS work standard hours, which are likely to be around 37.5 a week. You may work some evenings. Your starting salary will be band 5 of the Agenda for Change pay rates. 

Self-employed podiatrists' hours of work depend on client needs. You may work evenings and weekends to suit private clients.

Some podiatrists have to travel between client appointments.

Where the role can lead

Expand / Collapse

In January 2018, there were 13,164 podiatrists registered with the Health and Care Professions Council.

Once qualified and registered with the HCPC, podiatrists often join the College of Podiatry. Registered podiatrists have to keep their skills and knowledge up to date with annual continuing professional development (CPD). The College of Podiatry runs courses, conferences and seminars where podiatrists can exchange ideas and update their skills.

You may choose to specialise in a particular area of practice such as sports injuries, diabetes, forensic podiatry or working with children. Other options include teaching or research.

You could also move into management, either within podiatry services or general management. As head of a local podiatry service you would be responsible both for a team of staff and for managing a budget.

Some podiatrists do further training to become podiatric surgeons. Others may decide to set up their own clinics, on their own or with other professionals.

There may be opportunities to work overseas.

Job market and vacancies

Expand / Collapse

The College of Podiatry says that 100% of all podiatry students who want a job are in employment within a year of graduation.

NHS trusts advertise their vacancies on NHS Jobs and some advertise on their own websites too. You can find a list of NHS organisations on the NHS Choices website.

If you're applying for a role either directly in the NHS or in an organisation that provides NHS services, you'll be asked to show how you think the NHS values apply in your everyday work. The same will be true if you are applying for a university course funded by the NHS.

Further information

Expand / Collapse
Other roles that may interest you