Training and development (clinical radiology)
This page provides useful information on the training and development for this specialty and also has tips for people at all stages of their training including medical school.
Download the full image of the radiology training pathway here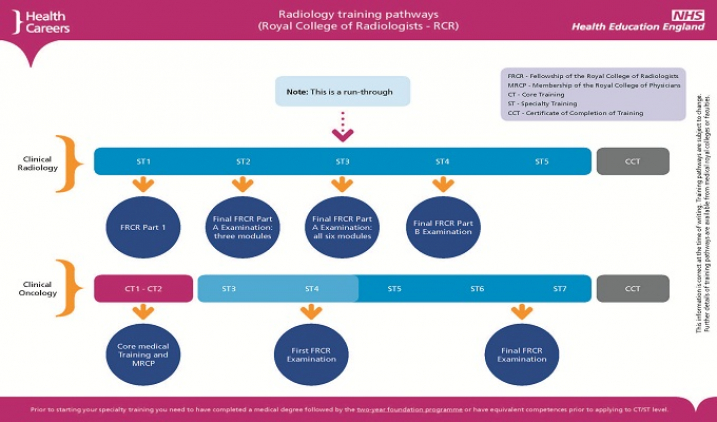 Training and development
Training for clinical radiology is a run-through programme that takes five years to complete stages ST1-5. There is a further year, ST6 for those trainees wishing to specialise in interventional radiology. Unlike some other medical specialties, there is no competitive application process at ST3.
It is possible to apply for specialty training directly from foundation training, although because of the competitive nature of the specialty, some previous experience of radiology clinical practice and/or research is likely to be useful. Some applicants have undertaken training in another medical specialty before applying for radiology.
The training involves three years of general radiology training followed by two years of special interest training. Years one to three includes training in each radiology sub-specialty.
During training you will also take examinations leading to Fellowship of the Royal College of Radiologists (FRCR). During your ST1-5/6 training you will be employed as a specialist registrar. At the end of this training you will receive a Certificate of Completion of Training (CCT) and will be eligible to be on the GMC Specialist Register. You can then apply for consultant posts.
Detailed entry requirements and all essential and desirable criteria are listed in the person specifications 2017 for clinical radiology ST1, ST2, ST3 and ST4.
All 2017 person specifications can be found on the NHS specialty training website. Please note that these documents are updated every year in the autumn before the recruitment round opens.
Applicants for ST1 radiology training need 18 months' or less experience in radiology not including foundation modules.
Selection panels also look for evidence of academic and research achievements, such as degrees, prizes, awards, distinctions, publications and presentations. An understanding of research, audit and teaching is also important as is evidence of the ability to work in a team. Good leadership and organisational skills are also important.
Entry is highly competitive so you will need achievements that are relevant to radiology. Completion of an elective or taster in radiology will demonstrate your commitment to the selection panel. Your portfolio should have evidence of your commitment to this specialty.
The GMC provides information on the curriculum for radiology training.
This is also available on the Royal College of Radiologist's website.
This information is correct at the time of writing. Full and accurate details of training pathways are available from medical royal colleges, local education and training boards (LETBs) or the GMC.
The Integrated Academic Training Pathway
If you are interested in research the integrated academic pathway may be for you. Trainees can apply for the two-year academic foundation programme instead of a normal foundation programme. Entry is highly competitive.
After completion of the academic foundation trainees can then apply for academic core training posts (instead of normal core training).
Trainees can then apply for academic specialty training.
A PhD is often taken, either during core or specialty training.
You will normally be appointed as an academic clinical fellow during ST1-2 and as a lecturer at ST3 and until the end of your training.
Getting in tips
It is important to develop your practical skills and interest in clinical radiology as early as you can. This will also give you valuable experience to add to your CV.
Here are some useful tips for people at different stages of their career:
Medical students

Expand / collapse

attend conferences on radiology for medical students – this will give you an opportunity to network and meet your future colleagues
work hard to achieve a prize, eg in anatomy
undertake a placement in radiology
undertake a student selected module or project in radiology and choose an elective in radiology
become a medical student member of the British Institute of Radiology and/or the British Society of Interventional Radiology

Foundation trainees

Expand / collapse

make contact with radiology department in your hospital and ask to sit in on reporting and attend multidisciplinary meetings. Also get involved in radiology audit/research
attend courses such as those offered by the Royal College of Radiologists
ensure your e-portfolio has plenty of mainstream acute care clinical work and that this is kept properly up-to-date
try to gain teaching and management experience
become a foundation doctor member of the British Institute of Radiology and/or the British Society of Interventional Radiology

Core and specialist trainees

Expand / collapse

undertake a relevant research project
try to get some of your work published and present at national and international meetings
teach junior colleagues
take on any management opportunities you are offered