Library, knowledge and information services
Library and knowledge professionals apply their expertise to ensure that NHS bodies, staff, learners, patients and the public have the right knowledge and evidence, when and where they need it.
Their work is crucial to all aspects of healthcare through the supplying of evidence to support decisions on treatment, patient care and safety, commissioning and policy. They also support lifelong learning, undertake research and drive innovation.  
Working life
Information and knowledge is available in a variety of formats, for example books, websites and periodicals so healthcare professionals rely on knowledge management staff for support in accessing it. This could be looking for information on their behalf or training them to use tools to search and critically appraise the information themselves.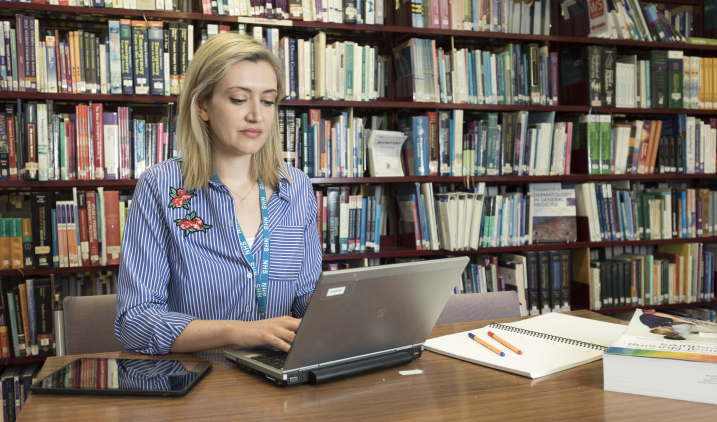 The work is varied, stimulating and rewarding. You may:
run complex literature searches to support patient care, research and improvements in health services 
provide services to keep health professionals up to date with the latest evidence and best practice in their field
develop and deliver training to help colleagues assess and make best use of this information
Library staff increasingly work outside the traditional library space to deliver clinical and outreach services, embedding roles within health and management teams. 
Roles in library, knowledge and information services
Explore some of the roles available:
Library and knowledge services manager
As a library knowledge services manager, you'll:
work autonomously to shape services to meet the needs of users and organisational objectives
be involved in designing and delivering the national information strategy for health - 'Knowledge for Healthcare' 
shape and implement national strategy 
lead a small, diverse team that are regularly in contact with your users, allowing the team to see the difference they make to frontline staff and patients
work collaboratively with other library services to provide the best value for money
be responsible for the day-to-day running of the library depending upon team size
You'll work on the front line delivering training to healthcare professionals so they can access and assess the quality of the information they find. You'll also: 
undertake enquiry work and perform literature searches
contribute to current awareness bulletins for users including healthcare professionals
deliver training to healthcare professionals
promote and manage resources for evidence and use of the library service
Your aim is to spend as much time as possible in the hospital working alongside clinical teams as they care for patients. You are part of a multidisciplinary team including doctors, nurses, therapists and managers. You'll also:
attend clinical meetings
accompany staff on ward rounds as they visit patients
conduct literature searches to find answers to evidence gaps
You'll work with health staff working across the community, often providing library and knowledge services remotely. You'll also:
work with range of staff including from GPs to student nurses, paramedics and IT managers
visit GP federations, GP practices and community health centres to promote resources and provide training  
receive requests for a variety of information or support. Some can be complex due to the evidence needed for writing local policies, choosing clinical treatment, answering patients' questions and professional development
Public health and commissioning librarian
You'll provide evidence-based knowledge and information and run awareness services of the latest information. You'll either work across public health and commissioning or just one, for example local authorities for public health, and clinical commissioning groups (CCG) for commissioning. Each may have different needs: 
public health teams require information at population level rather than relating to the clinical care of individual patients 
CCGs decide what clinical services need to be provided in a geographical area and which organisations will be paid to provide them. Their staff need evidence such as statistics and case studies from other CCGs to make these decisions and ensure high-quality care
As you'll be working on the same site as these teams, you are part of the public health and/or commissioning team and their work.
Academic Health Science Network (AHSN) liaison librarian
You'll promote research and collaboration between the NHS, higher education and industry. This involves:
developing relationships
conducting complex literature searches
providing reviews or summaries of evidence
explroing new technologies and innovations that can support health delivery
profiling NHS organisations to identify common themes and issues
Library assistant/senior library assistant
You'll be the front-line staff of the library service. Your role will involve:
running the enquiry desk and helping users with issues, for example patient care, research or professional development
using information resources to research enquires, from medical textbooks to online databases via the web
ordering books and journals
administrative tasks such as sending out letters and maintaining databases and records
Senior library assistants may supervise the library assistants and take on additional responsibilities, such as managing document delivery services and liaising with more senior staff.
Want to learn more?
Other roles that may interest you