Occupational health nurse
Occupational health nurses advise working people and organisations of the impact of work on health and wellbeing.  
You'll protect, promote and enhance the health and wellbeing of people in work.  
You'll advise employers on the importance of creating workplaces that are safe, productive and inclusive. You'll also lead services to help prevent work-related ill health.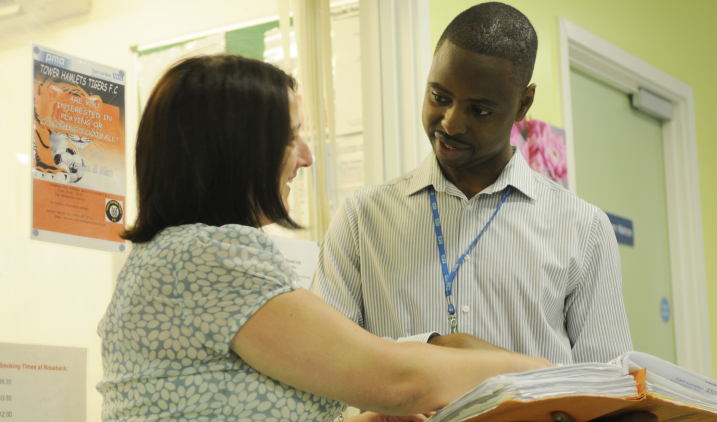 Life as an occupational health nurse
Your working life as an occupational health nurse will depend on the sector and organisation as each will have different employees with different health needs, risks to health, environments and cultures. Your work may be at an organisation level and with individuals.  
Your role might involve: 
health needs assessments 
provision of training and information    
health promotion and wellbeing advice and campaigns 
supporting risk management and reduction relating to health. For example: 
monitoring the effectiveness of risk controls through health surveillance 
advising on work related immunisations 
advising on work related stress and mental health. 
helping to identify and prevent work-related ill health, for example:   
protection of people's hearing  
respiratory protection programmes 
assessing the impact of work or tasks on people's health  
giving immunisations and taking blood samples 
advising on management of health emergencies and first aid management 
undertaking health surveillance such as lung function testing, audiometry testing, depending on the hazards within a role. 
You'll work on your own or as part of an occupational health team in one or more industries such as: 
public sector 
health and social care  
construction 
manufacturing 
retail 
banking 
rail  
academia.  
You'll work closely with employers and their employees, line managers, human resources (HR) staff, health and safety advisors and a wide range of other healthcare professionals.  
How much can I earn?
If you are employed in the NHS you will usually work at Agenda for Change band 5 or 6, with most qualified occupational health nurses moving into band 7. 
How about the benefits? 
make a difference 
flexible and part-time working    
excellent pension scheme 
good holiday entitlement 
NHS discounts in shops and restaurants
Must have skills 
customer service, patient-centred care 
interviewing  
critical thinking  
listening and communication 
teaching and advising 
problem solving 
health promotion and behaviour change skills 
Entry requirements  
You will need to be a registered adult, child, learning disability, or mental health nurse or registered midwife to apply for occupational health nursing posts.  
Applying for a job within a large occupational health service or a training post should help you gain adequate supervision and support. This is especially important for a first job in occupational health. 
How to become an occupational health nurse 
You can go straight into an occupational health nurse role after registration with the Nursing and Midwifery Council (NMC). There's also the opportunity to obtain additional qualifications in occupational health: 
a foundation course such as the FOM Diploma in Occupational Health Practice and or  
a Higher Education postgraduate diploma, BSc in Occupational Health Practice and/or 
postgraduate diploma, BSc or MSc Specialist Community Public Health Nurse (SCPHN) – OH course.
The new SCPHN standards for post registration and education can be found on the NMC website. 
Where a career as an occupational health nurse can take you 
The Faculty of Occupational Health Nursing (FOHN) have a useful guide to careers in OH nursing. 
Want to learn more?
Want to come back?
If your SCPHN registration has lapsed then you may need to complete a return to practice programme. Email us so that we can put you in touch with someone in your local area who can offer tailored advice.  
Can't find a job in your area? Visit NHS Jobs for more vacancies. 

Find a vacancy
Other roles that may interest you