Health visitor
Health visitors are nurses or midwives who are passionate about promoting healthy lifestyles and preventing illness. They work with families to give pre-school-age children the best possible start in life. 
Working life
Health visitors are qualified and registered nurses or midwives who have chosen to gain additional training and qualifications. Their additional training enables them to assess the health needs of individuals, families and the wider community to promote good health and prevent illness. You may also work with at-risk or deprived groups such as the homeless, addicts or travellers.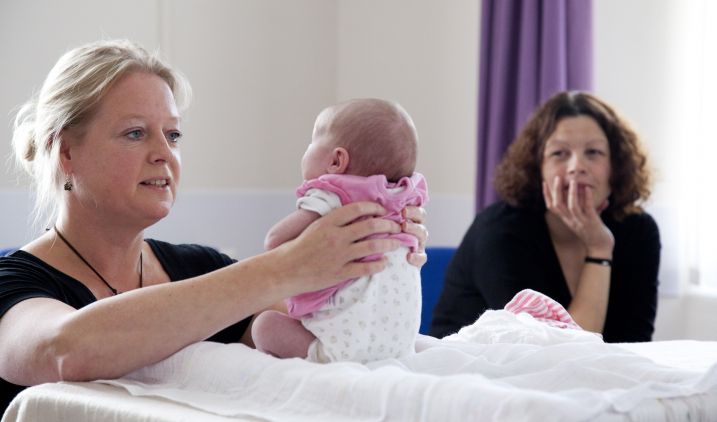 You'll work with different healthcare professionals including community nursing staff, school nurses, nursery nurses, GPs, social workers and allied health professionals.Your role will vary depending where you are based or if you specialise in an area such as mental health or teenage parents. Your day-to-day work will typically include:
providing ante-natal and post-natal support
supporting parents in bringing up their young children
providing advice on feeding babies and children
assessing a child growth and development needs of young children
supporting children with special needs
advising on behavioural management techniques
advising how to reduce risks and prevent accidents and reduce injuries
providing information on local services
You'll also work with other organisations to safeguard and protect children. You'll be trained in recognising the risk factors, triggers of concern, and signs of abuse and neglect in children. You'll often be the first to recognise whether a child is at risk of harm, and know whether action needs to be taken, and what should be done to protect them. You'll also ensure families receive the best possible support during formal safeguarding arrangements.
Entry requirements and training
You need to a registered midwife, adult, child, mental health or learning disability nurse to apply for a health visiting training programme. The training programme is also known as Specialist Community Public Health Nursing - Health Visiting (SCPHN - HV) and is at degree level. It's normally no less than one academic year (45 weeks) full time or part-time equivalent.
Must have skills 
You need to be have excellent communication skills, be well-organised, confident and able to cope with potentially challenging situations, such as working with a homeless family or in a refuge. You'll need to be able to work independently, although you'll work as part of a team. Being highly organised, flexible, observant and able to prioritise effectively is also important. 
Career development 
You could move into service management, teaching or clinical academic research. You may want to become a community matron and lead a team of health visitors and other nurses.
Pay and conditions 
Many health visitors are now employed outside of the NHS, especially in local authorities, where terms and conditions can vary.
If working for the NHS, you'll usually work a standard 37.5 hours per week and be paid under Agenda for Change (AfC) pay system, typically starting  at band 6. You'll also have access to our generous pension scheme and health service discounts, as well as at least 27 days of annual leave plus bank holidays.
Want to come back?
If your SCPHN registration has lapsed then you may need to complete a return to practice programme.  Email us so that we can put you in touch with someone in your local area who can offer tailored advice. 
Other roles that may interest you