2016/17 winners of Step into the NHS schools competition
We'd like to thank all the schools and students that submitted entries into the 2016/17 Step into the NHS schools competition. The competition proved to be our most popular year to date and the judges were very impressed with the standard of the entries.
National winner
We're happy to announce that the national winner of this year's competition is from New College Leicester. Heenal Nilesh impressed the judges and managed to stand out from over 2000 students in order to be crowned overall winner. Her entry was based on the role of a microbiologist. Heenal created an eye-catching lab coat with information about the role including quotes such as "microbiologists do it with culture".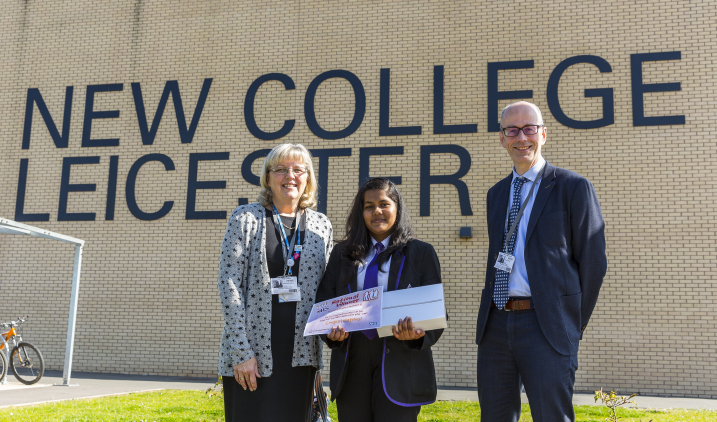 Regional winners
We'd also like to congratulate the regional winners of the competition who also submitted high quality entries. The regional winners of this year's competition are:
Thames Valley and Wessex
Alannah Chadwick, Arzina Ismaili and Izzy Turner from Kendrick School
Kent, Surrey and Sussex 
Sophie Bishop, Saskia Frayling, Ria Konkumalla and Merle Mowbray from Sir William Perkins School
 Yorkshire and Humber 
Leah Metcalf, Gloria Ndofula, Favour Oresanya and Eva Palfreeman from Rodillian Academy
London
Sofiya Tiotto-Smith from Newstead Wood School 
East of England
Phoebe Lake from Hinchingbrook School 
South West
Rion Recica and Charlie Harrison from Stoke Damerel Community College 
North East 
Lily Edwards from Walker Technology College 
West Midlands
Evie Cartwright, Abbiegail Fryer-Winder and Chloe Kent from St Edwards C of E Academy 
North West 
Charlotte Corrigan from Westholme School 
You can have a look at some of the the regional winners' video entries on our YouTube channel.
2017/18 competition
The 2017/18 will launch in September. In the meantime, you can take a look at the range of materials for the 2016/17 competition on the Step into the NHS website.