2017/18 winners of Step into the NHS schools' competition
We'd like to thank all the schools and students who submitted entries into the 2017/18 Step into the NHS schools' competition. The competition proved to be our most popular year to date and the judges were very impressed with the standard of the entries.
National winner
We're happy to announce that the national winner of this year's competition is Joe Kinsella from Keswick School.
Joe impressed the judges and managed to stand out from over 3500 students in order to be crowned overall winner. He created a unique and entertaining board game entitled 'Accidental Snakes and Emergency Ladders - The Game for Budding A and E doctors' which takes its players through the necessary training, qualifications, skills and qualities necessary for the career.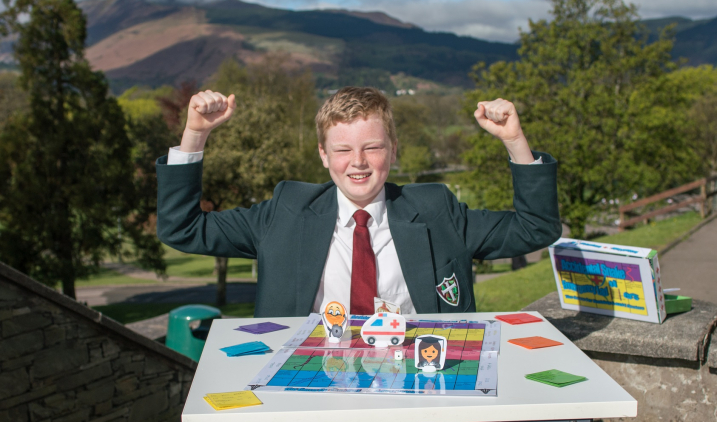 Regional winners
We'd also like to congratulate the regional winners of the competition who also submitted high quality entries. The regional winners of this year's competition and the roles chosen for their entries are:
Thames Valley and Wessex
Freya Gallagher, Cleony Booker, Zoe Fairmann and Christiana Hutchings from Pipers Corner
Kent, Surrey and Sussex 
Rashmika Brahman, Aiyang Zhang, Jessica Cole and Sophie Mitchell from Maidstone Grammar for Girls
 Yorkshire and Humber 
Lizzie Warner and Hannah Walker from The King's School
London
Ciara Fox, Tamsin Day and Noemie Pacatte from Surbiton High School
East of England
Tommy Pounder from Ashlyns School    
South West
Harley Friend, Josh Nankivell and Emile Archer from Stoke Damerel Community College 
North East 
Megan Toor and Cara Wright from Longfield Academy of Sport
West Midlands
Dyaal Kaur from Queen Mary's High School

Role: cardiac physiologist 
East Midlands
Theo Jones, Yasmeen Soliman, Fearline Sebastian-Pillai and Jacob Townsend from Queen Elizabeth's Grammar School 
You can have a look at some of the the regional winners' video entries on our YouTube channel.
2018/19 competition
The 2018/19 will launch in September. In the meantime, you can take a look at the range of materials for the 2017/18 competition on the Step into the NHS website.