2021/22 winners of Step into the NHS primary schools' competition
We'd like to thank all the schools and pupils who submitted entries into the 2021/22 Step into the NHS primary schools' competition. We really enjoyed looking through them all!
The competition saw an impressive 916 entries from more than 1,080 pupils from all over England. We estimate that over 7,000 pupils took part in the competition or worked on its educational resources, which asked pupils to submit a creative 'thank you' to NHS staff.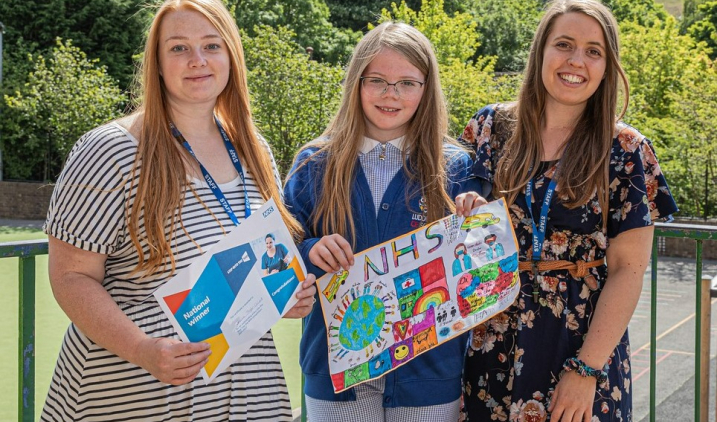 National winner
We chose eight regional winners to showcase their entries virtually to our judges: Navina Evans, chief executive of NHS Health Education England, Kade Flowers, NHS senior clinical scientist, and Marianne Gazet, medical student and podcaster. They chose Jessica, 10, from Luddenden CE School in Halifax as our national winner! 
Jessica, who is in year 5, submitted a colourful and eye-catching poster showing the range of roles in the NHS with some facts about the health service, as well as a thank you to NHS staff. She also clearly challenged gender stereotyping of job roles.  Jessica's entry stood out to our judges, meaning that she scoops this year's top prize of a £50 Amazon voucher, goody bag, a framed 'national winner' certificate and class prize. Well done Jessica!
Jessica commented: "I learnt that anyone can be what they want. A woman can be a doctor and a man can be a nurse and I wanted to show this in my artwork. I enjoyed making the poster and adding details to provide information to others. The NHS helped my dad when he when he was unwell and supported my family through a really difficult time, so I wanted to say thank you."
One of the Step into the NHS judges, clinical scientist Kade Flowers, commented: "Beautiful colours! Your poster is stunning. I also love how you have drawn many different types of staff holding hands to show a service that works together. I love your globe picture too!" 
And Jessica's teacher, Emma Robertshaw, said: "All the children really enjoyed learning about the NHS. We are always looking out for engaging ways to inspire children to explore a range of careers and the project did that perfectly. We are really proud of Jessica; she has overcome personal barriers to produce an amazingly creative piece of work which challenges stereotypes and aims to inspire others."
Regional winners
We received some fantastic entries from all over England, and chose the best from each region. Each regional winner receives a 'regional winner' certificate, a £25 Amazon voucher and an exciting goody bag. Highly commended certificates were also sent to entries on regional shortlists.  
East of England
Year 5 pupils Maddie and Jemimah from The Peterborough School in Cambridgeshire created a sentimental video showing the range of roles in the NHS with personal stories of their relatives' jobs in the health service, before thanking NHS staff for their hard work. They even included a funny bloopers reel at the end! Watch the video on YouTube. The judges appreciated the time and effort that went in to making the video.
Kent, Surrey and Sussex
Year 4 pupil Annabel from Our Lady Immaculate Primary School in Tolworth, Surrey, created a colourful poster showing a range of roles in the NHS under a rainbow, with some facts about the health service, as well as a thank you to NHS staff.  The judges loved Annabel's rainbow colours and her choice of roles shown.
London
Year 5 pupils Crizel and Freyal from Victoria Junior School in Feltham created a detailed poster showing several facts about the health service. The judges were impressed with the originality of the origami and fold-out booklet.
North East
Year 6 pupil Georgia from Whickham Parochial Primary School in Newcastle-upon-Tyne designed a colourful poster with thanking NHS staff. It also included facts about the NHS and challenged gender stereotypes, showing that men can be midwifes. The judges loved the vibrant colours and the choice of lesser-known NHS roles.
North West
Year 6 pupil Lesley from St Gabriel's R.C. Primary School in Rochdale created a beautifully-drawn rainbow poster which demonstrated the diversity and range of people and careers in the NHS. The judges were impressed with the use of colours and creativity.
South West
Year 5 pupils Nina from Henleaze Junior School in Bristol created a detailed and colourful poster with fun facts and a range of careers. The judges loved how the poster showed inclusivity of different abilities, nationalities and genders.
Midlands 
Year 6 pupils Lily and Erin from Thomas Russell Junior School in Barton-under-Needwood created a poster with a acrostic poem spelling out 'NHS'. It also showed a range of careers with the message the NHS wasn't 'just doctors'. The judges valued its creativity and the girls' articulate presentation.
Get your free KS2 resources
Hear about the latest updates and get the 2023-24 KS2 resources when they are released.
Register now