Annual schools competition
The annual Step into the NHS schools competition encourages year 8 and 9 students to think about career opportunities in health, develop job seeking skills and make informed decisions about their GCSE choices.
The competition supports the non-statutory framework for careers education, has strong links to the curricula for PSHE, citizenship and English, and raises awareness of the breadth of careers available in the NHS – more than 350 in fact!
2014/15 competition
The 2014/15 competition has now closed and a huge thank you to all the schools and students who entered. As ever, we had a huge number of entries covering a broad range of NHS roles. The national and regional winners have now been decided and we're in touch with the winning schools.
As always, the judges were very impressed with the quality of the entries received. Huge congratulations to Emily Geeson Bond and Dani Ashwell from Nottingham Girls' High School who are the national winners.
Their entry looked at the role of a consultant neurosurgeon – watch their video below.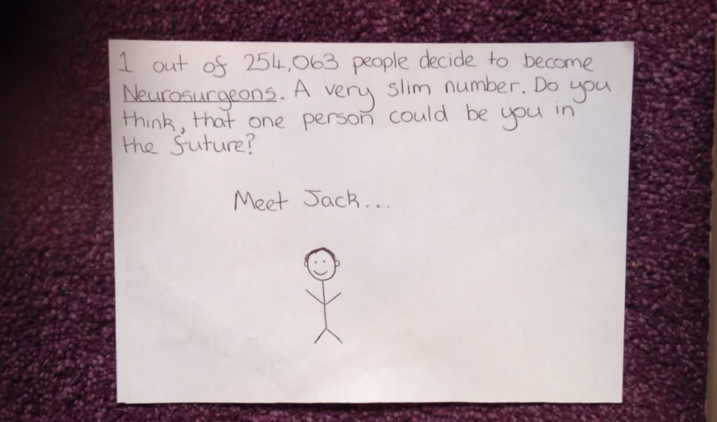 The girls made a creatively directed video and poster to promote the role to their peers. Speaking when they were informed about their win, they said:
"We chose to look into the role because we both have had personal experiences where a neurosurgeon has been needed within our families. We decided to promote their role because we are so grateful for how they helped our loved ones and extended the time we can spend with them."
The girls will be receiving their certificates and tablets in an assembly in June.
Regional winners
Further congratulations to all our regional winners who each received a certificate and an Amazon voucher. The winners from each region are:
Zak Woodcock and Maxwell Duncan from St Clement Danes School, Hertfordshire (East of England)
Lucy Faber and Lea Chehabeddine from Channing School, London (London)
Saddath Islam from Thornhill School, Sunderland (North East)
Arundhati Wuppalapati, Eleanor Ward and Supriya Potamsetty from Lancaster Girls' Gammar School, Lancashire (North West)
Laura Derry, Sophia Stepney, Georiga Penta and Bryony Gray from Pipers Corner, Buckinghamshire (Thames Valley and Wessex)
Ellena Murphy, Freya Bennett and Emma Wilson from Queen Elizabeth Grammar School (Kent, Surrey and Sussex)
David Smith from The Five Islands School, Isle of Scilly (South West)
Isabel Nugent, Abigail Wilding-Lucas, Megan Harvey and Chenxi Liu from Newport Girls High School, Shropshire (West Midlands)
Alex Wilkie from Laurence Jackson School, North Yorkshire (Yorkshire and Humber)
2015/16 competition
Next year's competition is due to be launched in September 2015. We'll be making a few changes to the teachers pack but the concept will stay the same. Keep an eye on this web page for further details.
In the meantime, take a look at the 2014/15 teachers pack to get a taste of what it is about.