Engineer
Engineers in the NHS maintain and repair a range of equipment and facilities from ambulances to dialysis machines to air conditioning units. All are vital to a high-quality NHS. 
Working life
As an engineer, you could work in different departments using your engineering skills in different ways. You could for example be a:
biomedical engineer, maintaining and managing medical equipment in operating theatres, intensive care, neonatal units, accident & emergency or radiology
plant maintenance engineer making sure that water supplies and drainage, electrical systems, boilers and alarms are working well within NHS buildings
heating, ventilation and air conditioning (HVAC) engineer, making sure all hospital areas are safe to use and kept at the right temperature, for example to keep patients warm, or vital supplies cool
prosthetic engineer, creating and maintaining artificial limbs (prosthetics)
building services engineer, overseeing the installation and maintenance of systems within buildings, including lighting, lifts, communications and security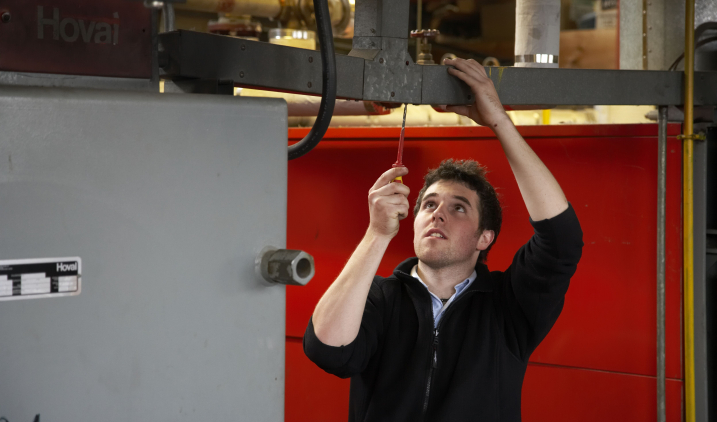 Chris Barnett
Engineering craftsperson
Engineers will always be needed in the NHS and an engineering apprenticeship is one of the best ways in.
Engineers usually specialise in a branch of engineering such as electrical, mechanical, building services or biomedical, for example.
In some cases engineers work in hospital departments, repairing and maintaining equipment where it has been installed. In other cases, such as in clinical engineering and rehabilitation engineering they work in a workshop where smaller equipment (such as wheelchairs or prosthetics) can be brought for repair.
Other, more senior engineers are responsible for planning and designing rather than hands-on repair work.
Entry requirements 
To train as an engineer in the NHS, you need at least 3 GCSEs including English maths and science. Employers may ask for an engineering qualification and some engineering experience. This could be from an engineering apprenticeship, for example.
Engineers can also join the NHS with an accredited engineering qualification, usually a degree or HND in a particular branch of engineering (electrical, mechanical or building services, for example). Employers usually ask for a qualification accredited by the Engineering Council. You can search for courses on their website.
To get onto an engineering degree or HND course you usually need 
two or three A levels, including maths, along with five GCSEs (grades A-C), including English language, maths and at least one science
or alternative qualifications, including
BTEC or HNC which includes maths and/or engineering
relevant NVQ
science-based access course
equivalent Scottish or Irish qualifications
However, each institution sets its own entry requirements, so it's important to check carefully.
Personal characteristics and skills 
Engineers need to be
interested in knowing how things work
interested in continuing to learn
willing to work at heights or in confined spaces
physically fit for lifting, standing, etc
able to work responsibly without supervision
very health and safety conscious
willing to work in all areas of a hospital or health centre
You'll also need 
problem-solving skills
good manual (hand) skills
organisational skills
Training and development 
Engineers joining the NHS will be given the training they need to start the job. This will cover procedures and systems, including IT systems, as well as health and safety.
Qualified engineers can become members of the professional institution for their branch of engineering (see 'Contact information', below) 
With experience and further qualifications, engineers can apply for incorporated or chartered status. Incorporated and chartered engineers have to keep their skills and knowledge up to date with annual CPD (continuing professional development). Each professional institution runs courses, conferences and seminars where engineers can update their skills and network with others.
Engineers in the NHS are usually paid on the Agenda for Change (AfC) pay system. Your precise pay depends on the level of your role, education, experience and level of responsibility. If you work in estates support, you could start on AfC band 2. In estates maintenance, you could be on band 3 or 4. With further training and experience, you could apply for more senior positions at bands 5 and above.

Engineers in the NHS work standard hours of around 37.5 a week. They are likely to work shifts including nights and weekends. They may be part of an on-call rota for emergency cover.

Terms and conditions will be different for engineers working outside of the NHS.

With experience, engineers can apply to become team leaders supervising the work of a team of staff. They can progress to become managers, responsible for a department or area of operations, such as estates and facilities.

Qualified engineers can work outside the NHS. There may be opportunities to work overseas.

If you're applying for a role either directly in the NHS or in an organisation that provides NHS services, you'll be asked to show how you think the NHS values apply in your everyday work. Find out more about NHS values.

Most NHS trusts advertise their vacancies on NHS Jobs. Some of the current vacancies are below.

Find a vacancy
Other roles that may interest you