Financial support at university
This page outlines how you can finance your university studies, describes the additional funding available for many healthcare courses, and provides a set of FAQs further to the Chancellor's announcement about tuition fees on 25 November 2015.
Your eligibility for funding (and how much you may get) depends on a number of factors including:
your income or household income
where you study
the course you want to do
how many hours you study
your other circumstances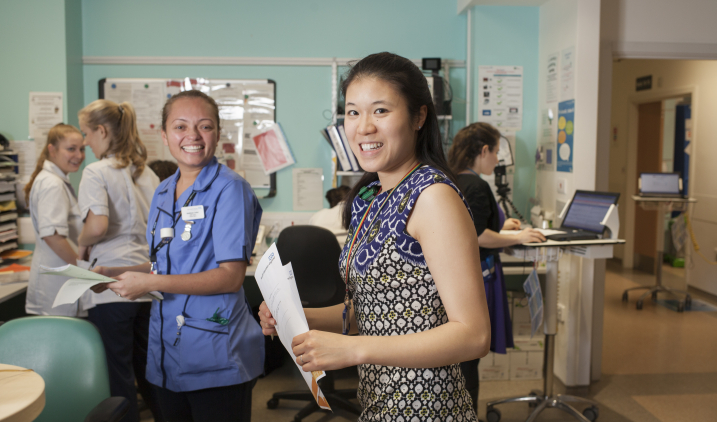 The financial support available is reviewed each year, so make sure you have up-to-date information. 
See the box below for more information about the Chancellor's 25 November 2015 announcement about tuition fees for NHS-funded courses. 
Funding through the NHS

Expand / Collapse

The NHS Bursary Scheme provides support for students taking NHS-funded courses in England leading to professional registration as a:

If you intend taking a health professions course in Wales, Scotland or Northern Ireland, the support is similar but arrangements differ so it is important to consult the relevant authority. If you live in England and study medicine or dentistry, you apply through the NHS Bursary Scheme, regardless of where you study in the UK.

If you are eligible (a number of criteria apply) and you are accepted for an approved course:

your tuition fees are usually paid in full
you will receive a £1,000 grant each year
you can apply for an income-assessed bursary (the amounts vary depending on where you study)
you may be entitled to additional allowances, eg if you are a parent or if you have a disability

You can find up-to-date information about the support available, calculate how much you may be entitled to, find out how to apply and find answers to frequently asked questions through NHS Student Bursaries website. Information is also available on GOV.UK.

Always check with the universities you're considering that the course you plan to apply for is funded by the NHS, as not all are.

Other support from the NHS

The NHS provides funding for those taking clinical psychology postgraduate courses. You receive a salary and your course fees are paid. You can find information through the Clearing House for Postgraduate Courses in Clinical Psychology and by contacting individual course centres.

Full-time student paramedics are not entitled to funding through the NHS Bursary Scheme. However, there may be local funding arrangements between the NHS and some universities, and many ambulance services pay students a salary while they are training on the job.  

Contact the university where you intend to study too, in case there are other financial support arrangements in place.

Help with tuition fees and living costs

Expand / Collapse

Most students from England pay tuition fees of up to £9,000 a year regardless of where they study in the UK. However, you can apply for a Tuition Fee Loan. You pay this back in instalments once you are working and earning a certain level of income.

You may also be able to apply for a Maintenance Loan to help with your living costs. If your household income is low, you could also get a Maintenance Grant or a Special Support Grant if you are on certain benefits. Unlike loans, you don't have to pay these grants back.

You can find out more about loans and grants and apply for them through Student Finance England. The student finance section of the UCAS website also has useful information.

Note that there are differences in the way students from Wales, Scotland and Northern Ireland are funded. If you don't live in England, information can be found through Student Finance Wales, Student Awards Agency for Scotland or Student Finance NI.

Other support

Expand / Collapse

Some organisations and individual universities offer scholarships and bursaries (eg if you are a local student, from an under-represented group, want to study certain subjects or have particular academic potential)
If you find yourself in particular hardship, your university may be able to provide extra financial support. Talk to your student welfare officer in the first instance
If you are a carer, have a disability, are a parent or have adult dependants, you may be entitled to additional state financial support

Chancellor announces changes to funding

Expand / Collapse

In his autumn statement to Parliament on 25 November 2015, Chancellor of the Exchequer George Osborne announced proposals to change future NHS funding. The measures he outlined (subject to consultation) include changes to the financial support that eligible students on NHS-funded courses receive.

See the FAQs below for further information as we understand it.

What is the change?

Initial detail suggests that the funding system for health students (which currently means students receiving means tested bursaries and having their tuition fees paid) will be replaced by student loans.

Which courses are affected?

It is very early to say but our understanding is that all pre-registration nursing, midwifery, allied health professions (eg physiotherapy, radiography, dietetics), operating department practice, dental hygiene and dental therapy courses will be affected by the changes.  

When will these changes to the financial support arrangements begin?

Early indications are that the changes will come into effect from September 2017. Therefore, if you are applying for training starting in September 2016, you will be entitled to receive financial support in line with the current arrangements.    

How will the changes affect current nursing, midwifery, allied health profession, operating department practice, dental hygiene and dental therapy students?

Our understanding is that current students will continue to receive full funding throughout their course.

How will the changes affect applicants who already hold a degree and are applying for a graduate entry pre-registration programme?

Currently, you'll usually get student finance only if you're doing your first higher education qualification - even if your previous course was self-funded.

The Department of Health intends to make an exception for students studying nursing, midwifery and the allied health professions as a second degree so that these students can access student loans. A consultation is planned and this will be covered as part of it.

The gov.uk website has the detail. 

Is funding for undergraduate medical and dental education affected?

It is not clear from the Chancellor's statement whether or not his announcement will impact on undergraduate medical and dental education. We are working to find out the detail on this.

Further information

The Council of Deans of Health has provided some helpful information.

See the NHS Business Services Authority (NHS BSA) website for information about NHS Student Bursaries as they stand at present:

For the latest information about the proposed changed, visit the NHS BSA news page.