At school or college?
Few other professions offer you as much choice or opportunity for personal and professional growth as nursing. It's exciting, rewarding and, yes, it's challenging. But it's a career that lets you make a real difference to people's lives.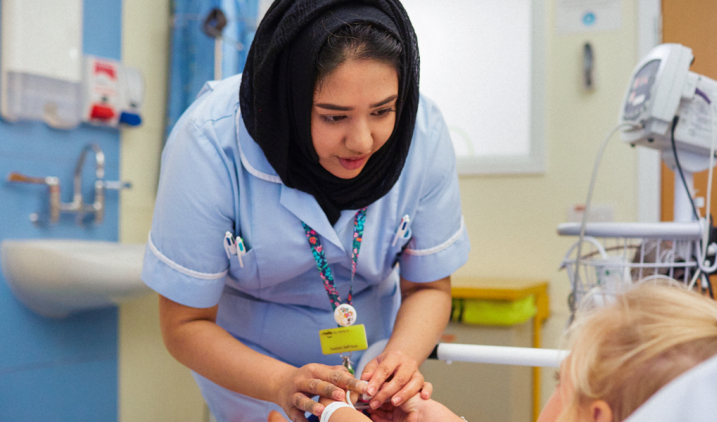 Interested in nursing?
We'll send you free, expert advice on starting a nursing career.
Let's go
We find work, fast.
94% of us are employed within six months of graduation.
We start on over £24k a year.
Nurses enjoy a good starting salary.
We help save and improve people's lives.
Working as a nurse lets you make a genuine difference.
We are internationally-recognised
NHS-trained nurses are in demand all over the world
Types of nursing

Expand / collapse

There are four areas of nursing you can specialise in, and you'll need to know which you'd like to study when applying for a university course.

Adult 

Adult nursing specialises in caring for people aged 18 and above. Some may have one health condition to manage, others may have multiple conditions. You'll work with a wide range of specialists to deliver the best outcome.

Child 

A child nurse aims to minimise the effects of illness on children, ensuring they develop into healthy, happy adults. You'll work closely with parents or guardians and other healthcare specialists in this role.

Learning disabilities

You'll work with adults and children who have a range of learning disabilities. A learning disabilities nurse works to improve or maintain their patient's health, encourage independent living and help them lead a fulfilling life.

Mental health

You'll support people with a range of mental health conditions. Some may need long-term care, others short-term support. As a mental health nurse, you'll help them take more control over their condition.

Applying for a nursing degree

Expand / collapse

Universities all over the country offer nursing degrees. There are full and part-time study options, and some courses offer distance learning. Use our Course Finder to discover undergraduate and postgraduate nursing courses.
Interested in nursing?
We'll send you free, expert advice on starting a nursing career.
Let's go