Occupational health nurse
Occupational health nurses are leaders of public health and care in the workplace. They specialise in the care and well-being of people at work.
Occupational health nurses are qualified and registered nurses or midwives, many of whom have chosen to gain additional training and qualifications as specialist community public health nurses (SCPHN - OHN). Their additional training in public health enables them to assess the health needs of individuals, families and the wider community to promote good health and prevent illness. 
Working life 
You'll usually be employed as an independent practitioner in an organisation or part of an occupational health service team in the human resources department.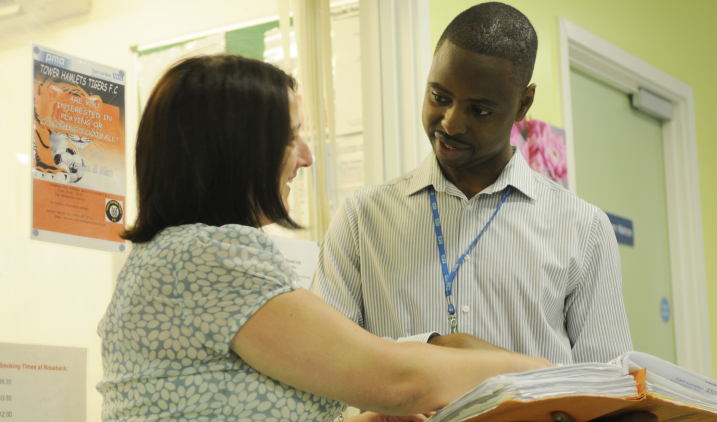 Your role will include:
preventing problems with health and well-being
promoting healthy living and working conditions
making individual health needs assessment
offering counselling and support
assessing and managing workplace risks
basic first aid and health screening
You may also carry our vaccinations, such as the flu jab, and take blood samples.
Where will I work? 
You could work in a variety of industries including health, commerce and education. You could be employed by a large organisation or company such as an NHS trust, local authority and major retail chain.
Entry requirements 
You will need to be a registered adult, child, learning disability or mental health nurse to apply for occupational health nursing posts. You may also choose to take an approved programme in Specialist Community Public Health Nursing - Occupational Health Nursing (SCPHN - OHN). The requirements for entry to SCPHN - OHN programmes are very flexible and no minimum period of post-registration work experience is required. The SCPHN qualification can also be used for the health visiting or school nursing pathways.
Applying for a job within a large occupational health service should help you gain adequate supervision and support. This is especially important for a first job in an occupational health.
Some jobs will also ask for a different knowledge and/or experience including:
working in accident and emergency and/or practice nursing
health and safety issues
management of sickness absence
health screening
development of manual handling policies and rehabilitation of staff with chronic conditions
Want to learn more?
Pay and conditions

Expand / Collapse

Most jobs in the NHS are covered by the Agenda for Change (AfC) pay scales. This pay system covers all staff except doctors, dentists and the most senior managers. Occupational nurses in the NHS will usually start at band 5 and work standard hours of 37.5 per week. Many jobs in occupational health nursing will be outside of the NHS where terms and conditions can vary. 

Where the role can lead

Expand / Collapse

Job market and vacancies

Expand / Collapse

Most NHS organisations advertise their job and apprenticeship vacancies on NHS Jobs, including those who run NHS services. Some advertise on their own websites. You can find a list of NHS organisations at NHS Choices. Occupational health nursing posts outside of the NHS will be advertised in the nursing press and recruitment websites. If you're applying for a role either directly in the NHS or in an organisation that provides NHS services, you'll be asked to show how you think the values of the NHS Constitution apply in your everyday work. Find out more about NHS values.

Further information

Expand / Collapse
Other roles that may interest you